University of New Hampshire men's soccer announces three roster additions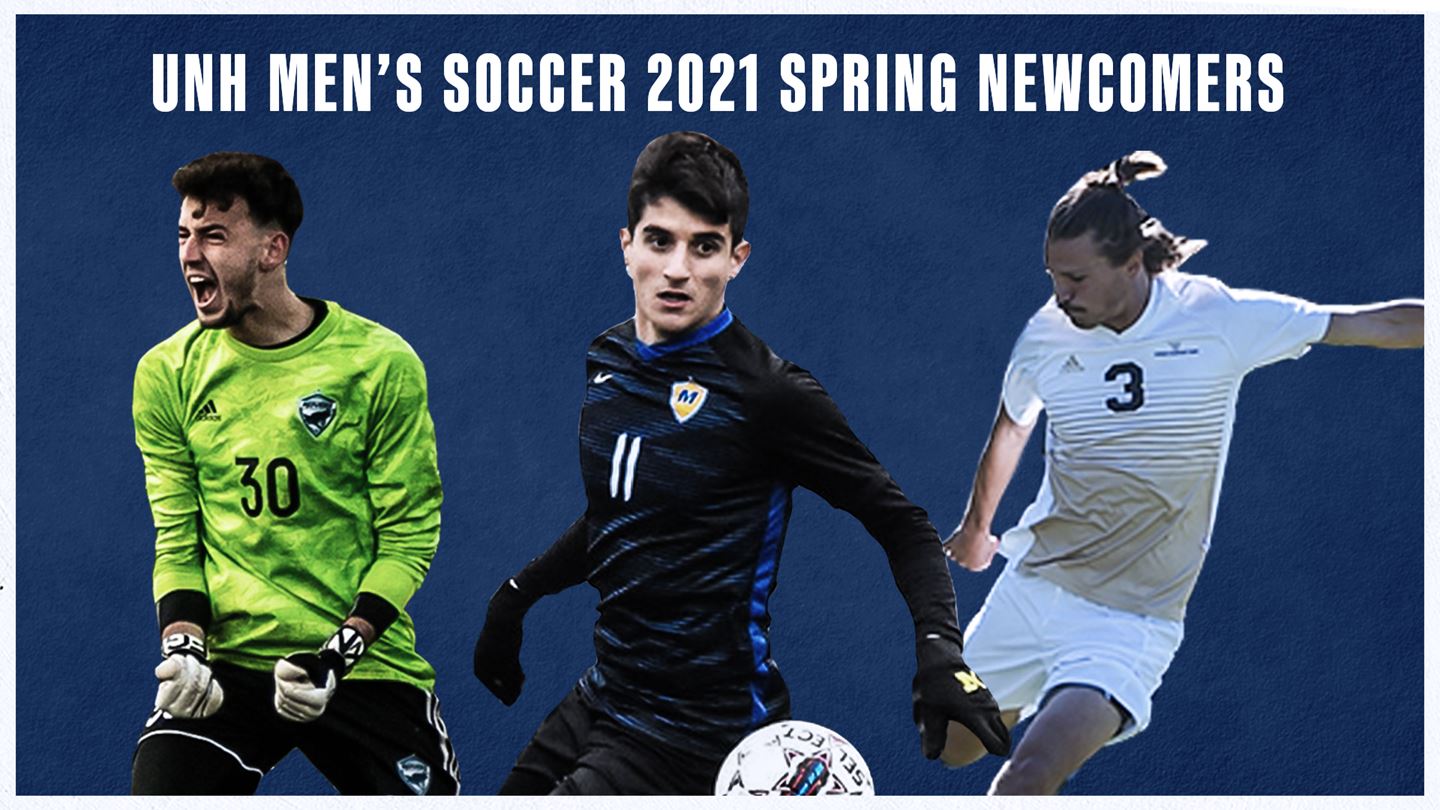 DURHAM, N.H. – University of New Hampshire head men's soccer coach Marc Hubbard has announced the addition of three student-athletes to the current roster.
Graduate student Bridger Hansen (Cottonwood Heights, Utah), sophomore Jassem Koleilat (Dubai, United Arab Emirates) and sophomore Bruno Piva de Castro (São Paulo, Brazil) have joined the team.
Graduate Student, Back, 6-2, 180, Cottonwood Heights, Utah
Played at Westminster College in 2018 and 2019 as he served as captain
Third Team All-American (2019), First Team All-Conference (2018), First Team All-Region (2018), First Team All-Conference (2019), First Team All-Region (2019)
Posted seven goals and one assist during his time at Westminster
Also attended Salt Lake Community College (2017-2018) where he earned First Team All-Conference and First Team All-Region
During the 2017 season, he scored three goals and the team won the SWAC championship
COACH HUBBARD: "Bridger came to us later in the process and we are very excited to add someone of his maturity and experience level to our team. As a college All-American, Bridger is a very strong, athletic and brave player that loves to defend. We look forward to seeing how his leadership qualities impact our program."
---
JASSEM KOLEILAT

Sophomore, Goalkeeper, 6-2, 165, Dubai, United Arab Emirates
Played at Iowa Western Community College for the 2019 season
Started all 18 games, recording 14 shutouts, a .825 save percentage and a record of 15-1-1
Second Team All-Region
Played for AC Sparta Praha Group in 2018 and Stade Lavallois (2016-2017, 2017-2018)
COACH HUBBARD: "We have known about Jassem for a long time so this is exciting to get someone of his caliber mid-year. Jass has great length and ability to cover all corners of the goal. He also possesses great distribution with his feet which is important to the way we build and play. Our goalkeeper core and depth continues to be a great strength of ours and I am looking forward to seeing the group work together this Spring."
---
BRUNO PIVA de CASTRO

Sophomore, Forward, 5-9, 150, São Paulo, Brazil
Played at Madonna University for the 2019 season
Appeared and started in 21 games
Tallied three goals and seven assists for 13 points
Selected to the All-Conference Newcomer Team
Played for Ituano FC (Brazil) from 2013-2018
COACH HUBBARD: "Bruno is a left sided versatile and smooth attacking player that works very hard off the ball. He has impacted the college level already and we look forward to him immediately impacting our group in a few positions. Bruno's ability to possess and combine will fit into exactly how we like to play and create goals."
---
"We look forward to having our complete group back for the Spring competing for another conference championship and looking to advance further on the national scene," said Hubbard. "We believe that these new incomers along with our returners gives us a great chance of accomplishing all of our goals and improving upon previous years performances."
Last season, the Wildcats concluded with a 15-2-3 (.825) record, posting the best winning percentage in program history and tying the school record for wins. The Wildcats won the America East Co-Regular Season championship, earning the title for only the second time in program history.
Then UNH captured its second straight America East Tournament championship, qualifying for the NCAA Tournament for the third straight season. The 1-0 win over Fairleigh Dickinson in the first round was the second time in the last three years the Wildcats have won a NCAA Tournament game.
UNH only allowed 11 goals all year and posted the best team goals against average in the nation (0.528). UNH was ranked in the United Soccer Coaches Poll every week except the first week reaching a season-best No. 13 ranking. UNH concluded the year ranked No. 17 in the RPI and No. 22 by United Soccer Coaches.