University of Minnesota Soccer unveils 2020 recruiting class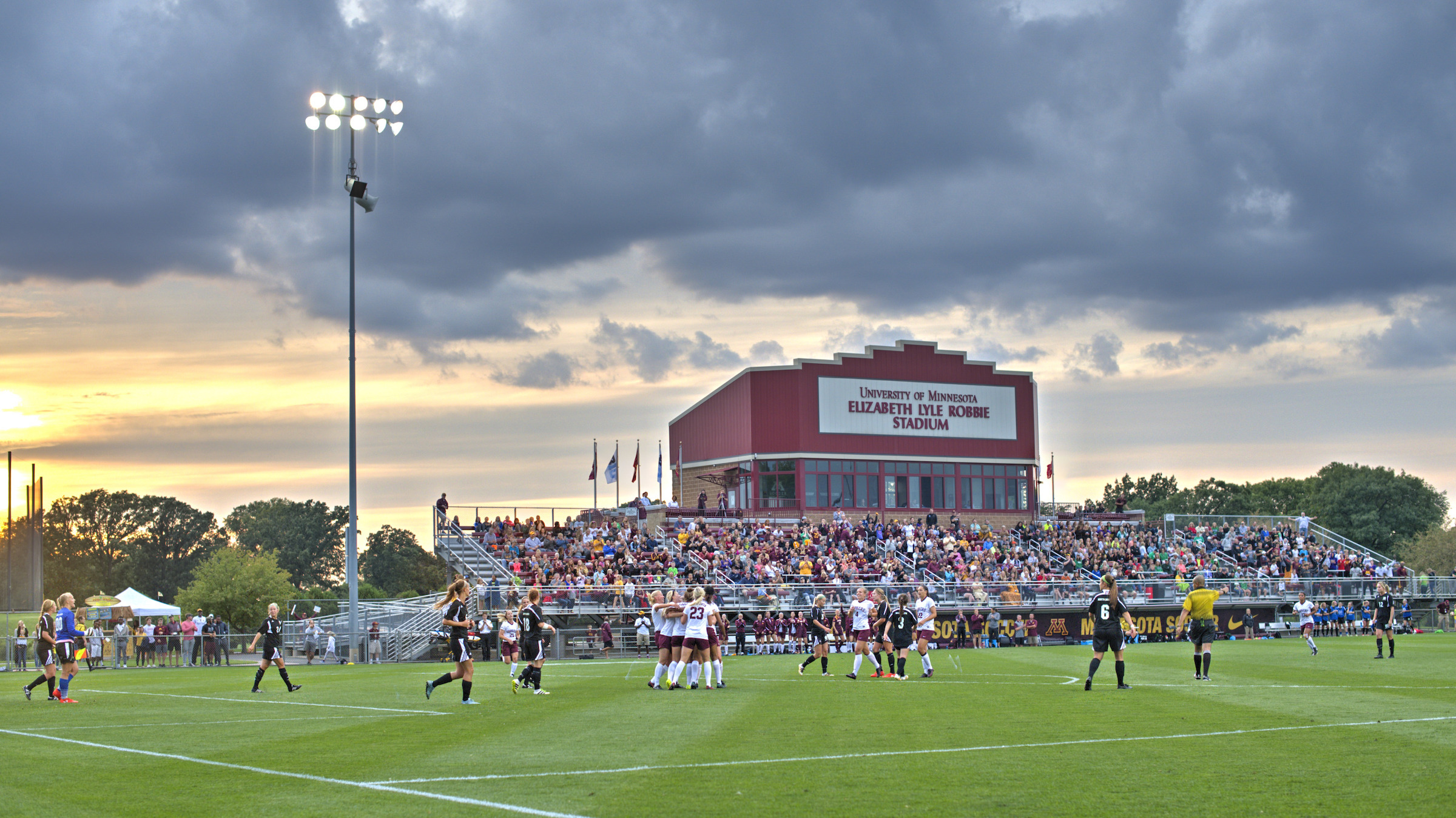 MINNEAPOLIS – The University of Minnesota soccer program has announced its 2020 recruiting class: Sophia Boman, Maddie Baker, Abbey Canfield, Josie Wood, Abi Frandsen and Lauren Holland.
The class features players from four states, including a pair of Minnesota natives. Club teammates for the Minnesota Thunder Academy, Frandsen and Boman will be reunited in Maroon and Gold. Canfield and Baker were also club teammates for North Shore United in Wisconsin.
By position, the Gophers welcome one midfielder, three forwards, and two defenders.
Coach Golan on the class as a whole: "We are very excited to welcome a group of amazing student-athletes in our 2020 recruiting class.  This is a group of six high character young women who will excel in the classroom and who will make a tremendous impact on the soccer field.  They each bring some special qualities to the table that our program values, and collectively we expect them to help the program compete at the highest level.
Sophia Boman (Edina, Minnesota)
Boman will travel less than 15 miles from nearby Edina to Dinkytown when she arrives on campus next fall. A First Team All-State selection during her final three high school seasons, Boman finished her career recognized by the Star Tribune as the 2019 All-Metro Player of the Year.
During her club career with Minnesota Thunder Academy, Boman made the national playoffs three different seasons and was named to the TopDrawer soccer Top-150 in four consecutive years. Nationally, Boman was invited to the ID2 National Camp in 2016.
Boman continues a legacy of collegiate athletic competition in her family. Her sister has competed in both Division I soccer and hammer-throwing while her uncle and father both ran Division III track and field.
Off the field, Boman enjoys outdoor activities such as water-skiing, kayaking, and snowmobiling.
Why Minnesota soccer?: "What stood out to me the most was the team environment. It is really competitive and intense on the field yet off the field they all seem to be best friends. I also really liked the coaching staff's style of play and how easy they were to talk to."
Coach Golan on Sophia: "Sophia is a player who has everything that it takes to be successful at this level. She is the player who seriously stands out on the last day of a tournament because she is still playing at the highest level while others have fatigued out.  Her tactical awareness is fantastic and her technical proficiency on top of it allows her to truly dictate the tempo of the game. This year, we have seen her grow into a more dangerous threat as a goal scorer from the midfield as well. Sophia is going to be an excellent addition to our midfield, and we are excited to keep such a talented Minnesotan home."
Maddie Baker (West Bend, Wisconsin) 
At over six-feet tall, Baker brings an imposing frame to the Gophers' offensive attack. Baker's speed and skill at her height creates dangerous mismatches that favor the Gophers on the press or attack.
A four-sport athlete, Baker earned multiple varsity letters in basketball, volleyball, and track in addition to soccer. She earned All-Conference honors in basketball (2017-19), volleyball (2016-17), and Track (2019). She was also named the 2019 Conference Athlete of the Year in track and earned 2019 All-State honors in basketball.
During her time with North Shore United, Baker was twice the USYS Midwest Regional Champion. As an individual she finished her career strong as the 2018 Golden Boot Winner in the Midwest Regional and earned a spot on the Best XI in both 2018 and 2019.
Why Minnesota soccer?: "I chose Minnesota soccer because of the true team chemistry.  The coaching staff fit me perfectly as an athlete. Their intensity and high expectations for players was important to me. They showed that they care for me as a person first and I appreciated that most."
Coach Golan on Maddie: "Maddie is a player that is unlike anyone we have ever had in my time with the program.  At 6'1″, she is an intimidating physical presence, and that is not your typical frame for a forward.  The amazing thing is that she is incredibly mobile, so smooth & creative with the ball at her feet, and she is a threat to put the ball in the back of the net in a variety of ways.  We have seen her score with her head off service, off of great timing being played in through a seam and finishing with composure, off slotted balls back from the endline, off of receiving balls back to goal and creating a small window under pressure, as well as off the dribble. We are excited to add such a dynamic attacking player in this class."
Abbey Canfield (Jackson, Wisconsin)
A Wisconsin native, Canfield is happy to hop across the border and join the Maroon and Gold. Drawn to the competition of the Big Ten and the family environment of the program, the defender chose the Gophers to add to the program's legacy and challenge her own competitive nature.
A three-time high school conference champion, Canfield also competed for the North Shore United Club where she was the team captain and led her team to a pair of State Cup Championships.
Canfield has shown off her speed on track the past two years as First Team All-State in both the 4×200 and 4×400 relays. Plus, she excelled in the pool and on the softball diamond as well.
Why Minnesota soccer?: "I have always dreamed about playing for the Minnesota Golden Gophers. The pure grit, determination, and success of the team drew me to the campus, but the family atmosphere between the staff and players sealed the deal. When I stepped on the campus for the first time, the coaching staff and girls welcomed me with open arms, and I felt at home."
Coach Golan on Abbey: "Abbey is an athletic center back who brings the defensive tenacity that we saw in Rashida Beal previously.  She is physically strong and will lay out in a tackle, fast enough to cover the space behind the back line, and she has shown a lot of growth in the range of passes she can connect from the back.  Abbey is a fierce competitor and we are excited that she will be wearing the Maroon & Gold this fall."
Josie Wood (Columbus, Georgia) 
Born in Minnesota, Josie Wood is excited to return home and don the Maroon and Gold after moving away from the Land of 10,000 Lakes when she was only two years old.
An athletic player across the field, Wood was an offensive threat at Columbus High School in Columbus, Georgia. After being named All-City as a sophomore, Wood made another skill jump and was named Offensive Player of the Year as a junior.
Wood eventually chose Minnesota in order to return to her birthplace for a program with a fierce competitive edge that would all her to play for, and with, like-minded competitors.
Why Minnesota soccer?: "I fell in love with the competitive edge that the players and coaches have. They always compete to their best ability and leave everything they have on the field. It is evident that all of the people within the program care about and support those around them. The soccer program feels like one big family. I am very excited to return to my home state of Minnesota for college to play for and with some of the hardest working, dedicated, and best people I've ever met!"
Coach Golan on Josie: "Josie is another athletic player who will compete for time either in our forward group or as an outside back.  She has the athletic ability to compete in either of those positions, and she is someone that will bring a solid attacking presence in either of those roles.  She loves the ball at her feet and taking players on, and she has the quickness to lose defenders and draw the next. Josie is a player who will help us create more opportunities to score goals, and we are excited to bring her up north this fall!"
Abi Frandsen (Monticello, Minnesota) 
The multi-talented Frandsen joins the Gophers with versatile potential in key areas of the game. One of two Minnesota natives in the class, Frandsen comes to the Twin Cities ready to show off the Maroon and Gold.
An All-Conference selection starting in her freshman season, Frandsen was also the conference MVP in her two seasons as an upperclassman. Able to cover the entire field, Frandsen chose the Gophers after visiting and seeing the emphasis the program puts on developing the student-athletes off the field, not only as players.
Off the field, Frandsen considers herself a "coffee connoisseur" who also enjoys challenging herself athletically with both gymnastics and wake surfing.
Why Minnesota soccer?: "I chose Minnesota soccer because I love all of the staff and players. The Minnesota soccer program also puts a huge emphasis on developing their players as people, not only soccer players, and that was very important to me throughout my recruiting process. I can't wait to be a part of the program!"
Coach Golan on Abi: "Abi is another Minnesota talent we are excited to welcome to the Gopher Soccer family.  She is a fantastic athlete who brings a versatility to this class. Abi will be a player that is exciting to watch in our pressing system as she can cover ground very quickly and has a strong defensive presence when she does.  She is also a player who is willing to take players on in the flank space and has the athletic ability to blow past defenders when she does. She is strong in the air, she can finish, and she can provide quality service in the attacking third. We are excited to work with her this fall."
Lauren Holland (Skokie, Illinois)
A skilled center back, Holland can show off her talents while defending the goal or up top attacking opponents. One of the tallest members of the 2019 class, the Gophers look forward to adding a physical defender on the backline as well as a strong air attack.
The Skokie, Illinois, native has been a varsity starter since her freshman year and chose the 'U' in order to continue growing her skills academically and athletically. Already a native of a Midwestern metropolis in Chicago, Holland was also drawn by the new experiences awaiting in the Twin Cities.
Holland enjoys the great outdoors and can often be found exploring surrounding nature.
Why Minnesota soccer?: "I was very attracted to Minnesota Soccer because of the fact that it has an all women's staff."
Coach Golan on Lauren: "Lauren is an athletic center back who can cover ground, defends well, demonstrates composure on the attacking side of the ball, and brings a strong aerial presence to both ends of the field.  She has all of the tools to be successful at this level and we know she will compete to get minutes in our back line early in her career. She is a tremendous addition to the Gopher Soccer family."