University of Denver women's soccer adds 8 to 2020 roster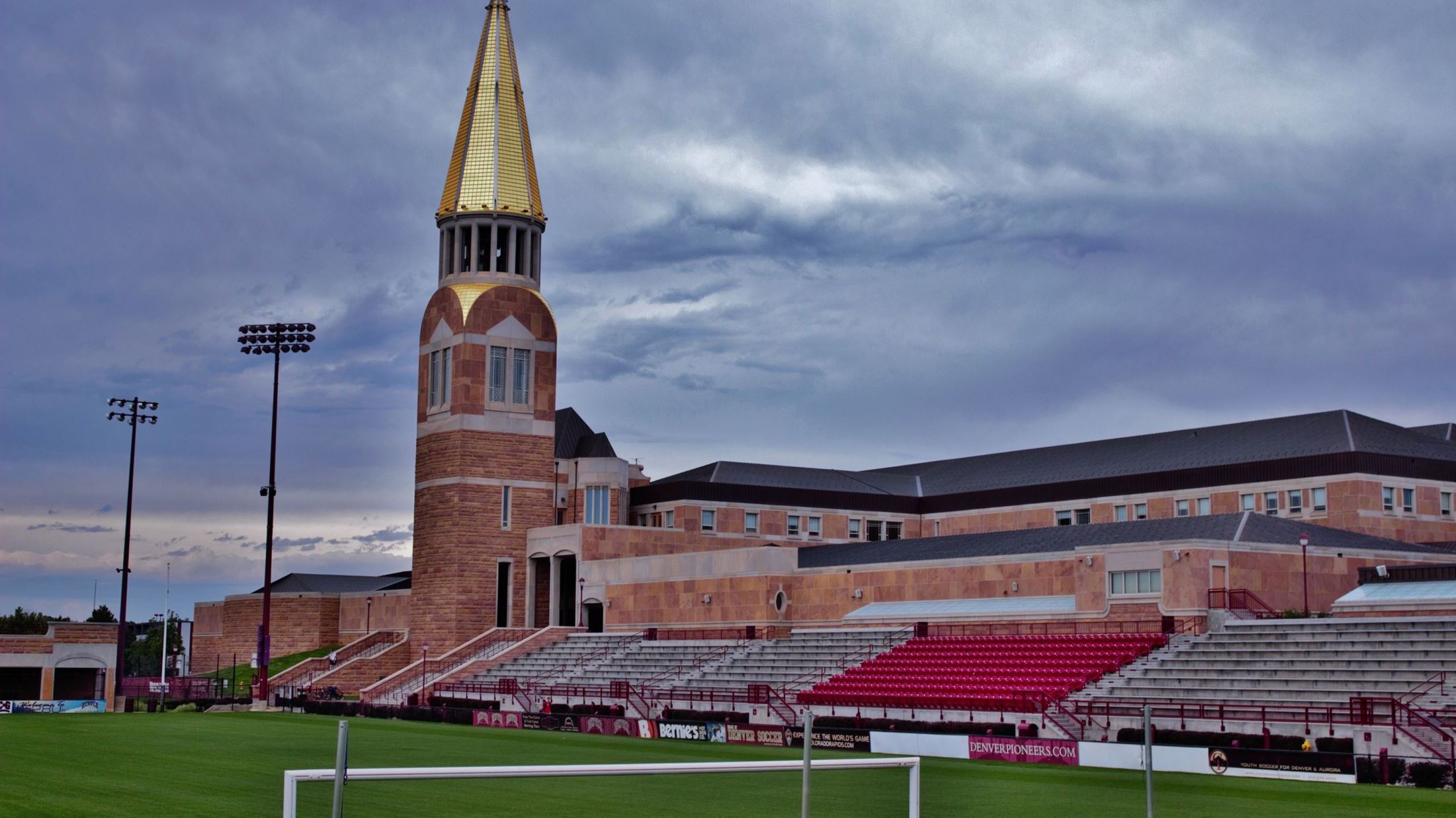 DENVER – The University of Denver women's soccer program has added eight student-athletes to its 2020 roster, head coach Jeff Hooker announced on Thursday.
Jordan Crockett, McKenna Dannenhauer, Sam Dietrick, Addisyn Hyrup, Karoline Nelson, Megan Prazich, Vanessa Murray and Taylor Wellsall signed their National Letters of Intent last week.
"This large class has every field position represented," head coach Jeff Hooker said. "Of the eight players, six states are represented. I'm excited with the overall talent and depth of this incoming class and believe that their club experiences will help make their transition to the college game all the smoother. Each one of these players brings their own unique special talents that will make our 2020 team even stronger. Last season we had success because of our fantastic depth and this class will add even more depth to our well-balanced team. The five graduating seniors will always be difficult to replace. In this incoming class, there are several players who have excelled at more than one position which will continue to add to our depth in all areas of the field."
Jordan Crockett – Fr. – Defender – Park City, Utah – Rowland Hall H.S. – Utah Celtic
Before Denver:
Played every position except goalie en-route to four First Team All-Utah selections and four Region Championships….Was named the Utah State MVP in 2018…Three-time state champion with her club side, while also winning the Farwest Regional Championship and USYS National Championship in 2019…Five-time member of the ODP state select team…Region IV ODP captain in 2019.
Personal:
Born on November 20, 2001 in Santa Monica, Calif….Daughter of Kevin and Keri…Has one sibling, Jada…Chose DU because of its location, size and academics, while having the opportunity to be a part of the soccer family…Also recruited by Gonzaga, UCLA, Virginia Tech, Utah, Utah Valley and San Diego…Would love for DU to be a stepping stone to play at the highest level possible, while having a positive impact on the program both on and off the field…Enjoys coaching academy aged kids, art, singing and community service.
McKenna Dannenhauer – Fr. – Forward – Littleton, Colo. – Chatfield H.S. – Real Colorado
Before Denver:
Qualified for the U-17 DA National Playoffs and won the U-18 Colorado State Championship with Real Colorado…2016 Colorado Rush Golden Boot Winner.
Personal:
Born on May 20, 2002 in Naperville, Ill….Daughter of Paul and Lauren…Has one sibling, Logan…Chose DU because of the beautiful campus, the fantastic academics, the soccer program and its coaching staff…Also recruited by Wake Forest, Idaho, New Hampshire and Alabama….Hopes to enter the kinesiology field following graduation…Also enjoys weight lifting, hiking and art.
Sam Dietrick – Fr. – Midfielder – Maple Grove, Minn. – Wayzata H.S. – Minnesota Thunder
Before Denver:
Captain of her high school team in 2019….Second place finish at the Minnesota State Championships in 2018…All-Minnesota Tournament Team in 2017 and 2018…Finished third at state in 2017…Five-year ECNL player…Gothia World Youth Cup Champions in 2019…ECNL Quarterfinalist in 2017 and 2018 and ECNL Champions League qualifier 2017-19.
Personal:
Born on March 9, 2002 in Minneapolis, Minn….Daughter of Garrett and Annie…Has one sibling, Parker…Chose DU because it felt like home with how positive the atmosphere was on campus and how welcoming the coaches and the team were…Plans to major in political science and pursue a career in public policy.
Addisyn Hyrup – Fr. – Midfielder – Lakewood, Colo. – Green Mountain H.S. – Real Colorado
Before Denver:
All-Conference Second Team selection and All-Conference honorable mention selection during her high school career…Spent four seasons on the ODP travel team from 2014-17…Far West Regional League Champions.
Personal:
Born on March 25, 2002 in Englewood, Colo….Daughter of Jason and Jennifer…Has two siblings, Jadyn and Emmersyn…Chose DU because she loved the coaches, players and environment around the program…Also recruited by Creighton, Dartmouth and Colorado State…Hopes to one day work with kids in the medical field. Enjoys dancing, hiking, concerts and cooking.
Karoline Nelson – Fr. – Forward – Leawood, Kan.– Shawnee Mission East H.S. – U19 Sporting Blue Valley Showcase
Before Denver:
U.S. Youth National runner-up at the club level in 2018…Five-time State Cup Champion…All-Kansas First Team in her high school career…Also played golf, finishing as the state runner-up twice.
Personal:
Born on August 3, 2001 in Kansas City, Kan….Daughter of Ed and Karie…Has two siblings, Tommy and Kasey…Chose DU because she loved the team, campus and atmosphere…Also recruited by Kansas and Air Force…Hopes to one day become a doctor…Enjoys skiing and yoga.
Megan Prazich – Fr. – Defender – Maple Grove, Minn.– Wayzata H.S. – Minnesota Thunder
Before Denver:
Played outside back and winger during her pre-collegiate career…Was named the most improved player on Wayzata H.S.'s Lake Conference championship team in 2016….ECNL Midwest All-Conference selection in 2017…Helped lead her team to third in the Minnesota State Tournament in 2017 after winning her second-straight Lake Conference championship….All-Minnesota Second Team selection in 2019, earning player of the year honors at Wayzata.
Personal:
Born on April 2, 2002 in Minneapolis, Minn….Daughter of Gary and Mary…Has one sibling, Jack…Chose DU because the minute she walked on campus it felt like home…Also loved the outdoor, adventure feel…Hopes to one day become a physician assistant.
Vanessa Murray – Fr. – Midfielder – Glenview, Ill. – Loyola Academy – FC United Soccer Club
Before Denver:
Two-time Regional Champion and two-time sectional finalist…Chicagoland Player of the Game in April, 2018…2018 All-Conference Honors and All-Illinois Watch List…Has played full-time with FC United Development Academy since the fall of 2018…2018 Illinois State Cup Finalist…SC Del Sol PDT Champion in 2018 (Phoenix, Ariz.).
Personal:
Born on December 29, 2001 in Rockford, Ill….Daughter of Ben and Christy…Has two siblings, Alex and Megan…Chose DU because she loved the coaching staff, the academics, the beautiful campus and the close-knit community…Enjoys traveling and all kinds of outdoor activities….Father was drafted by the Pittsburgh Pirates after playing collegiately at Texas Tech.
Taylor Wells – Fr. – Forward – Carlsbad, Calif.– Carlsbad H.S. – San Diego Surf
Before Denver:
Two-time league champion in 2018 and 2019, and winner of the CIF Open Division Championship in 2019 with Carlsbad H.S…Team captain for SoCal Blues ECNL during her two seasons with the club before moving to the San Diego Surf…Has competed in equestrian since 2008, played lacrosse from 2013-15 and played basketball from 2012-15.
Personal:
Born on September 20, 2002 in La Jolla, Calif….Daughter of David and Sally…Has two siblings, Ryan and Kayla…Chose DU because of its beautiful campus and great educational programs….Has a lot of family history in Colorado, with her father growing up in Boulder, her aunt and grandmother that live in Estes Park and her brother that currently attends the University of Colorado…Hopes to live abroad and travel to several places along the way…Also enjoys equestrian, running and yoga.