University of Arizona soccer team adds two new coaching staff members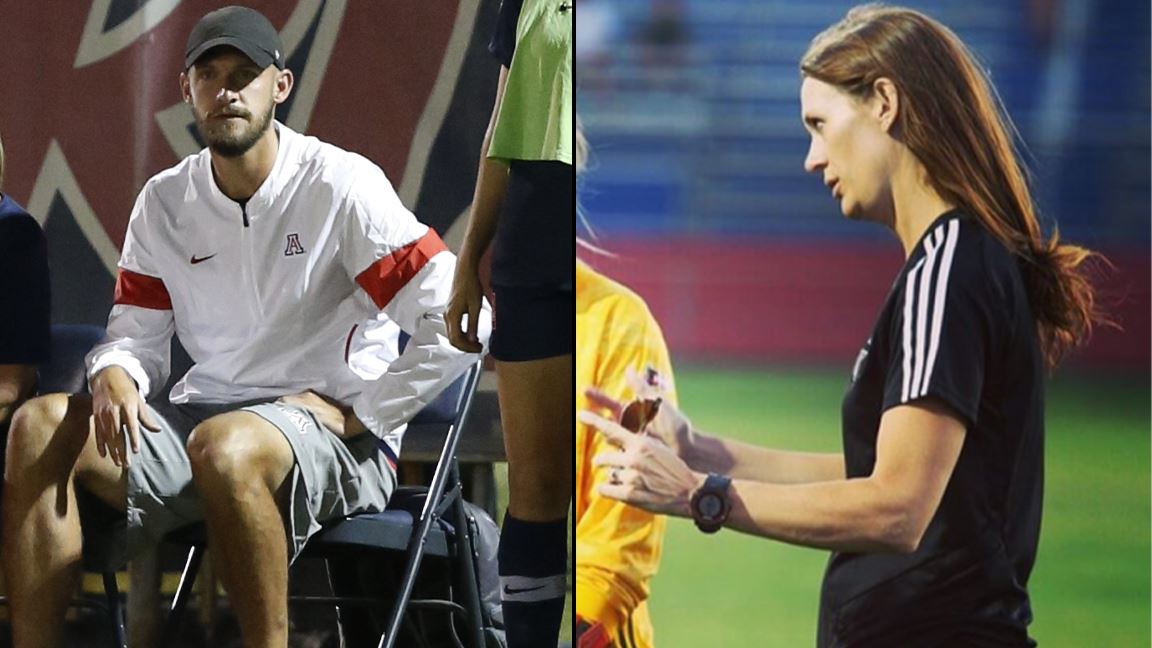 TUCSON, Ariz. – Arizona Soccer head coach Tony Amato announced two additions to his staff, as he hired Kyle Venter as assistant coach and Katie Coleman as volunteer assistant coach.
"We set out to find two coaches who would be a great fit for the program at this time," said Amato. "After months of evaluating where we can grow, countless conversations, and a formal national hiring search, it was clear that both Kyle and Katie are what we were looking for. It is great to have them on board and I am really excited about the direction we are headed."
Venter was a member of the staff in 2019 as a volunteer assistant coach and helped the Wildcats to a 12-7-1 record and an NCAA Tournament appearance.
"I would like to thank Tony Amato, the University of Arizona and everyone else that assisted in giving me this opportunity," Venter said. "The University of Arizona is a special place and I am both humbled and excited to be a part of the Arizona Soccer program. I witnessed first-hand what Tony values and how the team operates as the volunteer assistant in the fall of 2019, so it made this an easy decision. Tony and his staff have worked tirelessly to put Arizona on the map in the Pac-12 as well as nationally, and I am looking forward to playing my role in furthering the success of this program in all aspects. I can't wait to work with our student-athletes and do what I can to help them grow and succeed both on and off the field."
"Kyle was on our staff last year and his work ethic and knowledge of the game really helped us be successful," Amato said. "He understands what our program is about and is 100% in support of that philosophy, mission, and vision. Kyle knows what it takes to make a final four, get drafted, and play professionally, and that experience will be a great resource for our players."
Venter brings a ton of success as a player as he was a three-time All-American while playing for the University of New Mexico and helped lead the Lobos to the 2013 Final Four. He was drafted 23rd overall in the 2014 MLS SuperDraft by the Los Angeles Galaxy, where he went on to win the MLS Cup in 2014.
He also spent time in the USA playing for the Tulsa Roughnecks, the Ottawa Fury and Penn FC. Last season, he was the captain for FC Tucson and most recently, he was the captain of the Richmond Kickers.
Coleman, a Tucson native, has spent time coaching at Pima Community College and Delaware State coaching goalkeepers. She helped lead Pima to back-to-back NJCAA National Tournaments and guided goalkeeper Daniela Sanchez to first-team ACCAC All-Conference and first-team Region One All-NJCAA. She was also named the NJCAA Goalkeeper of the week.
"I am incredibly grateful to Tony Amato, Sandy Davison and the University of Arizona Athletics Administration for the work they've done to make this happen," Coleman said. "I'm thrilled to have the opportunity to coach in the Pac-12 and help contribute to the success the program has achieved under Tony's tenure. As a Tucson native, I grew up as an Arizona Soccer fan and I can't think of a greater honor than the opportunity to work with such high class coaches and student-athletes."
"We have had the opportunity to work with Katie previously at our summer camps," Amato said. "Her ability to communicate clearly to the players and the energy and excitement she brings to each training session is impressive and I know she will be totally invested in her role."
Prior to her college coaching career, Coleman was a goalkeeper at Butler and graduated in 2005. Away from college soccer, Coleman has served as an assistant coach for FC Tucson in the WPSL.