UNC Charlotte women's soccer signs Morehead State transfer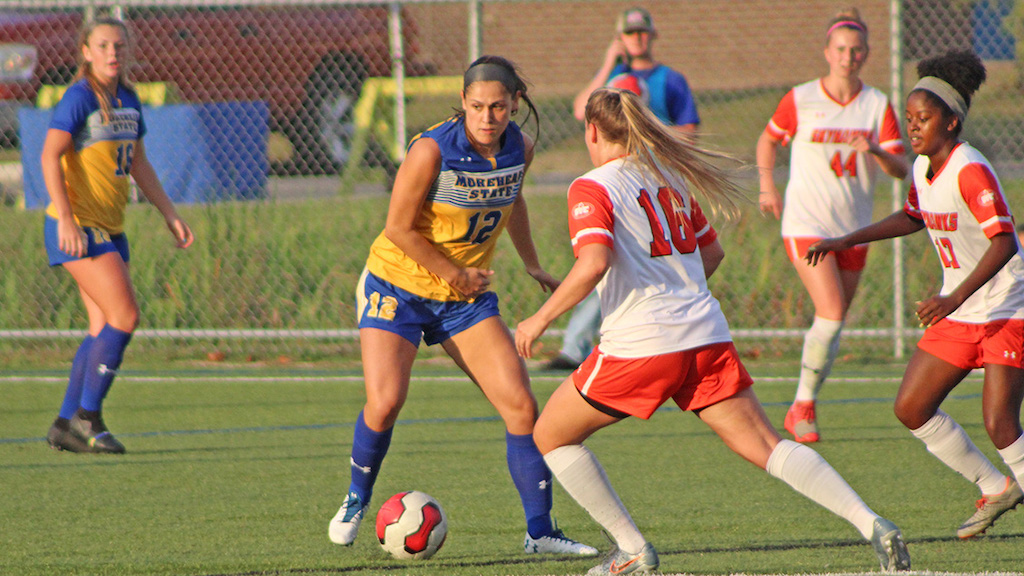 CHARLOTTE, N.C. – UNC Charlotte women's soccer head coach John Cullen and his staff announced the addition of Nicole Palmer, a transfer from Morehead State, to the 49ers roster for the upcoming season.
Palmer played her first three years with the Eagles and will have two seasons of eligibility remaining wearing the green and white.
"We're excited to add Nicole to our program," Cullen said. "She's an experienced college player who has close to 50 games under her belt. She's led her program in minutes played and was one of the top goal scorers from her defensive position which speaks volumes of her ability to contribute."
Palmer, a 5-9 defender, was rewarded several times by the Ohio Valley Conference throughout her career, including earning All-OVC Second Team accolades as a sophomore in 2019. She was listed on the league's all-newcomer squad in 2018. Additionally, prior to the start of each of the last two seasons, she garnered mention as a Preseason All-OVC Player to Watch nominee.
"She's a player that can fill in as a central defender, full back and midfield," Cullen said. "We are very pleased to add Nicole's versatility and college experience to our squad and are looking forward to her joining us."
As a member of the Morehead State backline, she started 43 of 44 games played and tallied career numbers of five goals, two assists and 12 points. Her most productive offensive campaign was as a sophomore when she netted a career-high three goals, including a pair of game winners and added a penalty kick score on her only attempt from the spot. She posted 62 shots in her three years, including 35 during the 2019 season, with 31 over the course of her career placed on goal.
As a freshman, her first career goal was in league action at Eastern Kentucky (Oct. 2) before she added game-winning scores the following fall against Akron and Belmont. The game winner against Belmont came with three seconds left in regulation. Her other goal in 2019 was against conference opponent UT Martin. In the abbreviated spring 2021 campaign, she found the back of the net at Jacksonville State (March 26) in another league matchup.
Originally hailing from Langhorne, Pennsylvania, Palmer played at Neshaminy High School, leading it to a berth in the PIAA 4A final as a senior, winning 12 of its last-14 games, and a district title during her junior campaign while serving as a team captain both years. She was named to the TeamSnap All-Pennsylvania Team by TopDrawerSoccer.com following her junior and senior seasons.
Palmer garnered the 2017 United States Marine Corps Distinguished Female Athlete Award after collecting a slew of other plaudits following her final campaign, including slotted the Bucks County Courier Times Golden First Team, tabbed as an All-Suburban One Conference First Team choice and selected as her high school's Miss Defender Award recipient.
Her junior season finished with her earning second-team recognition on the Bucks County Courier Times Golden Team, her first career all-league first-team honor and the Miss Defender Award by her high school program. In 2015, as a sophomore, she was picked to the Suburban One All-League Third Team and as an honorable mention honoree on the Bucks County Courier Times Golden Team.
A four-year member of her high school's honor roll, she played for the FC Bucks during her club career leading it to the ECNL Playoffs in 2015 and 2016.
Palmer joins nine others who will be making their Charlotte debuts next season, along with: Macey Bader (Apex, N.C.); Braelynn Francher (Wake Forest, N.C.); Hayden Hord (Waxhaw, N.C.); Ella Joaquin (Matthews, N.C.); Hanna Kimmelman (Greenville, S.C.); Camden Poole (Huntersville, N.C.); Kiara Pralle (Bourbonnais, Ill.); Kate Rodelli (Carrboro, N.C.) and Amber Treweek (Poole, England).