U.S. U-20 Women's Youth National Team defeats Costa Rica 3-0 in friendly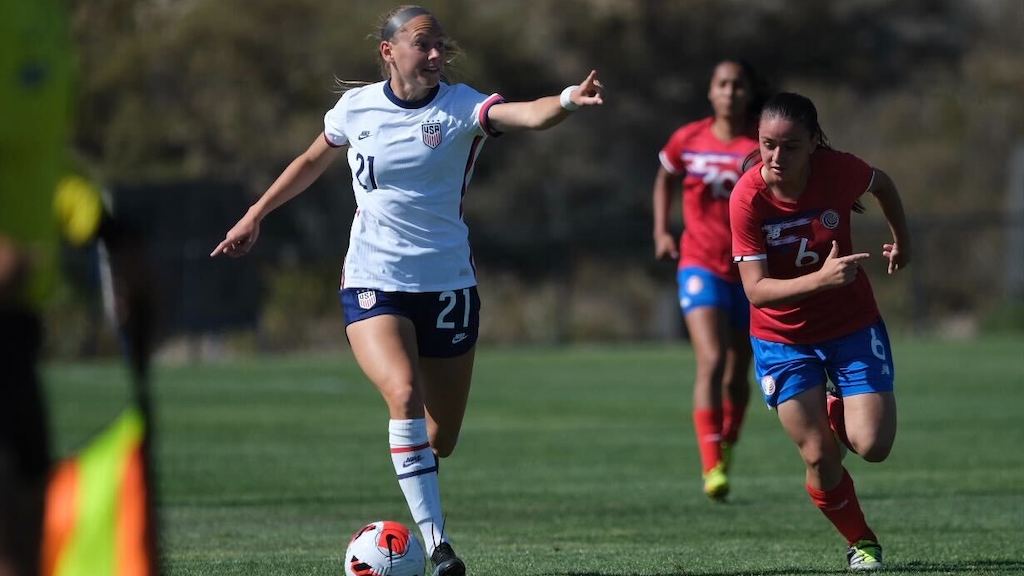 CHULA VISTA, California – The U.S. Under-20 Women's Youth National Team defeated Costa Rica 3-0 in the first of two friendly matches during a training camp at the Chula Vista Elite Athlete Training Center located south of San Diego.
The USA and Costa Rica are both preparing for the 2022 FIFA Under-20 Women's World Cup, which Costa will host form August 10-28. The teams will meet again on Wednesday, May 18 at the EATC.
With the goal of expanding the player pool, of the 23 players called in by U.S. head coach Tracey Kevins for this training camp and matches, only one was on the squad that helped the USA qualify for the World Cup and win Concacaf Women's U-20 Championship earlier this spring. That player, midfielder Sally Menti, who captained the team today, suffered a wrist injury during the USA's first match at the World Cup qualifying tournament and was ruled out of the rest of the competition.
The USA owned most of the possession against a physical and hard-working Costa Rican side but could have found the net a few more times with some crisper finishing while Las Ticas goalkeeper Carolina Méndez Arguedas played an excellent match, making 10 saves.
The first goal came at the end of the first half as forward Camryn Lancaster finished from close range after a scramble inside the penalty box off a U.S. corner kick.
The USA doubled its lead in the 72nd minute as halftime substitute forward Taylor Huff played forward and second half substitute Katherine Rader into the penalty area on the right side. Rader took a few touches and then buried her shot across the 'keeper and into the lower left corner.
The final goal came in the 82nd minute off an excellent half-volley into the lower right corner by Huff who finished a cross from midfielder Annie Karich from the right wing.
All of the U.S. players who played in this match, aside from Menti, earned their first international caps at the U-20 level and the goals were the first at U-20 international scores for Lancaster, Rader and Huff.
Five players wore the crest for the first time in international competition at any level: Lancaster, defender Avani Brandt, forward Riley Tiernan, forward Jameese Joseph and Huff.
-U.S. UNDER-20 WOMEN'S YOUTH NATIONAL TEAM MATCH REPORT-
Match: United States Under-20 Women's Youth National Team vs. Costa Rica
Date: May 15, 2022
Competition: International Friendly
Venue: Chula Vista Elite Athlete Training Center – Field 2
Attendance: Closed Door
Kickoff: 3 p.m. PT
Weather: 75, Sunny
Scoring Summary:   1          2          F
USA                            1          2          3
CRC                            0          0          0
USA – Camryn Lancaster                              42nd minute
USA – Katherine Rader (Taylor Huff)            72
USA — Taylor Huff (Annie Karich)                  82
Lineups:
USA: 1-Leah Freeman (22-Nadia Cooper, 63); 15-Macy Blackburn, 3-Avani Brandt, 5-Kolo Suliafu (19-Sydney Jones, 63), 2-Makenna Morris (4-Evelyn Shores, 46); 6-Sally Menti (Capt.) (10-Carina Lageyre, 46), 13-Annie Karich, 7-Sofia Cook (20-Korbin Albert, 72), 9-Riley Tiernan (21-Taylor Huff, 46), 11-Mia Minestrella (16-Katherine Rader, 63), 24-Camryn Lancaster (17-Jameese Joseph, 63)
Substitutes Not Used: 12-Teagan Wy, 8-Jaedyn Shaw, 14-Jillian Shimkin
Head Coach: Tracey Kevins
CRC: 1-Carolina Méndez Arguedas; 2-Abigail Sancho (3-Francini Solano, 80), 4-Keilyn Gomez, 15-Celeste Jiménez Montero, 12-Fiama Hidalgo (26-Lilliam Eve Markey, 55); 19-Maria Laura Vargas (7-Maria Paula Arce Zuñiga, 55), 8-Alexandra Pinell (Capt.) (5-Lisa Villegas Pérez, 80), 11-Amalie Araya (20-Lucia Rodriguez, 62), 6-Sianif Agüero Varela (21-Monserrat Diaz, 62); 10-Yirlany Hernández Vega (14-Alexa Herrera Barrientos, 62), 17-Angela Mesén Quirós (16-Hilary Porras, 80)
Substitutes not used: 9-Maria Paula Salas, 13-Jena Leverett, 18-Daniela Gomez (GK), 22-Yerlin Ovares, 23-Chole Lacle Markey, 25-Allison Wolh
Head coach: Harold Lopez
Stats Summary: USA / CRC
Shots: 31 / 0
Shots on Goal: 14 / 0
Saves: 0 / 10
Corner Kicks: 9 / 0
Fouls: 7 / 5
Offside: 1 /1
Misconduct Summary:
USA – Sally Menti (Caution)              33rd minute
Officials:
Referee: Samantha Martinez (USA)
1st Assistant Referee: Sergio Yacopi (USA)
2nd Assistant Referee: Simon Gonzalez (USA)
4th Official: Denis Vargas (USA)