U.S. U-20 Women's National Team gathers for training camp ahead of stretch run before 2014 FIFA U-20 Women's World Cup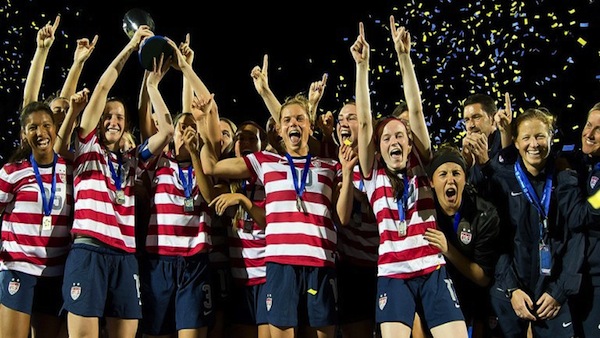 CHICAGO – U.S. Under-20 Women's National Team head coach Michelle French has called up 27 players to a camp at the U.S. Olympic Training Center in Chula Vista, California, running from May 11-18. It will be the USA's penultimate domestic event before the 2014 FIFA U-20 Women's World Cup takes place in Canada in August.
Eighteen players return from the USA's April camp at the OTC, while midfielders Stephanie Amack, Rachel Hill and Morgan Andrews who all played key roles in the USA's successful qualifying run return from injury/illness.
This will also be the USA's last camp before French chooses a 20-player roster to travel to France in June for two matches against the France Under-20 Women's National Team. After the trip to Europe, the USA will have a final domestic training camp in July before heading to Canada for the 2014 FIFA U-20 Women's World Cup, which runs from Aug. 5-24 in Edmonton, Moncton, Montreal and Toronto. The U.S. will face Germany, Ghana and Brazil in Group B play. Players born on or after Jan. 1, 1994, are age-eligible for the 2014 FIFA U-20 Women's World Cup.
"Without a doubt, there is a definite sense of urgency for the players coming in to our May camp," said French. "Having only three events left prior to the World Cup, the identifying players who are best able to successfully implement the ideas of our system and style of play will be crucial to the naming of our final roster. New players and personalities have continued to emerge every camp, and I wouldn't expect this camp to be any different."
Twenty-three of the 27 players named for the May camp are in college, while four are still in high school. The USA's lone professional player – Lindsey Horan of Paris Saint-Germain – was not made available by her club for this event.
Roster by Position:
GOALKEEPERS (3): Jane Campbell (Stanford; Kennesaw, Ga.), Katelyn Rowland (UCLA; Vacaville, Calif.), Morgan Stearns (Virginia; San Antonio, Texas)
DEFENDERS (8): Brittany Basinger (Penn State; Purcellville, Va.), Christina Gibbons (Duke; Raleigh, N.C.), Laura Liedle (Stanford; San Diego, Calif.), Karlie Mueller (Texas A&M; Sioux Falls, S.D.), Katie Naughton (Notre Dame; Elk Grove Village, Ill.), Morgan Reid (CASL; Cary, N.C.), Kaleigh Riehl (BRYC; Fairfax Station, Va.), Cari Roccaro (Notre Dame; East Islip, N.Y.)
MIDFIELDERS (9): Stephanie Amack (Stanford; Pleasanton, Calif.), Morgan Andrews (Notre Dame; Milford, N.H.), Carlyn Baldwin (BRYC; Oakton, Va.), Joanna Boyles (North Carolina; Raleigh, N.C.), Cameron Castleberry (North Carolina; Raleigh, N.C.), Rachel Hill (UConn; Rollinsford, N.H.), Rose Lavelle (Wisconsin; Cincinnati, Ohio), Mallory Pugh (Real Colorado; Highlands Ranch, Colo.), Andi Sullivan (Bethesda SC; Lorton, Va.)
FORWARDS (7): Makenzy Doniak (Virginia; Chino Hills, Calif.), Summer Green (North Carolina; Milford, Mich.), Savannah Jordan (Florida; Fayetteville, Ga.), Kodi Lavrusky (UCLA; Yucaipa, Calif.), McKenzie Meehan (Boston College; Scituate, R.I.), Toni Payne (Duke; Birmingham, Ala.), Margaret Purce (Harvard; Silver Spring, Md.)