U.S. U-20 Women's National Team falls to Brazil 2-0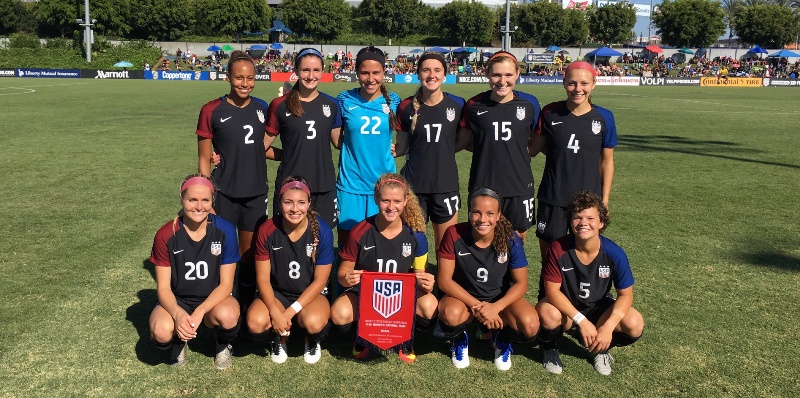 CARSON, Calif. (Via U.S. Soccer) – The U.S. Under-20 Women's National Team fell to Brazil by a 2-0 score to finish the 2016 U-20 Women's NTC Invitational. England won the tournament with two wins and a tie for seven points (after tying the Korea Republic 0-0 on the final match day) while Brazil finished second with a win, a tie and a loss (4 points). South Korea finished third with three points after three ties and the USA finished fourth with two losses and a tie and one point.
The USA allowed just three goals over the three games, including a second to Brazil in second half stoppage time, but struggled in the attacking third during the tournament. Brazil took the lead through Gabi da Silva as she knocked home a loose ball during a goal mouth scramble in the 13th minute. Brazil added the clincher in the 94th minute as Fernada Licen, who had just entered the game, ran onto a bounce pass over the U.S. back line and lifted the ball over onrushing U.S. goalkeeper Rose Chandler and into the open net.
+Read: U.S. U-20 Women's National Team falls to England 1-0
Mallory Pugh, a member of the 2016 U.S. Olympic Team who became the youngest American soccer player to score in an Olympic Games, started but played only the first 30 minutes as she continues to recover from from an ankle injury suffered in the Olympics. The match was quite physical with the teams combining for 33 fouls and Brazil being shown four yellow cards.
The USA will have one more training camp before leaving for the 2016 FIFA U-20 Women's World Cup which will be held in Papua New Guinea from November 13-Dec. 3. The USA will come together in Lakewood Ranch, Fla., for a camp that will include two matches against Venezuela.
In PNG, the USA is in Group C with France, Ghana and New Zealand.
U.S. Under-20 Women's National Team Match Report

Match: U.S. Under-20 WNT vs. Under-20 Brazil WNT
Date: September 18, 2016 
Competition: Under-20 Women's NTC Invitational
Venue: Glenn "Mooch" Myernick Field; Carson, Calif.
Weather: 80 degrees, sunny 
Scoring Summary:    1          2          F
USA                            0          0          0
BRA                             1          1          2 
BRA – Gabi da Silva                                                   13th minute
BRA – Fernada Licen (Daiane Santos Silva)             90+4
Lineups:
USA: 22- Rose Chandler, 2-Ellie Jean, 3-Kaleigh Riehl, 4-Maddie Elliston, 5-Katie Cousins (6-Taylor Otto, 68), 8-Marley Canales (7-Sabrina Flores, 68), 9-Mallory Pugh (16-Emily Fox, 30), 10-Emily Ogle (capt.), 15-Jessie Scarpa (11-Julie Doyle, 54), 17-Kelcie Hedge (19-Jordie Harr, 54), 20-Natalie Jacobs
Subs not used: 1-Casey Murphy, 13-Parker Goins, 12-Brooke Heinsohn, 18-Shea Moyer
Head Coach: Michelle French

BRA: 1-Carla da Silva, 2-Julia Bianchi (capt.), 3-Giovanna Rocha, 4-Daiane Santos Silva, 5-Rena de Oliviera (15-Nicoly da Silva, 83), 6-Yasmim Ribiero, 8-Lais dos Santos Araujo, 10-Gabi da Silva, 11-Geyse da Silva Ferreira (9-Adailma dos Santos, 46), 13-Bruna Calderan, 17-Victória de Miranda (16-Fernada Licen, 92)
Subs not used: 7-Katrine da Silva Costa, 14-Beatriz de Menezes, 18-Kelen Bender, 22-Lorena da Silva Leite
Head Coach: Dorival Bueno Pacheco 
Statistical Summary: USA / BRA
Shots: 3 / 7
Shots on Goal: 0 / 4
Saves: 3 / 0
Corner Kicks: 5 / 4
Fouls: 15 / 18
Offside: 2 / 1 
Misconduct Summary:
BRA – Yasmim Ribiero (caution)                    22nd minute
BRA – Daiane Santos Silva (caution)            48
BRA – Rena de Oliviera (caution)                  60
USA – Yasmim Ribiero (caution)                    85 
Officials:
Referee: Ceciah Valero (USA)
Asst. Referee 1: Kelsey Harms (USA)
Asst. Referee 2: Jennifer Politz (USA)
4th Official: Janessa Gunn (USA)
2016 U-20 Women's NTC Invitational Final Standings
| | | | | | | | |
| --- | --- | --- | --- | --- | --- | --- | --- |
| TEAM | W | L | T | GF | GA | GD | Pts. |
| ENG | 2 | 0 | 1 | 2 | 0 | +2 | 7 |
| BRA | 1 | 1 | 1 | 3 | 2 | +1 | 4 |
| KOR | 0 | 0 | 3 | 1 | 1 | 0 | 3 |
| USA | 0 | 2 | 1 | 0 | 3 | -3 | 1 |