U.S. U-20 Women's National Team earns 2-0 win over France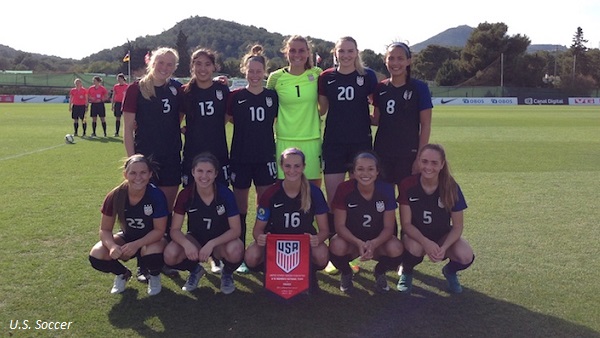 LA MANGA, SPAIN (Via U.S. Soccer) – The U.S. Under-20 Women's National Team defeated France 2-0 to complete its three-game set in Spain. The USA also defeated Norway 8-2 on March 3 and fell to Germany, 2-1, on March 5.
Forward Sophia Smith continued her torrid scoring pace in the 21st minute when the USA moved the ball around the midfield before a pass was deflected off of a French player and toward the France net. Smith gained control of the ball and dribbled in on goal before slipping her shot past the charging France goalkeeper.
It was Smith's ninth goal in her last six international matches, three of them with the U-18 U.S. WNT at the end of February in England and three for the U.S. U-20 WNT during this just-completed event in Spain.
+READ: U.S. U-20 Women's National Team falls to Germany 2-1
The USA doubled its lead in the 69th minute after Smith played a pass into forward Kelsey Turnbow who was just outside the penalty area. She received the ball and turned while taking a touch to her left and around the goalkeeper who was closing down the space before rolling the ball into the open net.
This trip marked the start of a new cycle for the U-20s with the goal of qualifying for the 2018 FIFA U-20 Women's World Cup in France.
+READ: U.S. U-20 Women's National Team storms past Norway U-19s 8-2
-U.S. Under-20 Women's National Team Match Report-
Match: U.S. U-20 Women's National Team vs. France U-19 WNT
Date: March 7, 2017
Competition: 2017 La Manga Tournament
Venue: La Manga, Spain
Attendance: 100
Weather: 60 degrees; sunny & windy
Scoring Summary:   1          2          F
USA                             1          1          2
FRA                             0          0          0
USA – Sophia Smith                                                                            21st minute
USA – Kelsey Turnbow (Sophia Smith)                                              69
Lineups:
USA: 12-Brooke Heinsohn; 16-Emily Fox, 8-Samantha Hiatt, 5-Sydney Dawson, 7-Isabel Rodriguez (17-Tara McKeown, 79), 10-Natalie Winters (18-Jaelin Howell, 46), 20-Taylor Kornieck (19-Viviana Villacorta, 79), 3-Zoe Morse (25-Arlie Jones, 46), 2- Sophia Smith, 13-Cecilia Gee (14-Civana Kuhlmann, 62), 23-Jordan Harr (4- Kelsey Turnbow, 46)
Subs not used: 6-Samantha Coffey, 9-Belle Briede, 11-Abigail Kim, 12-Laurel Ivory, 15-Karina Rodriguez, 21-Karlie Paschall, 24-Francesca Tagliaferri
Head Coach: April Heinrichs
FRA: 1-Mylene Chavez; 18-Tess Laplacette, 12-Julie Piga, 4-Sarah Galera, 13-Agathe Maetz, 2-Julie Thibaud, 20-Cindy Caputo, 15-Helene Fercocq (17-Amira Ould Braham, 61), 7-Emelyne Laurent (11-Aimy Diop, 81), 10- Christy Gavory (6-Ninon Blanchard, 68), 19-Chloe Pierel (5-Catherine Karadjov, 61)
Subs not used: 3-Andrea Prette, 8-Elise Bonet, 9-Sana Daoudi, 14-Oumy Bayo, 16-Jade Lebastard
Head Coach: Gilles Eyquem
Statistical Summary: USA / FRA
Shots: 12 / 2
Shots on Goal: 9 / 1
Saves: 1 / 7
Corner Kicks: 3 / 1
Fouls: 6 / 7
Offside: 1 / 5
Misconduct Summary:
FRA – Agathe Maetz, (caution)                      15th minute
Officials:
Referee: Karoline Wacker (GER)
Asst. Referee 1: Melissa Joos (GER)
Asst. Referee 2: Franziska Wildfeuer (GER)