U.S. U-20 Women's National Team defeats France 1-0 in friendly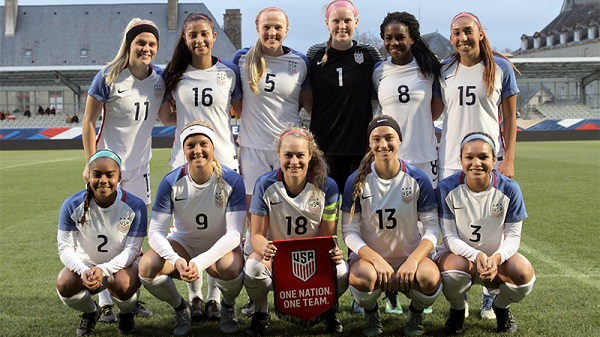 VANNES, France (Via U.S. Soccer) – Stellar goalkeeping from Amanda McGlynn and Brianna Pinto's first U-20 international score guided the USA to a 1-0 victory over France in Vannes. The friendly is the first of two against Les Bleues in venues that will be used for this summer's FIFA Women's U-20 World Cup.
While the USA struggled to find chances in the first half, McGlynn and the defense held strong to keep the game scoreless. The American defense was called on often in the opening 45, as France mounted several dangerous runs and threatened on breakaways. Karina Rodriguez anchored the backline with several deflections and key clearances, while McGlynn made some superb stops to keep things scoreless going into the half.
France continued to test the U.S. defense early in the second half, but the back line continued to rise to the occasion, highlighted by a goal-line clearance from Zoe Morse in the 53rd minute. French forward Daniel Monique Etienne had only McGlynn to beat and slid it past the 'keeper, but Morse sprinted to the line and booted the ball away.
+READ: U.S. U-15 Girls National Team roster set for camp in Norco, Calif.
A few minutes after the key stop, Pinto found the net to give the USA a lead it would not relinquish. Pressure up top from substitute Abigail Kim forced a French turnover in the final third. Viviana Villacorta sent the misplayed ball across the top of the box to Civana Kuhlmann, who turned to find a streaking Pinto. She hammered it home from the circle to open the game's scoring.
McGlynn shone after the lone goal, making some highlight reel saves in the 74th, 83rd and 89th minute. She logged seven saves to secure her first shutout at the U-20 level.
The USA is back in action for the second leg against France on Tuesday, March 6 in Saint-Malo. The match will be played at Stade Marville, another one of four venues that will be used for August's U-20 WWC, and will be streamed on the Fédération Française de Football's Facebook Live, YouTube and Twitter.
– U.S. U-20 Women's National Team Match Report –
Match: U.S. U-20 Women's National Team vs. France
Date: March 3, 2018
Competition: International Friendly
Venue: Stade de la Rabine; Vannes, France
Attendance: 450
Weather: 48 degrees, clear
Scoring Summary:      1          2          F          
USA                             0          1          1                                  
FRA                             0          0          0
USA – Brianna Pinto (Civana Kuhlmann)                      58th minute
Lineups:
USA: 1-Amanda McGlynn, 13-Tara McKeown (10-Jordan Brewster, 46), 15-Karina Rodriguez, 5-Zoe Morse, 2-Kiara Pickett, 18-Jaelin Howell (capt.), 8-Brianna Pinto (14-Delanie Sheehan, 89), 16-Viviana Villacorta (20-Samantha Coffey, 74), 11-Taryn Torres (17-Abigail Kim, 46), 3-Sophia Smith (23-Kelsey Turnbow, 74), 9-Civana Kuhlmann (7-Penelope Hocking, 89)
Subs not used: 4-Naomi Girma, 6-Savannah DeMelo, 12-Brooke Heinsohn, 19-Jenna Bike, 21-Chardonnay Curran, 24-Samantha Hiatt
Head coach: Jitka Klimkova
FRA: 1-Mylène Chavas, 2-Elisa De Almeida, 3-Selma Bacha, 5-Sarah Galera (capt.) (4-Julie Piga), 7-Emelyne Laurent, 8-Annahita Le Loch'h Zamanian (17-Amira Ould Braham, 63), 9-Marie Antoinette Katoto, 10-Christy Gavory, 14-Julie Thibaud, 20-Mathilde Bourdieu (15-Lina Boussaha, 46), 22-Kelly Gago (21-Sandy Baltimore, 64)
Subs not used: 6-Doriane Pau, 12-Pauline Dechilly, 13-Romane Enguehard 16-Jade Lebastard, 18-Sana Daoudi, 19-Ines Boutaleb
Head coach: Gilles Eyquem
Stats Summary: USA / FRA
Shots: 5 / 12
Shots on Goal: 4 / 7
Saves: 7 / 3
Corner Kicks: 5 / 4
Fouls: 4 / 4
Offside: 1 / 4
Misconduct Summary:
None
Officials:
Referee: Maiha Vandersticher
Assistant Referee 1: Camille Soriano
Assistant Referee 2: Savina Elbour
Fourth Official: Anaelle London
ussoccer.com Woman of the Match: Amanda McGlynn
Note: Unlimited substitutions were allowed