Girls ECNL welcomes Virginia Development Academy as new member club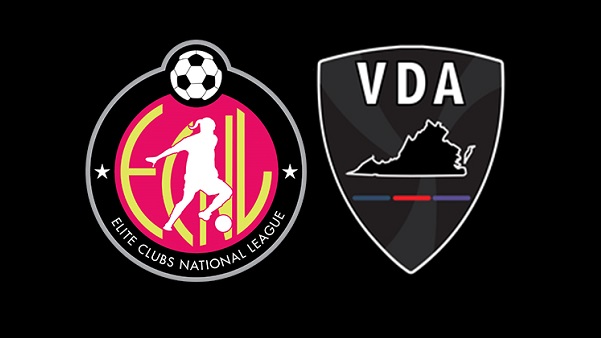 RICHMOND, VA (Via ECNL) – The Girls Elite Clubs National League has announced that Virginia Development Academy (VDA) will be joining the Girls ECNL beginning in the 2018-2019 ECNL Season. The ECNL will be the only national league in which the club will compete, and the focal point of its competitive efforts.
Virginia Development Academy was formed in 2015 to improve long-term player development for both boys and girls at all levels of the game by providing national-level competition and programming for its members. VDA is a partnership between Prince William Soccer, Inc., Virginia Soccer Association and Vienna Youth Soccer, clubs that have collectively won four of the eight US Club State Cup Championships this past fall, captured 16 Virginia NPL titles since 2015, and have developed many players for collegiate soccer.
"Virginia Development Academy is honored to join the Girls ECNL." said Mike Cullina, Executive Director for Virginia Development Academy. "Over the past few weeks, our leadership team, including technical, administrative and parent representatives, underwent an in-depth review of the needs of our female student-athletes and culture of our organization. Ultimately, we determined the Girls ECNL was the best development platform for our female players to provide quality competition and maximum exposure in every age group."
+READ: Loudoun Soccer joins Girls ECNL for 2018-2019 season
The Girls ECNL is the nation's top development and competition platform for female soccer players, with conference competition in six age groups (U13, U14, U15, U16, U17, and U18/19) and unmatched collegiate exposure through the ECNL National Events, the largest collegiate showcases in the country.  In addition to the competition platform, the Girls ECNL offers player identification and development opportunities for top players in every conference, unique coaching education and club development programs, and player health and education resources.
"VDA is a tremendous addition to the Girls ECNL and the Mid-Atlantic Conference," said ECNL Commissioner Jen Winnagle. "VDA was created through club collaboration in the best interests of player development, and the VDA leadership aligns with the ECNL core values and vision. Together, these qualities insure a fantastic experience for the club in the ECNL, and a strong partner for the ECNL."
Virginia Development Academy will begin formal competition in the Girls ECNL in August 2018. Additional new clubs will be announced in the Girls ECNL in the coming weeks.