U.S. U-20 WNT heads to StubHub Center for training camp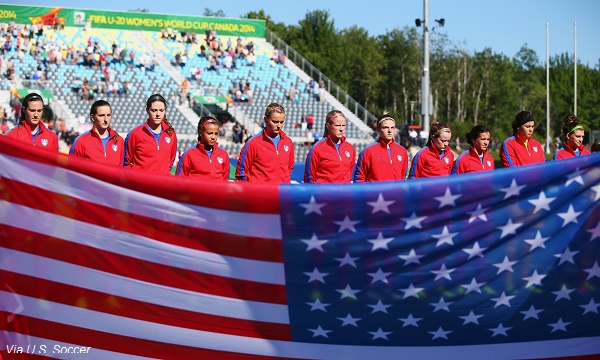 CHICAGO (Via U.S. Soccer) – The U.S. Under-20 Women's National Team will hold a training camp from Aug. 23-30 as U.S. head coach Michelle French has called 31 to the U.S. Soccer National Training Center at StubHub Center in Carson, California.
As the women's college season begins this Friday, the roster is made up entirely of pre-college youth club players, with 12 born in 1997, 13 born in 1998, four players born in 1999 and two in 2000. French will use the camp to continue to deepen the player pool and look at players in various age groups compete against each other as the team focuses on qualifying for the 2016 FIFA Under-20 Women's World Cup that will be held in Papau New Guinea.
"We have a tremendous opportunity to bring together some of the younger talent that has been identified over the past few months," said French. "With the depth of our U-20 pool, coupled with the emergence of players from our U-17, U-18, and U-19 National Team programs, I'm confident the camp will feature a highly competitive environment with the naming of the World Cup qualifying roster being just a few months away."
The age cut-off for this group is players born on or after Jan. 1, 1996. The CONCACAF qualifying tournament is scheduled for the end of 2015 in Honduras.
U.S. U-20 WNT Roster by Position:
GOALKEEPERS (4): Brooke Bollinger (Orlando City; Indialantic, Fla.), Brooke Heinsohn (New England FC; Norfolk, Mass.), Lauren Rood (Crossfire FC; Camas, Wash.), Brittany Wilson (Real Colorado; Littleton, Colo.)
DEFENDERS (8): Tierna Davidson (De Anza Force; Menlo Park, Calif.), Julie Doyle (San Diego Surf; Laguna Nigel; Calif.), Mia Gyau (McLean Soccer Club; Silver Spring, Md.), Samantha Hiatt (Crossfire FC; Newcastle, Wash.), Zoe Morse (Michigan Hawks; East Lansing, Mich.), Taylor Otto (CASL; Apex, N.C.), Kiara Pickett (Eagles; Santa Barbara, Calif.), Amanda Visco (PDA; Manalapan, N.J.)
MIDFIELDERS (8): Marley Canales (San Diego Surf; San Diego, Calif.), Alyssa Baumbick (Internationals Soccer Club; Avon Lake, Ohio), Savannah DeMelo (Beach FC; Bellflower, Calif.), Olivia Erlbeck (San Diego Surf; Rancho Santa Fe, Calif.), Alissa Gorzac (Eclipse Soccer Club; Naperville, Ill.), Jordan Harr (Dallas Sting; Sachse, Texas), Briana Pinto (CASL; Durham, N.C.), Taryn Torres (FC Dallas; Frisco, Texas)
FORWARDS (11): Jenna Bike (Connecticut FC; Trumbull, Conn.), Marissa Bosco (Eclipse Soccer Club; St. Charles, Ill.), Kirsten Davis (SLSG – Missouri; Chesterfield, Mo.), Emily Fox (FC Virginia; Ashburn, Va.), Meghan McCool (Penn Fusion; Glenside, Penn.), Katie Pingel (SoCal Blues; Torrance, Calif.), Mallory Pugh (Real Colorado; Highlands Ranch, Colo.), Zoe Redei (Eclipse Soccer Club; Highland Park, Ill.), Ashley Sanchez (SoCal Blues; Monrovia, Calif.), Alexa Spaanstra (Michigan Hawks; Brighton, Mich.), Ella Stevens (GSA; Grayson, Ga.)