U.S. U-19 Women's National Team falls 5-2 to Czech Republic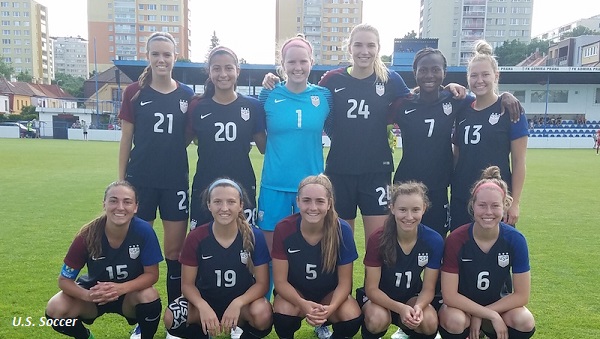 PRAGUE, Czech Republic (Via U.S. Soccer) – The U.S. U-19 Women's National Team fell 5-2 to the full Czech Republic Women's National Team, with Viviana Villacorta and Adrienne Richardson scoring for the young Americans.
The hosts scored twice in the first half and three times in the second, but one goal was an own goal by the USA and one goal came off a penalty kick.
The U-19 WNT scored to make it 2-1 in the 51st minute as a bad clearance from the Czech goalkeeper bounced to Villacorta at the top of the penalty box and she finished into the top corner.
+READ: U.S. U-23 Women's National Team defeats Sweden 2-1
The Czechs then scored three times in a row before Richardson pulled one back in the 79th minute, running onto a through ball from Taylor Kornieck before slotting it home into the lower right corner.
The USA did create 11 shots and put seven on goal, but the Czech Republic was far more efficient, scoring five goals off 13 shots and 10 on target.
– U.S. Under-19 Women's National Team Match Report –
Match: U.S. Under-19 WNT vs. Czech Republic WNT
Date: June 13, 2017
Competition: International Friendly
Venue: Stadium Admira; Prague, Czech Republic
Weather: 65 degrees; sunny
Scoring Summary:   1          2          F
USA                             0          2          2
CZE                             2          3          5
CZE – Kamila Dubcová                                              27th minute
CZE – Own Goal (Taylor Kornieck)                           42
USA – Viviana Villacorta                                             51
CZE – Tereza krejciriková                                         55
CZE – Katerina Svitková (Penalty Kick)                     69
CZE – Katerina Svitková                                            72
USA – Adrienne Richardson                                       79
Lineups:
USA: 1-Amanda McGlynn; 5-Sydney Dawson (18-Karina Rodriguez, 60), 6-Natalie Winters (10-Savannah DeMelo, 77), 7-Abigail Kim (9-Jordan Brewster, 77), 11-Emina Ekic (14-Gee Cecilia, 60), 13-Isabella Briede (8-Adrienne Richardson, 46), 15-Karlie Paschall (capt.), 19-Kerry Abello (3-Sophia Serafin, 77), 20-Viviana Villacorta, 21-Julie Doyle (2-Kiara Pickett, 60), 24-Taylor Kornieck
Subs not used: 12-Brooke Bollinger, 17-Sydney Zandi
Head Coach: Keri Sarver
CZE: 1-Barbora Votiková; 3-Nikola Sedlackova (17-Kristyna Janku, 58), 4-Petra Bertholdová (capt.), 6-Eva Bartonová, 8-Jana Sedlácková, 10-Katerina Svitková, 11-Tereza Krejciríková (20-Pavlína Nepokojová, 58), 13-Kamila Dubcová (12-Eliska Janíková, 58), 14-Petra Vystejnová, 15-Gabriela Matouskova, 18-Jitka Chlastáková
Subs not used: 5-Anna Dlasková, 9-Tererza Szewieczková,16-Alexandra Vanícková, 19-Petra Divisová
Head Coach: Karel Rada
Statistical Summary: USA / CZE
Shots: 11 / 13
Shots on Goal: 7 / 10
Saves: 4 / 5
Corner Kicks: 1 / 8
Fouls: 8 / 9
Offside: 3 / 1
Misconduct Summary:
None
Officials:
Referee: Lucie Sulcová (CZE)
Asst. Referee 1: Gabriela Hanáková (CZE)
Asst. Referee 2: Jana Zaplatilová (CZE)