Tracey Kevins appointed as U.S. U-15 Girls National Team head coach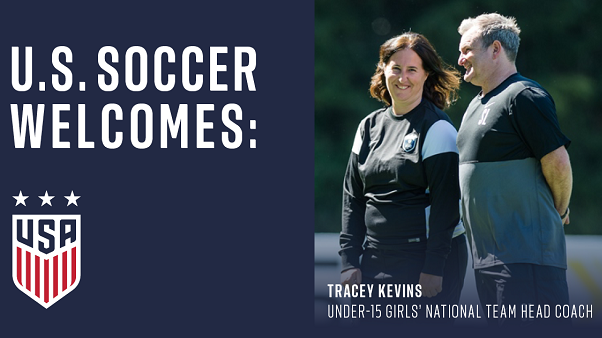 CHICAGO (Via U.S. Soccer) – U.S. Soccer has announced the hiring of Tracey Kevins as full-time head coach of the U.S. Under-15 Girls' National Team.
Kevins comes to U.S. Soccer from the Seattle Reign in the NWSL where she served as an assistant coach for just over a year before taking this current post. With the Reign, in addition to her coaching and scouting duties for the NWSL squad, she was also the Technical Director for the Seattle Reign Academy where she was responsible for overseeing five head coaches and their teams.
Kevins will work closely with U.S. Soccer Women's Youth National Teams Director April Heinrichs and the age group coaches for the younger teams in the Youth National Team programs.
"U.S. Soccer's continuing commitment to hiring full-time Youth National Team coaches allows us to have a team of highly motivated and talented people working in partnership with clubs and colleges to prepare players for the international level," said Heinrichs. "The centerpiece of our new model is the hiring of age-appropriate experts for every age group and bringing on Tracey now gives us a dedicated coach from the U-20s on down."
Since 2013, Kevins has been coaching at the U.S. Soccer Training Centers in the northwest, helping to identify and assess players for potential call-ups to the USA's Youth National Teams.
Kevins also coached two teams in the USL W-League, guiding the L.A. Blues to a 15-0-0 record and a national championship in 2014. Eight players on the team were taken in the 2015 NWSL Draft. Kevins also has worked in the Southern California youth soccer club circuit with LA Premier.
"Tracey has a wealth of domestic and international experience that identified her as the best candidate to lead our U-15 Girls' National Team," said Heinrichs. "She has a great understanding of how to teach 13, 14, and 15 years-olds and how to send them home with doses of inspiration so they are improving every day, not just when we have them in National Team camp."
A native of London, from 2004-2013, Kevins worked for the England Football Association as an assistant coach with the U-15, U-17, U-19 and U-20 national teams. On occasion, she served as head coach for the U-17 and U-19 England Women's National Teams during tournaments and training camps.
She was an assistant coach for the England team that finished second at the 2007 U-19 Women's Euros and with the team that finished in the top four in 2008. She was also an assistant coach at the 2008 FIFA U-20 Women's World Cup in Chile. Kevins also has extensive experience working with young players at several Centres of Excellence in England. On the boys' side, she worked as an assistant coach with Wealdstone FC U-19s from 2004-2005 and 2008-2009.
As a player, she captained Barnet FC from 1989-2003 before retiring and immediately started managing the reserve team. Kevins attended St. Mary's University in Twickenham where she earned a B.A. with honors in Sports Science and Physical Education. She holds an UEFA "A" coaching license.
With the recent hiring of Jitka Klimkova as the new U-20 Women's National Team head coach, Mark Carr as new head coach of the U.S. U-17 Women's National Team, Keri Sarver as head coach of the U-19 WNT and Kacey White as head coach of the U-16 GNT, U.S. Soccer has filled full-time head coaching positions for seven of its National Team age groups.
Kevins will take the reins of her first training camp in September at the U.S. Soccer National Training Center in Carson, Calif.
2017 Head Coaches – U.S. Youth Girls' and Women's National Teams
Youth WNT Director: April Heinrichs
Under-20 WNT: Jitka Klimkova
Under-19 WNT: Keri Sarver
Under-18 WNT: Jaime Frias
Under-17 WNT: Mark Carr
Under-16 GNT: Kacey White
Under-15 GNT: Tracey Kevins
Under-14 GNT: April Kater