U.S. U-23 Women's National Team defeats Sweden 2-1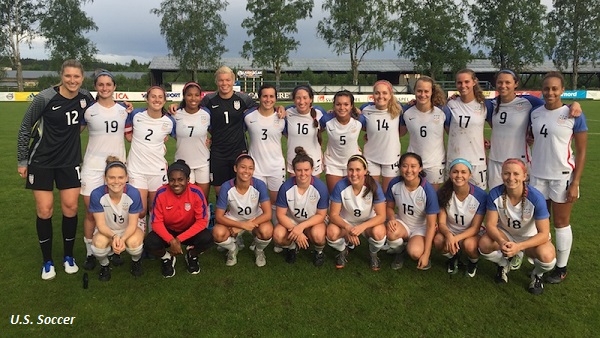 SUNNE, Sweden (Via U.S. Soccer) – The U.S. Under-23 Women's National Team defeated Sweden, 2-1, with 17-year-old midfielder Jaelin Howell and North Carolina Courage forward Ashley Hatch tallying the goals.
The USA went unbeaten at the Women's U-23 Four-Nations Nordic Tournament, also defeating Norway 3-0 and drawing 0-0 with England, but the English won the tournament based on a better goal difference, compiling a plus-6 to the USA's plus-4.
The USA went into the final match day having to overturn a one-goal deficit in goal difference with the Lionesses to finish in first place, but England clinched the tournament with a 2-0 victory against Norway.
+READ: U.S. U-23 Women's National Team plays England to 0-0 draw
U.S. head coach B.J. Snow started all six NWSL players on the roster and it was Hatch, who recently scored her first NWSL goal, that got the USA on the board in the 19th minute. Hatch took advantage of a poor clearance by a Sweden defender and volleyed it into the left side of the net from just outside the penalty box.
The USA went up 2-0 on a set play in the 39th minute as Tegan McGrady took a free kick from the right side about 25 yards from the goal. She served the ball to the back post near the top of the six-yard box and Howell jumped over her defender to head the ball down inside the near post. The play was remarkably similar to the McGrady-to-Howell combination that produced a goal against Norway as well.
Sweden pulled a goal back after some high pressure won the ball in an advanced position down the field and Anna Anvegard lofted a shot into the goal to draw Sweden to within one in the 52nd minute for the final score line.
– U.S. Under-23 Women's National Team Match Report –
Match: U.S. U-23 WNT vs. Sweden U-23 WNT
Date: June 12, 2017
Competition: Women's U-23 Open Nordic Tournament
Venue: Kolsvik Stadium; Sunne, Sweden
Weather: 60 degrees; rainy
Scoring Summary:   1          2          F
USA                             2          0          2
SWE                            0          1          1
USA – Ashley Hatch                                       19th minute
USA – Jaelin Howell (Tegan McGrady)         39
SWE – Anna Anvegard                                   52
Lineups:
USA: 1-Jane Campbell; 3-Christina Gibbons, 19-Kaleigh Riehl, 13-Kristen McNabb, 20-Tegan McGrady (2-Zoey Goralski, 79); 6-Jaelin Howell, 24-Savannah McCaskill (capt.) (14-Natalie Jacobs, 89), 17-Danielle Weatherholt (Sandra Yu, 79); 15-Michelle Xiao (5-Sophia Smith, 65), 11-Margaret Purce, 9-Ashley Hatch
Subs not used: 12-Casey Murphy, 4-Ellie Jean, 8-Jordan DiBiasi, 10-Brianna Pinto, 11-Mayra Pelayo, 18-Hailie Mace
Head Coach: B.J. Snow
SWE: 1-Emma Holmgren; 3-Emelie Andersson (13-Elin Karlsson, 79), 4-Ellen Lofqvist, 6-Filippa Angeldal, 8-Michelle De Jongh, 11-Johanna Kaneyd (9-Rebecka Blomqvist, 65), 14-Alice Nilsson (capt.), 15-Sofia Wannerdahl (5-Lotta Okvist, 46), 16-Nellie Lilja (7-Anna Oskarsson, 43), 19-Madelen Janogy (10-Anna Anvegard, 46), 20-Loreta Kullashi (17-Jonna Stahl, 79)
Subs not used:  2-Ronja Aronsson, 12-Britta Gynning, 18-Irma Helin, 22-Frida Boreiro, 23-Julia Olme
Head Coach: Anneli Andersen
Stats Summary: USA / SWE
Shots: 9 / 3
Shots on Goal: 5 / 2
Saves: 1 / 3
Corner Kicks: 6 / 3
Fouls: 6 / 7
Offside: 4 / 0
Misconduct Summary:
SWE – Anna Oskarsson (caution)                 70th minute
2017 Women's U-23 Four-Nations Nordic Tournament Final Standings – Sweden
| | | | | | | | | |
| --- | --- | --- | --- | --- | --- | --- | --- | --- |
| Team | GP | W | L | T | Pts. | GF | GA | GD |
| ENG | 3 | 2 | 0 | 1 | 7 | 6 | 0 | +6 |
| USA | 3 | 2 | 0 | 1 | 7 | 5 | 1 | +4 |
| SWE | 3 | 1 | 2 | 0 | 3 | 2 | 6 | -4 |
| NOR | 3 | 0 | 3 | 0 | 0 | 0 | 6 | -6 |
2017 Women's U-23 Four-Nations Nordic Tournament Final Results
June 6
USA 3, Norway 0
England 4, Sweden 0
June 9
USA 0, England 0
Sweden 1, Norway 0
June 12
USA 2, Sweden 1
England 2, Norway 0