U.S. U-19 WNT travels to the Netherlands for pair of friendlies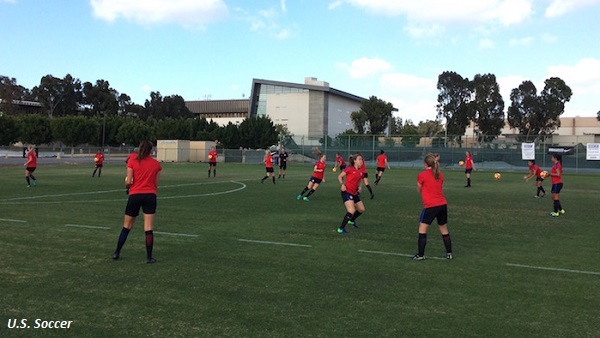 CHICAGO (Via U.S. Soccer) – The U.S. Under-19 Women's National Team will gather for the first event of a new cycle, traveling to the Netherlands for two matches against the Dutch U-19s.
The USA will face the Netherlands U-19 WNT on Nov. 7 at 7 p.m. local time and Nov. 9 at 6:30 p.m. local time with both games taking place at the Sportpark Deto Twenterand in Vriezenveen, Netherlands.
U.S. head coach Keri Sarver has named 22 players to the roster, with eight born in 2000, seven in 2001, six in 2002 and one in 2003 in midfielder Alexis Missimo. With the latest U-20 WNT cycle now over, and the U-17 WNT cycle not yet complete as that team heads to its World Cup in Uruguay in November, this event will begin a new cycle for the U-19 WNT, which next year will feature mostly players born in 2001.
+NCAA Women's Soccer Commitment Announcements: October 2018
This event is also serving a starting point for the new U-20 WNT cycle, which has a birth year cut-off of players born on or after January 1, 2000 to eligible for the 2020 FIFA U-20 Women's World Cup.
The players on this roster will be considered for the U-20 WNT squad that will participate in the Nike Friendlies in December. That tournament marks the first tournament of the cycle for players working towards qualifying for the next U-20 WWC.
Nine players on the roster have seen time with the U.S. U-17 WNT this year while three more have seen time with the U-18 WNT.
U.S. U-19 WNT Roster by Position

GOALKEEPERS (2): Mia Justus (IMG Academy; North Brunswick, N.J.), Halle Mackiewicz (Real Colorado; Broomfield, Colo.)
DEFENDERS (7): Samantha Agresti (FC Stars; Swampscott, Mass.), Abby Allen (Lonestar SC; Austin, Texas), Maycee Bell (NC Courage; Wichita, Kan.), Natalie Maurer (Richmond United; Richmond, Va.), Nicole Payne (Concorde Fire SC; Birmingham, Ala.), Makayla Roe (SC Del Sol; Anthem, Ariz.), Elaine Rouse (NC Courage; Cary, N.C.)
MIDFIELDERS (6): Megan Bornkamp (Charlotte Soccer Academy; Mooresville, N.C.), Isabella Cook (Eclipse Select; Oak Brook, Ill.), Coriana Dyke (Colorado Rapids; Littleton, Colo.), Alexis Missimo (Solar SC; Southlake, Texas), Jenna Nighswonger (Slammers FC; Huntington Beach, Calif.), Sakura Yoshida (Reign Academy; Redmond, Wash.)
FORWARDS (7): Jaelyn Eisenhart (Slammers FC; Henderson, Nev.), Mia Fontana (San Jose Earthquakes; Burlingame, Calif.), Aleigh Gambone (McLean Youth Soccer; Clifton, Va.), Dilary Heredia-Beltran (Sporting Blue Valley; Overland Park, Kan.), Samantha Kroeger (World Class FC; Milford, N.J.), Kali Trevithick (Legends FC; Temecula, Calif.), Reilyn Turner (So Cal Blues; Aliso Viejo, Calif.)