U.S. U-19 WNT heads to Czech Republic for two friendlies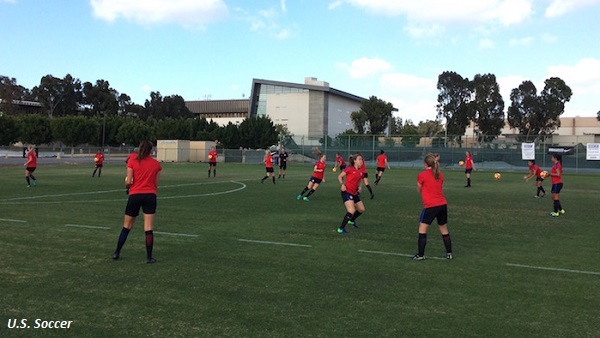 CHICAGO (Via U.S. Soccer) – The U.S. Under-19 Women's National Team will travel to the Czech Republic from June 5-14 for its first trip abroad this year.
The trip will feature two international matches as the USA takes on the full Czech Republic Women's National Team (which is ranked 36th in the world) on Saturday, June 10, and then will face the Czech Republic U-19 WNT on Tuesday, June 13. Both matches will be played at Stadium Admira in Slavoj Kobylisy in the northern part of Prague.
Twenty players have been called up for the trip, seven of them currently enrolled in college and the rest currently playing youth club. The roster includes one player who played for the USA at the 2016 U-20 Women's World Cup in Papua New Guinea in midfielder Savannah DeMelo and four who played at the 2016 U-17 Women's World Cup in Jordan in defenders Kiara Pickett and Karina Rodriguez, midfielder Sydney Zandi and forward Civana Kuhlmann, who scored for the U.S. U-20 WNT in a friendly match against Japan on May 22, a 2-1 loss in Los Angeles.
+READ: U.S. Soccer Development Academy 2017-2018 schedule released
DeMelo, Rodriguez, defenders Sophia Serafin and Sydney Dawson, midfielders Julie Doyle, Viviana Villacorta and Taylor Kornieck, forwards Abigail Kim and Isabella Briede and goalkeeper Amanda McGlynn were also on the U-20 roster for that camp and games against Japan.
U.S. Under-20 Women's National Team head coach Jitka Klimkova, a native of the Czech Republic, will be one of the assistant coaches on the trip.
Twelve players on this roster were born in 1999 with the other eight born in 1998 and all are eligible for the team that will attempt to qualify for the 2018 FIFA U-20 Women's World Cup to be held in France. The age cut-off for that World Cup is players born on or after January 1, 1998.
U.S. U-19 WNT Roster by Position

GOALKEEPERS (2): Brooke Bollinger (Orlando City; Melbourne, Fla.), Amanda McGlynn (Virginia Tech; Jacksonville, Fla.)
DEFENDERS (7): Kerry Abello (Eclipse Select; Batavia, Ill.), Sydney Dawson (Internationals SC; Akron, Ohio), Julie Doyle (San Diego Surf; Laguna Nigel, Calif.), Karlie Paschall (Tennessee SC; Brentwood, Tenn.), Kiara Pickett (Eagles SC; Santa Barbara, Calif.), Karina Rodriguez (UCLA; Torrance, Calif.), Sophia Serafin (West Coast FC; Glendora, Calif.)
MIDFIELDERS (5): Savannah DeMelo (USC; Bellflower, Calif.), Taylor Kornieck (Colorado; Henderson, Nev.), Viviana Villacorta (Beach FC; Lawndale, Calif.), Natalie Winters (Iowa; Plymouth, Mich.), Sydney Zandi (Penn Fusion; West Chester, Penn.)
FORWARDS (6): Jordan Brewster (Internationals SC; North Canton, Ohio), Isabella Briede (Tophat SC; Alpharetta, Ga.), Emina Ekic (Javanon FC; Fairdale, Ky.), Cecilia Gee (Stanford; Orinda, Calif.), Abigail Kim (California; Vashon, Wash.), Civana Kuhlmann (Colorado Rush; Littleton, Colo.)