U.S. U-19 Men's National Team takes third place at Slovakia Cup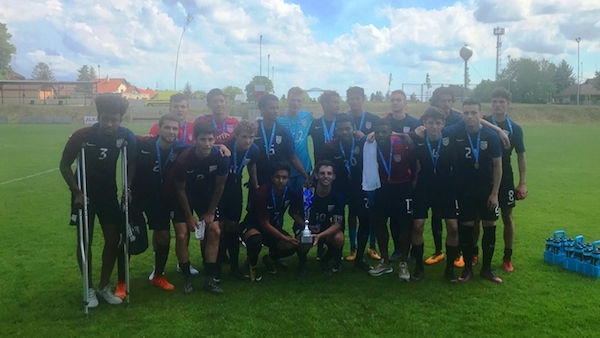 U.S. National Team Roster Pools
U-15 | U-16 | U-17 | U-18 | U-19 | U-20 | MNT
CHICAGO (Via U.S. Soccer) – The U.S. Under-19 Men's National Team got a goal from Jeremy Rafanello (Philadelphia Union) and a brace from Sebastian Soto (Real Salt Lake) to defeat Azerbaijan 3-0 and claim third place at the 2018 Slovakia Cup in Trnava, Slovakia.
After posting wins it its first two games of group play against Kazakhstan (8-0) and Ukraine (2-1), the USA fell short in its Group B finale, against Czech Republic (3-1). The game would prove to be the defacto semifinal with the winner heading to the Slovakia Cup final. The U.S. would settle for the third-place match, where the Red, White and Blue bounced back from it's tough loss to hand the Land of Fire a 3-0 defeat.
Soto, who ended his Slovakia Cup campaign with five goals in four games, was awarded the tournament's Golden Boot.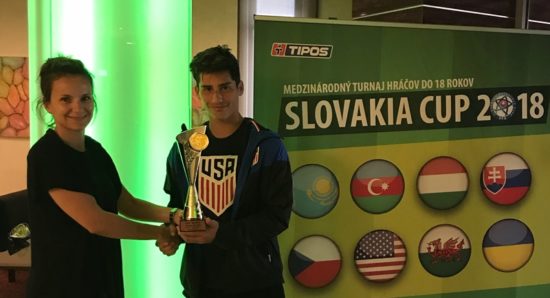 USA 1, Czech Republic 3: In the first minute of its final Group B contest, the USA conceded an own goal, its first of the tournament. Fourteen minutes later, luck balanced out as the Czech Republic conceded an own goal of its own. The buildup to the goal began when midfielder Taylor Booth found defender Akil Watts, who was working the right sideline. Watts then fed the ball right back to Booth, who beat his defender down the right side of the penalty box. Booth then sent in a dangerous cross that was headed to the feet of Sebastian Soto before it was deflected by a Czech Republic defender and into the net.
After a scoreless remainder of the first half, Czech Republic found goals in the 52nd and 67th minutes to close out the game.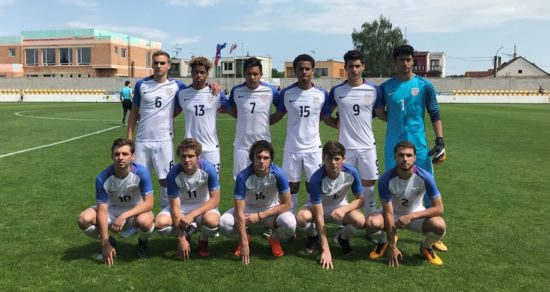 – U.S. U-19 Men's National Team Match Report –
Match: U.S. U-19 Men's National Team vs. Czech Republic
Date: May 10, 2018
Competition: Slovakia Cup 2018
Venue:  Štadión Jaslovské Bohunice
Kickoff: 6 a.m. ET (12 p.m. local time)
Weather: 70 degrees
Scoring Summary:      1          2          F
CZE                              1          2          3
USA                             1          0          1
CZE – Own Goal                      1st minute
USA – Own Goal                     15
CZE – Ondrej Stursa                52
CZE – Michael Honig               67
Lineups:
USA: 1-Justin Garces; 13-Akil Watts, 6-James Sands (capt.), 15-J.J. Foe Nuphaus, 2-Charlie Asensio (20-Rayshaun McGann, 59); 4-Sean Zawadzski, 14-Taylor Booth (17-Zyen Jones, 68), 10-Blaine Ferri; 7-Jacobo Reyes (8-Jeremy Rafanello, 59), 9-Sebastian Soto, 11-Declan McGlynn (21-Matt Hundley, 53)
Subs not used: 5-Jake Arteaga, 16-Kyle Holcomb, 18-Isaiah Parente, 22-Sam Fowler
Head Coach: Dave van den Bergh
CZE: 1-Jan Vykilicky; 12-Tomas Chyla, 18-David Heidenrieich, 7-Lukas Husek (3-Vaclav Mika, 80), 19-Jan Bena; 21-Ondrej Stursa (11-Michael Honig, 60), 14-David Machacek, 6-Filip Kaloc, 13-Michal Kohut; 22-Tomas Ostrak (9-Matej Valenta, 75), 5-Tomas Kepl (17-Tomas Cvancara, 80)
Subs not used: 2-Daniel Finek, 4-David Zima, 8-Dominik Simacek, 15-Daniel Horak, 20-MartinSedlak
Head Coach: Jan Suchoparek
Stats Summary: USA / CZE
Shots: 4 / 11
Shots on Goal: 1 / 7
Saves: 5 / 1
Corner Kicks: 6 / 8
Fouls: 5 / 9
Offsides: 0 / 2
Misconduct Summary:
none
The game was played with two 40-minute halves
USA 3, Azerbaijan 0: The U-19 MNT bounced back in the third-place match against Azerbaijan. In the 20th minute of play, Philadelphia Union forward Jeremy Rafanello got the scoring started for the Red, White and Blue, after Jacobo Reyes (C.F. Monterrey) began an attack up the left flank. After dribbling through a handful of defenders inside the penalty box, Reyes cut the ball back inside to Rafanello, who took a touch to his right before smashing the ball back to the left side of the goalkeeper.
In the second half, the USA added two more scores, both from the Golden Boot winner. In the 59th, Soto employed a diving header to score on a well-played ball from Matt Hundley (Colorado Rapids), giving the U.S. a 2-0 lead. Back on the attack and looking to seal the victory, the U-19 MNT would do just that 12 minutes later. Beginning with a sprint up the left flank from Rafanello, who found a lane to send the ball to Holcomb, he spotted Soto running at the Czech Republic defense. Soto buried the ball through the 'keepers' wickets and into the far side netting.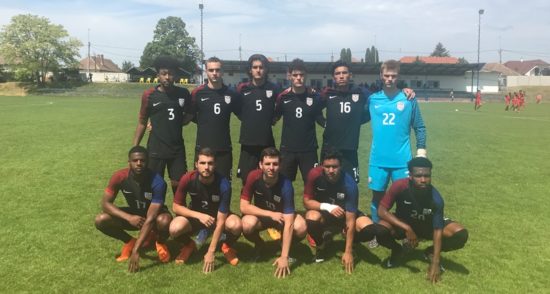 – U.S. U-19 Men's National Team Match Report –
Match: U.S. U-19 Men's National Team vs. Azerbaijan
Date: May 11, 2018
Competition: Slovakia Cup 2018
Venue:  Puste Ulany
Kickoff: 6 a.m. ET (12 p.m. local time)
Weather: 70 degrees
Scoring Summary:      1          2          F
USA                             1          2          3
AZE                              0          0          0
USA – Jeremy Rafanello                     20th minute
USA – Sebastian Soto                         59
USA – Sebastian Soto                         71
Lineups:
USA: 22-Sam Fowler; 2-Charlie Asensio, 5-Jake Arteaga, 20-Rayshaun McGann (15-J.J. Foe Nuphaus 41), 3-Chris Gloster (capt.) (13-Akil Watts, 12), 6-James Sands (4-Sean Zawadzki, 41), 10-Blaine Ferri, 7-Jacobo Reyes (9-Sebastian Soto, 41); 16-Kyle Holcomb (11-Declan McGlynn, 41), 8-Jeremy Rafanello, 17-Zyen Jones (21-Matt Hundley, 41)
Subs not used: 1-Justin Garces, 14-Taylor Booth, 18-Isaiah Parente
Head Coach: Dave van den Bergh
AZE: 1-Nijat Mehbaliyev; 5-Rauf Huseynli, 24-Ibrahim Huseyncv, 2-Elnur Ibrahimov, 27-Rustam Nuruyev; 8-Sakir Seyidov, 7-Turan Valizade, 6-Sabuhi Abdullazade (10-Kamran Guliyev, 40); 9-Xagani Sadigov, 18-Emil Gasimov, 21-Rufat Abdullazade
Subs not used: 3-Huseyn Ahmadov, 12-Emrah Zolfugarli, 13-Kamran Mammadov, 20-Elvin Talibov
Head Coach: Vuga Mammad
Stats Summary: USA / AZE
Shots: 6 / 7
Shots on Goal: 5 / 4
Saves: 4 / 2
Corner Kicks: 2 / 3
Fouls: 7 / 15
Offsides: 1 / 2
Misconduct Summary:
AZE – Xagani Sadigov (caution)          12th minute
AZE – Sakir Seyidov (caution)             52
AZE – Kamran Culiyev (caution)         61
AZE – Turan Valizade (sent off)          61
AZE – Rauf Huseynli (sent off)            74
The game was played with two 40-minute halves