U.S. U-16 Girls National Team routs Belgium 5-1 in UEFA Tournament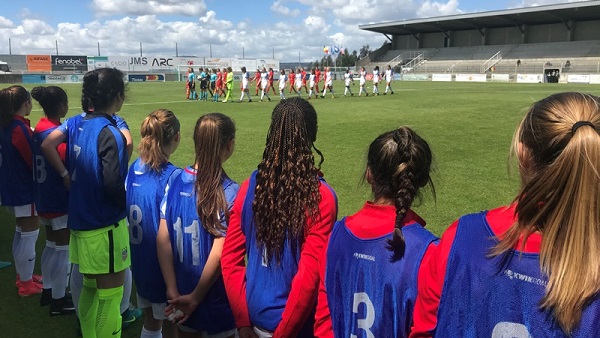 REBORDOSA, Portugal (Via U.S. Soccer) – The U.S. Under-16 Girls' National Team defeated its counterpart from Belgium 5-1 in the first of three games it will play at the UEFA Women's International Development Tournament.
The USA scored three times in the first half and twice in the second of the 80-minute match and were lead by two goals from forward Simone Jackson and two assists from forward Amelia White.
In the four-team tournament, the USA is yet to face host Portugal on May 14 at the Capital Móvel Stadium in Paços Ferreira and finish against Switzerland on May 16 at the Municipal Stadium Coutada in Arcos Valdevez. The competition is being staged in northern Portugal, about 75 miles north of Porto.
The USA opened the scoring in just the sixth minute as midfielder Maggie Graham sent a through ball for forward Abbie Kotter, who ran onto it behind the defense and finished by slipping the ball under the onrushing goalkeeper to make it 1-0.
+READ: Concacaf U-17 Women's Championship to resume June 6-12 in Florida
The USA made it 2-0 in the 15th minute after midfielder Ayo Oke went on a 50-yard run that took her to the top of the 18-yard box. She then slipped a pass to forward Amber Nguyen on her left and Nguyen finished across the goal into the lower right corner.
It was 3-0 after 23 minutes when Kotter received the ball at the top of the penalty box and beat a defender before taking a hard shot that was saved by the 'keeper. The rebound fell to midfielder Tatiana Fung, who finished with a first-time shot into the empty goal.
Jackson scored the first of her two goals in the 68th minute after she received a pass from White at the top of the box. She then turned toward goal, cut it away from a defender and scored with a hard shot low to the bottom left corner. The 'keeper got a small piece of the ball but could not turn it away.
Belgium pulled a goal back in the 72nd minute, but the USA restored the four-goal margin just three minutes later. White got behind the defense with pace and drove into the penalty area before cutting back along the end line and playing a pass towards the penalty spot for Jackson, who settled and finished into the bottom right corner.
The U.S. features 10 players born in 2002 and 10 in 2003 for this tournament.
U-16 Girls' National Team Match Report
Match: U.S. Under-16 GNT vs Belgium U-16 GNT
Date: May 12, 2018
Competition: 2018 UEFA Women's U-16 International Development Tournament
Venue: Estadio do Rebordosa AC; Rebordosa, Portugal
Weather: 58 degrees, partly cloudy
Scoring Summary:      1          2          F
USA                             3          2          5
BEL                              0          1          1
USA – Abbie Kotter (Maggie Graham)                6th minute
USA – Amber Nguyen (Ayo Oke)                                   15
USA – Tatiana Fung (Abbie Kotter)                                23
USA – Simone Jackson (Amelia White)              68
BEL – Aidan McConnell (Own Goal)                              73
USA – Simone Jackson (Amelia White)              75
Lineups:
USA: 1-Mia Justus, 15-Ayo Oke (9-Andrea Kitahata, 62), 4-Abby Allen (3-Katie Groff, 41), 14-Aidan McConnell, 18-Sally Menti, 5-Devin Lynch (13-Jillian Martinez, 62), 24-Maggie Graham (7-Emma Egizii, 41), 6-Tatiana Fung (21-Zoe Burns, 41), 11-Amber Nguyen (10-Simone Jackson, 41), 8-Abbie Kotter (16-Amelia White, 62), 23-Arianna Manrique (17-Abigail Borchers, 62)
Subs not used: 22-Neeku Purcell
Head Coach: Tracey Kevins
BEL: 1-Riet Maes, 15-Silke Janssens, 3-Emilie Claerbout,13-Marith de Bondt (2-Emmy Donne, 54), 5-Fran Meersman (14-Sterre Gielen, 41), 4-Lea Cordier, 6-Feli Delacauw (8-Cato Dellaert, 54), 7-Jarne Teulings, 11-Tess Wils (19-Manon Lamotte, 41), 17-Lisa Buyle (18-Sien Vandersanden, 54), 10-Hannah Eurlings
Subs not used: 9-Liesbeth Maes, 12-Femke Schamp, 16-Daria Collas, 20-Welma Fon
Head Coach: Tamara Cassimon
Stats Summary: USA / BEL
Shots: 11 / 3
Shots on Goal: 7 / 3
Saves: 2 / 2
Corner Kicks: 1 / 1
Fouls: 12 / 7
Offside: 4 / 1
Misconduct Summary:
None
Officials:
Referee: Claudia Ribeiro (POR)
Assistant Referee 1: Mafalda Dias (POR)
Assistant Referee 2: Catia Leitao (POR)
4th Official: Barbara Domingues (POR)