U.S. U-18 WNT roster set for La Manga 12 Nations Tournament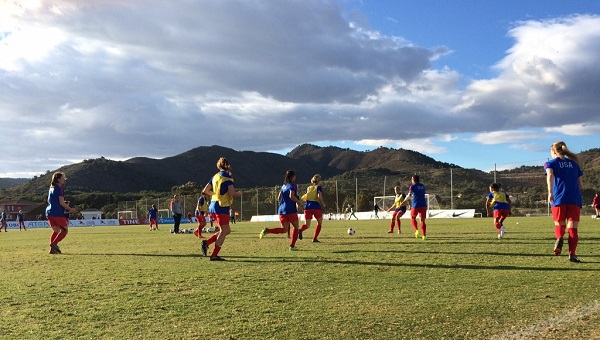 CHICAGO (Via U.S. Soccer) – The U.S. Under-18 Women's National Team will travel to Spain from Feb. 24-March 7 to play three games in the Women's U-19 La Manga 12 Nations Tournament. The friendly competition is for players born on or after January 1, 1999.
The USA will face England first on March 2, followed by the Netherlands on March 4 and finish against Norway on March 6. The other countries coming to the competition – teams the USA will not play – are Denmark, France, Italy, Scotland, Sweden, Iceland, the Czech Republic and Switzerland.
U.S. U-18 WNT head coach Jaime Frias has called up a 22-player roster featuring eight players born in 1999 and 14 born in 2000.
+READ: Forty-eight players called into U.S. U-14 Girls National Team camp
The squad is a mixture of collegiate and youth club players with six already enrolled in college that includes three players who were a part of USA's 2016 U-17 Women's World Cup Team in goalkeeper Meagan McClelland, defender Emily Smith and midfielder Sydney Zandi.
U.S. U-18 WNT Roster by Position

GOALKEEPERS (2): Claudia Dickey (Charlotte SA; Charlotte, N.C.), Meagan McClelland (Sky Blue-PDA; Kearny, N.J.)
DEFENDERS (8): Maycee Bell (Sporting Blue Valley; Overland Park, Kan.), Hannah Cardenas (Colorado; Boulder, Colo.), Sydney Dawson (Internationals SC; Akron, Ohio), Madelyn Desiano (UCLA; San Clemente; Calif.), Anna Heilferty (Boston University; Falls Church, Va.), Brianna Martinez (New Mexico Rush; Albuquerque, N.M.), Ella Shamburger (NTH Tophat; Atlanta, Ga.), Emily Smith (California; Los Gatos, Calif.)
MIDFIELDERS (6): Giovanna DeMarco (Match Fit; Gwynedd Valley, Pa.), Coriana Dyke (Colorado Rush; Littleton, Colo.), Emily Gray (Penn Fusion SA; Sewell, N.J.), Jenna Nighswonger (LAFC Slammers; Huntington Beach, Calif.), Allison Schlegel (Real Colorado; Parker, Colo.), Sydney Zandi (Virginia; West Chester, Pa.)
FORWARDS (6): Hannah Betfort (Wake Forest; Charleston, S.C.), Rachel Jones (NTH Tophat; Lawrenceville, Ga.), Maliah Morris (Bethesda SC; Germantown, Md.), Loren Sefcik (Internationals SC; Medina, Ohio), Alexa Spaanstra (Michigan Hawks; Brighton, Mich.), Summer Yates (Pacific Northwest SC; Pasco, Wash.)