U.S. U-18 Women's National Team falls 2-1 to England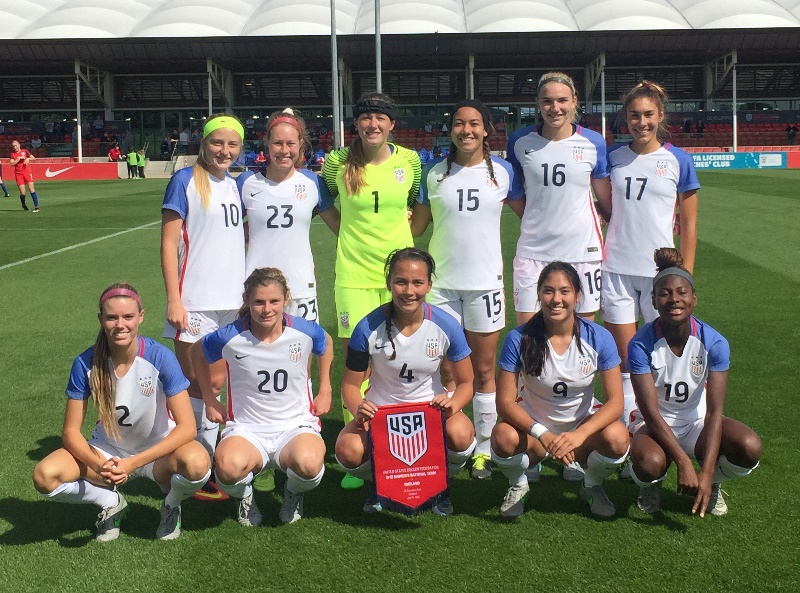 BALLYMENA, Northern Ireland (Via U.S. Soccer) – The U.S. U-18 Women's National Team fell to the England Under-19 WNT by a 2-1 score in the first of three matches at the Women's International Cup.
England took the lead in the 28th minute on a goal from Ajike Babajide, but the USA's Mireya Grey tied the match five minutes into the second half. England got the game-winner from Charlie Wellings in the 75thminute.
The Under-19 competition features mostly players born in 1998 and 1999. The USA next face France at 5 p.m. ET (Noon local) on Thursday, Oct. 20, at Mourneview Park in Lurgan before finishing against the hosts on Sunday, Oct. 2, at 9:30 p.m. ET (4:30 p.m. local) at the National Football Stadium at Windsor Park in Belfast.
All the matches can be watched live via a video stream at: http://www.irishfa.com/watchlive.
U.S. Soccer Women's Technical Director April Heinrichs named 20 players to the roster for the tournament, eight born in 1999 with the remainder born in 1998. As the majority of players in the U.S. U-18 WNT player pool are currently competing in their freshman seasons of college soccer, this roster is made up almost entirely of players currently playing youth club.
U.S. Under-18 Women's National Team Match Report
Match: U.S. Under-18 WNT vs. Under-19 England WNT
Date: October 18, 2016
Competition: Women's International Cup
Venue: Ballymena Showgrounds: Ballymena, Northern Ireland
Weather: 55 degrees; cloudy, light drizzle
Scoring Summary:   1          2          F
USA                              0          1          1
ENG                            1          1          2
ENG– Ajike Babajide                                                                           28th minute
USA – Mireya Grey (Arlie Jones)                                                       50
ENG– Charlie Wellings                                                                       75
Lineups:
USA: 1-Brooke Heinsohn (capt.), 3-Kerry Abello, 4-Julie Doyle (15-Mia Palmer, 46), 5-Sydney Dawson, 6-Sam Coffey, 10-Arlie Jones, 13-Mireya Grey (19-Viviana Villacorta, 80), 18-Shea Moyer (8-Haley Berg, 71), 23-Karlie Paschall, 24- Kirsten Davis (14-Kelsey Turnbow, 46), 25-Amirah Ali (9-Belle Briede, 71)
Subs not used: 16- Tara McKeown, 20-Sofia Weiner, 21-Jojo Harber, 22- Mandy McGlynn
Head Coach: April Heinrichs
ENG: 1-Alexandra Maciver, 2-Lucy Parker (17-Sian Johnson, 71), 3-Mayumi Pacheco, 4-Mollie Rouse (20-Lucy Shepherd, 84), 5-Grace Fisk (capt.), 6-Megan Finnigan (15-Samantha Tierney, 84), 7-Chloe Kelly, 8-Chloe Peplow, 9-Ajike Babajide, 10-Zoe Cross (14-Georgia Allen, 71), 11-Charlotte Devlin (16-Charlie Wellings, 71)
Subs not used: 12-Danielle Brown, 13-Sian Rogers, 18-Kess Elmore, 19-Rianna Dean
Head Coach: Marley Maureen
Statistical Summary: USA / ENG
Shots: 8 / 14
Shots on Goal: 5 / 7
Saves: 5 / 4
Corner Kicks: 4 / 7
Fouls: 10 / 10
Offside: 1 / 3
Misconduct Summary:
None