Q&A: Anthony Hudson roams from Real Maryland to New Zealand MNT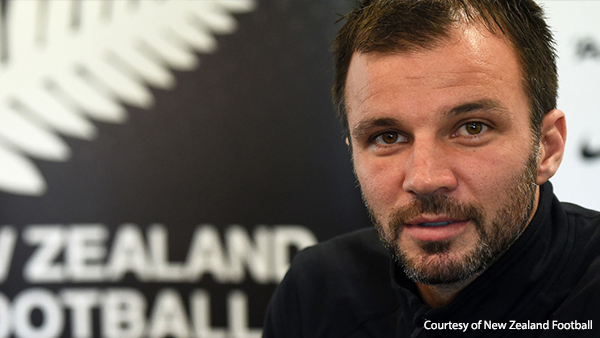 WASHINGTON – Last week's 1-1 draw between the U.S. Men's National Team and New Zealand at RFK Stadium was a modestly disappointing result for the higher-ranked Americans, and an encouraging result for an "All Whites" team searching for identity and respect.
The international friendly also marked a happy return to the D.C. area for New Zealand coach Anthony Hudson. The Englishman began his professional coaching career in the capital city's northwest suburbs six years ago, taking the reins of now-defunct club Real Maryland in the old Second Division of the United Soccer Leagues at the tender age of 27.
Hudson – whose father Alan was a star midfielder at Chelsea, Arsenal and Stoke City in the 1970s – prospered at Real Maryland, leading the Monarchs into the USL playoffs in his first season. (The club itself couldn't find a sustainable blueprint, though, self-relegating to the PDL in 2010 and eventually shuttering two years later.)
Now he's tasked with charting a course back to the World Cup for one of one of the world's most prominent Cinderellas, a modest nation whose dominance of the Oceania confederation gives them an inside track on World Cup intercontinental playoffs but requires near-flawless work once they get there.
Once dubbed "a young Jose Mourinho" by veteran English manager Harry Redknapp, Hudson's coaching career has already taken him around the globe, from England's lower divisions to Bahrain and now the All Whites, who will take on the world's best at the FIFA Confederations Cup in Russia next year. He shared a few minutes with SoccerWire.com at RFK.
SoccerWire.com: Welcome back to Washington. Has this visit prompted any nostalgia or reflection?
Anthony Hudson: When we actually landed here and we drove to the hotel, I had a little thought about it, how cool it is to be back here and playing against the [United] States. I'm so focused on the job here, preparing the team for the Confeds and getting into the World Cup, I haven't really looked at that scenario. But it was nice to be back here in D.C., because I had a nice time here.
SW: What are some of your memories from that chapter in your career?
AH: Ohhh, I loved it. I used to sit up there and watch D.C. United – when we [Real Maryland] played on a Saturday, we'd come watch [Sunday]. Honestly, I loved coming here – the fans in the supporters' [section], I used to love it. I loved America and US soccer, it's brilliant.
[Real Maryland] was a great little club. I think I was 26 or 27 at the time. I got the job and everyone said I was too young and all that sort of stuff. And it was hard, because we had the lowest budget in USL, which for a young coach is a great place to go and learn and deal with all the challenges and constraints and that type of thing. We played a couple preseason games against D.C. United – who was the coach, Curt Onalfo, it would've been? I have amazing memories of being here.
SW: Do you think you'll work in the U.S. again someday?
AH: You never know. American soccer, I do love the life here and football here is growing, and it's a very attractive place.
SW: You've always been known as an ambitious coach in a hurry to climb the professional ladder. Are you still on course to get where you want to go?
AH: Yeah, but I think I've changed slightly in the sense that I used to be very impatient. Now I know I'm supposed to be here, and I'm still incredibly ambitious, but I'm where I need to be. I've got a job to do here, and I'm happy. The challenge to coach in New Zealand is different from the USA – lots of the challenges have been where we are [geographically] in New Zealand and that type of thing. It's a really good opportunity. The group are amazing to work with, such an honest group of players, so right now I'm happy. I used to be like, 'I've got to be there by then and there by then and there by then" – I know where I want to be ultimately, but I'm where I need to be now.
SW: You spent nearly three years coaching Bahrain's Under-23s, and later its full national team. What was that stint like?
AH: It was amazing, I loved it. It really was an amazing experience, just the culture, players were brilliant to work with. As a young coach, the experience of dealing with the sheikhs, the board, the culture, being in a different religious group, working with an Arabic translator – it was just incredible, but enjoyable. It was a whole different format … you're working in a national team and you've got three different Arabic[-speaking] team managers; all these different dynamics that were really, really good, and helped me in good stead for this job.
SW: Why did you take up this challenge with New Zealand? The country's dominant position in such a small confederation seems like a blessing and a curse.
AH: For myself, it was an opportunity to go to Confederations Cup and World Cup, and test yourself against the top teams – that was a big attraction. Also, seeing the team at the 2010 World Cup, players like [former MLS and Premiership standout] Ryan Nelsen – who's here today – I've always seen Kiwi teams to be honest, a certain type of player. That's another big reason why I came.
But I think the type of job it is only adds to your experience as a coach. Up until now, we've never ever had the same back four for two tours in a row – not through selection, through just being unable to get players in, missing windows and this type of thing. So dealing with that has been a great experience, something I know will hold me in good stead. You say a blessing and a curse – I think it's just a really good experience overall.
SW: In the U.S. we're used to top players going abroad to develop their careers, but your Kiwi players are literally scattered across the planet.
AH: That's been the hardest part of it, trying to get all our best players together consistently. But again, that makes the job unique … half of this team are Under-23s. We've had to be a little bit creative between tours, in how we prepare the team – video and all sorts of different ways so that when we turn up on tour, we're a little bit further ahead … so it forces you to adapt a little bit.
SW: You've brought – among other concepts – a pressing system and a 3-5-2 shape to the All Whites. Do you have a clear philosophy you implement everywhere you go, or do you adapt it to what's on hand?
AH: I definitely came in for the first year and played a certain way, and I've had to slightly adapt, change the system to suit our players that we had, and our ability to get everyone in consistently. So we changed the system; the style sort of stays the same, but certainly the system is changing – and as an international manager, to change the system is not so easy, because you don't get a lot of time. That was something that we did and I think it's worked for us.
SW: If New Zealand advance out of Oceania in World Cup qualifying, you'll meet a South American team in a two-legged playoff for a place at Russia 2018. A World Cup or nothing from 180 minutes of play – that seems like enormous pressure on your team.
AH: But that's good! The other night [a 2-1 loss to Mexico] – and really, this is the first time in two years we've had our best team out [on the field], some of our best players haven't been with us for a year. We played against Mexico, and I think if that was a two-legged [playoff] we'd be quite happy going back to New Zealand.
We were very much in the game, up until the penalty [kick] I thought we were the better team and going back to New Zealand, I don't think they would be so comfortable as they were four years ago, when they beat us 9-3 or whatever it was [on aggregate]. And we've got 12 months to prepare for that situation. These games are very good for us, Confeds is going to be good for us. I think we have a chance – a real chance.