U.S. U-18 WNT, U-19 WNT kick off concurrent training camps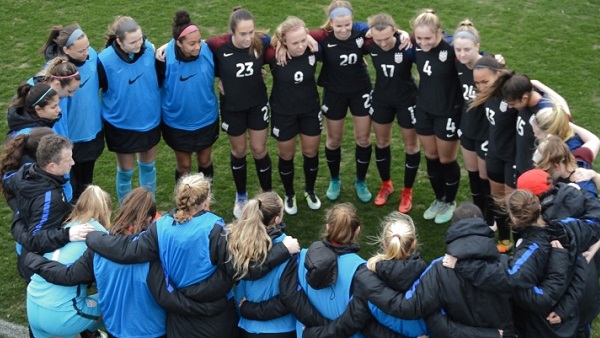 CHICAGO (Via U.S. Soccer) – The U.S. Under-18 and Under-19 Women's National Teams will hold concurrent training camps at the Elite Athletic Training Center in Chula Vista, Calif., running from May 5-12.
U-19 WNT head coach Keri Sarver has called up 24 players, 22 of whom are in college and two are still playing youth club. Seventeen players were born in 1998 with seven born in 1999.
For the U-18 WNT, head coach Jaime Frias has also called up 24 players, with one born in 1999 and the remainder in 2000. In the U-18 camp are 10 college players and 14 youth club players.
+READ: U.S. U-16 Girls National Team set for UEFA Development Tournament
All 48 players in this camp are age-eligible for the 2018 FIFA U-20 Women's World Cup should they prove themselves worthy of future call-ups to Jitka Klimkova's U-20 side as they prepare for the U-20 Women's World Cup in France in August. The age cut-off for the World Cup is players born on or after January 1, 1998.
U.S. U-19 WNT Roster by Position

GOALKEEPERS (3): Hillary Beall (Michigan; Laguna Beach, Calif.), Amanda Dennis (Penn State; Palmetto, Fla.), Madison Newsom (UC Irvine; Elk Grove, Calif.)
DEFENDERS (8): Haileigh Adams (Grambling; Los Angeles, Calif.), Joanna Harber (Stanford; Belleview, Wash.), Devyn Kelsey (San Diego; Rancho Cucamonga, Calif.), Julie Mackin (Clemson; Castle Rock, Colo.), Taylor Mitchell (Duke; Tarzana, Calif.), Charme Morgan (Oklahoma State; Stillwater, Okla.), Meaghan Nally (Georgetown; Herndon, Va.), Mary Vignola (Tennessee; Cincinnati, Ohio)
MIDFIELDERS (6): Isabella Briede (NTH Tophat; Alpharetta, Ga.), Giovanna DeMarco (Wake Forest; Gwynedd Valley, Pa.), Brianne Folds (Auburn; Lakeland, Fla.), Arlie Jones (USC; Las Vegas, Nevada), Shea Moyer (Penn State; Wyomissing, Pa.), Natalie Winters (Iowa; Plymouth, Mich.)
FORWARDS (7): Mackenzie George (Placer United SC; Lincoln, Calif.), Erin Gilroy (Tennessee; Bellmore, N.Y.), Parker Goins (Arkansas; Broken Arrow, Okla.), Alexandria Griffin (Texas Tech; Southlake, Texas), Taylor Malham (Arkansas; Broken Arrow, Okla.), Frankie Tagliaferri (Penn State; Colts Neck, N.J.), Taylor Ziemer (Virginia; Santa Rosa, Calif.)
U.S. U-18 WNT Roster by Position
GOALKEEPERS (3): Hensley Hancuff (Villanova; Edmond, Okla.), Meagan McClelland (PDA; Kearny, N.J.), Katie Meyer (Real So Cal; Newbury Park, Calif.)
DEFENDERS (8): Maycee Bell (Sporting Blue Valley SC; Overland Park, Kansas), Cameron Brooks (Texas; Round Park, Texas), Chai Cortez (Maui United SC; Kahului, Hawaii), Sierra Enge (Stanford; Cardiff, Calif.), Elysia Laramie (Long Beach; Simi Valley, Calif.), Margot Ridgeway (Cedar Stars Academy; Fair Haven, N.J.), Ashlynn Serepca (Virginia; Cornelius, N.C.), Ella Shamburger (NTH Tophat; Atlanta, Ga.)
MIDFIELDERS (7): Sierra Castles (Beach FC; Lake Forest, Calif.), Chardonnay Curran (Oregon; Eugene, Ore.), Coriana Dyke (Colorado Rush; Littleton, Colo.), Annabella Folino (West Coast FC; Aliso Viejo, Calif.), Emily Gray (Penn Fusion SA; Sewell, N.J.), Sydney Studer (Oregon State, Eastvale, Calif.), Sakura Yoshida (Seattle Reign Academy; Redmond, Wash.)
FORWARDS (6): Daniela Flores (Los Angeles Premier FC; Los Angeles, Calif.), Sophie Hirst (Crossfire Premier; Seattle, Wash.), Rebecca Jarrett (Boston College; Washington Township, N.J.), MJ Roe (Portland; Anthem, Arizona), Brooke Wilson (Arizona; Vista, Calif.), Summer Yates (PacNW SC; Pasco, Wash.)