U.S. U-15 Boys National Team roster set for training camp in Croatia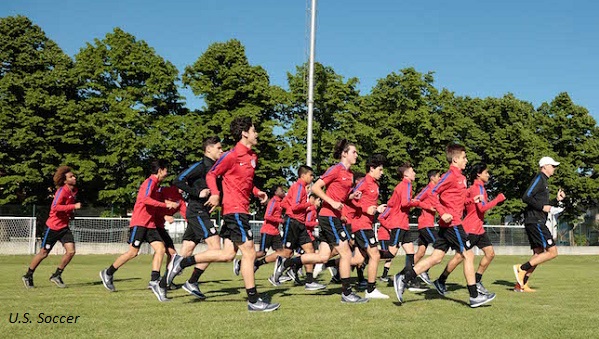 U.S. National Team Roster Pools
U-15 | U-16 | U-17 | U-18 | U-19 | U-20 | MNT
CHICAGO (Via U.S. Soccer) – The U.S. Under-15 Boys' National Team will travel to Zagreb, Croatia from May 5-16 for a training camp that includes a trio of international matches against Bosnia and Herzegovina and Serbia.
Having previously served in the same capacity with the U-14 BNT, the camp and set of games will be the first for Clint Peay as head coach of the U-15 BNT.
Before beginning their three-match international slate, the U-15 BNT will first face Croatian club NK Velika Gorica on May 8. The USA then takes on Bosnia and Herzegovina on May 8 and 10, before closing out the camp with a friendly against Serbia on May 15.
+READ: U.S. U-19 Men's National Team set to begin Slovakia Cup
These games mark the first international trip for this age group as well as the team's first international matches abroad this cycle. The camp is the third gathering for the age group of players born in 2004, following domestic camps in Sunrise, Fla. and Chula Vista, Calif., earlier this year.
This age group is in the middle of its first of a two-year cycle that will culminate with the 2019 Concacaf U-15 Championship. After the two-year cycle ends, the group will transition to the U-17 MNT in 2020, forming the core of the team that will attempt to qualify for the 2021 FIFA U-17 World Cup.
Roster Notes:
17 of 20 players are currently playing in the U.S. Soccer Development Academy.
Devan Tanton is the only international player on the roster, currently playing with Spain's UE Cornella.
Zack Booth is the younger brother of Taylor Booth, current U-18 and U-19 MNT midfielder, who was part of the U.S. squads at the Concacaf U-17 Championship and FIFA U-17 World Cup in 2017.
Roster by Position
GOALKEEPERS (2): Mikah Seger (D.C. United; Indian Head, Md.), Gabriel Slonina (Chicago Fire; Addison, Ill.)
DEFENDERS (7): Noah Allen (Weston FC; Pembroke Pines, Fla.), Brandon Craig (Philadelphia Union; Philadelphia, Pa.), Antonio Leone (Los Angeles Football Club; Long Beach, Calif.), Ryan Quintos (Sockers FC; Glen Ellyn, Ill.), Justin Reynolds (Chicago Fire; Chicago, Ill.), Levi Stephens (Internationals; Akron, Ohio), Devan Tanton (UE Cornella/ESP; Barcelona, Spain)
MIDFIELDERS (8): Juan Alvarez (Seattle Sounders FC; Tukwila, Wash.), Zach Booth (La Roca; Eden, Utah), Cesar Elizalde (FC Dallas; Little Elm, Texas), Kenan Hot (Players Development Academy; Lincroft, N.J.), Brendan Lambe (North Carolina FC Youth; Apex, N.C.), Rokas Pukstas (Oklahoma City Energy FC; Stillwater, Okla.), Allan Rodriguez (Indiana Fire Academy; Elkhart, Ind.), Evan Rotundo (San Diego Surf; La Mesa, Calif.)
FORWARDS (3): Austin Brummett (Seattle Sounders FC; Seattle, Wash.), Rafael Jauregui (Sacramento Republic FC; Rancho Cordova, Calif.), Korede Osundina (Crossfire Premier; Redmond, Wash.)