U.S. U-16 Boys National Team takes 3rd place at Torneo Delle Nazioni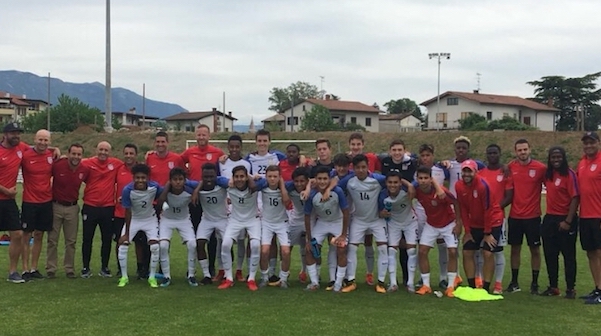 U.S. National Team Roster Pools
U-15 | U-16 | U-17 | U-18 | U-19 | U-20 | MNT
CHICAGO (Via U.S. Soccer) – The U.S. Under-16 Boys National Team used goals from Alex Monis (Chicago Fire) and Mauricio Cuevas (LA Galaxy) to defeat Japan 2-1 and claim third place at the 15th Torneo Delle Nazioni in Gradisca d'Isonzo, Italy.
After going undefeated in group play with wins over Italy (1-0), Macedonia (2-0) and Croatia (2-0), the USA suffered a heartbreaking loss to Slovenia on penalty kicks (5-6) in the tournament semifinals after drawing in regulation 1-1. Forward Tyler Freeman notched the lone U.S. goal of the game on a free kick in the 22nd minute, bending his opportunity around the Slovenia wall and into the bottom right corner of the net.
Despite the tough loss, the U-16 BNT responded well two days later in the third-place match against Japan. In the third minute of play, BW Gottschee midfielder Jack McGlynn found an opening through the Japan defense and brilliantly slipped a ball through for a sprinting Monis, who finished through the wickets of the goalkeeper to give the USA an early 1-0 lead. Twenty-one minutes later, Japan responded with a goal of their own off a corner kick to tie the game.
Eighteen minutes into the second half, it would be off the foot of Mauricio Cuevas that the BNT found the goal they needed to defeat the Blue Samurai. Taking advantage of a missed clearance by the Japan goalkeeper, Cuevas took one touch before floating the ball up and over the 'keeper and into the top left corner.
– U.S. U-16 Boys' National Team Match Report –
Match: U.S. U-16 Boys' National Team vs. Slovenia
Date: Sunday, April 29, 2018
Competition: Torneo delle Nazioni
Venue: Nova Gorica, Slovenia
Kickoff: 5 p.m. local (11 a.m. ET)
Attendance: 200
Weather:  78 degrees; Sunny
Scoring Summary:      1          2          F          PKs
USA                             1          0          1          (5)
SVN                             1          0          1          (6)
USA – Tyler Freeman                                        22nd minute
SVN – Benjamin Sesko (Mark Gomizelj) 26
Penalty Summary:
USA – Tyler Freeman (goal), Selmir Misic (goal), Mauricio Cuevas (goal), Dante Sealy (save), Javier Casas Jr. (goal), Anton Sorenson (goal), Daniel Leyva (save)
SVN – Ziga Slavick (save), Benjamin Sesko (goal), Arijan Djelovic (goal), Haris Sadikovic (goal), Nejc Ahjmajer (goal), Rok Ljutic Rok (goal), Ziga Podgornik (goal)
Lineups:
USA: 1-Gavin Krenecki; 23-Casey Walls, 4-Kobey Stoup, 2-Mauricio Cuevas (Capt,), 3-Anton Sorenson, 8-Daniel Leyva, 18-Tyler Freeman, 6-Javier Casas Jr., 20-Patrick Bohui (17-Dante Sealy, 36), 10-Selmir Misic, 19-Dantouma Toure
Subs Not Used: 12-Eliot Jones, 13-Adrian Aguilar, 15-Edwin Villarreal, 16-Jack McGlynn, 5-Eric Kinzner, 14-Israel Carillo, 9-Alex Monis, 21-Dominic Vegaalban
Head Coach: Shaun Tsakiris
SVN: 1-Martin Turk; 4-Mark Gomizelij, 19-Domen Zajsek, 13-Ziga Slavicek, 20-Ziga Podgornik, 16-Marcel Ratnik (2-Jaros Cadez, 36), 10-Nikola Jovicevic, 6-Zan Jevsenak (15-Rok Ljutic, 63), 18-Haris Sadikovic, 11-Nejc Ajhmaher, 9-Benjamin Sesko
Subs Not Used: 3-Vid Koderman, 5-Rino Rahmanovic, 7-Nick Perc, 8-Jernej Simcic, 12-Jaka Grilj-Miletic, 14-Arijan Djelovic, 17-Nejc Medved,
Head Coach: Igor Benedejcic
Stats Summary: USA / SVN
Shots: 10 / 5
Shots on Goal: 4 / 4
Saves: 3 / 3
Corner Kicks: 6 / 3
Fouls: 14 / 8
Offsides: 2 / 0
Misconduct Summary:
USA – Kobey Stoup (caution)                            39th minute
SVN – Haris Sadikovic (caution)             45
SVN – Nejc Ajhmaer (caution)                57
SVN – Ziga Podgornick (caution)                       62
USA – Mauricio Cuevas (caution)                       63
The game was played with two 35-minute halves
– U.S. U-16 Boys' National Team Match Report –
Match: U.S. U-16 Boys' National Team vs. Japan
Date: May 1, 2018
Competition: Torneo delle Nazioni
Venue: Bilje, Slovenia
Kickoff: 6 a.m. ET (11 a.m. local time)
Attendance: 50
Weather:  68 degrees; Sunny
Scoring Summary:      1          2          F
USA                             1          1          2
JPN                              1          0          1
USA – Alex Monis (Jack McGlynn)                  3rd minute
JPN – Leon Nozawa                                         24
USA – Mauricio Cuevas                                  53
Lineups:
USA: 12-Eliot Jones (1-Gavin Krenecki, 36); 23-Casey Walls, 14-Israel Carillo (4-Kobey Stoup, 56), 2-Mauricio Cuevas (Capt,), 21-Dominic Vegaalban (20-Patrick Bohui, 23), 18-Tyler Freeman (17-Dante Sealy, 36), 6-Javier Casas Jr., 15-Edwin Villarreal, 13-Adrian Aguilar, 16-Jack McGlynn (8-Daniel Leyva, 56), 9-Alex Monis
Subs not used: 3-Anton Sorenson, 5-Eric Kinzner, 10-Selmir Misic, 19-Dantouma Toure
Head Coach: Shaun Tsakiris
JPN: 12-Yu Kanoshima, 13-Shola Oya (15-Aoto Osako, 36), 2-Kosei Matsumoto, 4-Hinata Fukuhara (16-Naoki Nakamura, 48), 8-Show Morita, 10-Riku Yamane, 7-Haruki Toyama, 6-Kojiro Yasuda, 19-Naoki Asano (11-Hidetaka Maie, 62), 9-Leon Nozawa, 14-Haruki Shimokawa
Subs not used: 1-Haruki Tanaka, 3-Kosei Sumawa, 5-Ren Higashi, 17-Keigo Suzuki, 18-Yusei Yashiki, 20-Takuhiro Nakai
Head Coach: Takashi Sekizuka
Stats Summary: USA / JPN
Shots: 11 / 6
Shots on Goal: 7 / 4
Saves: 3 / 4
Corner Kicks: 3 / 2
Fouls: 6 / 4
Offsides: 5 / 2
Misconduct Summary:
USA – Javier Casas Jr. (caution)          68th minute
The game was played with two 35-minute halves