U.S. U-18 Men's National Team wins Václav Ježek Tournament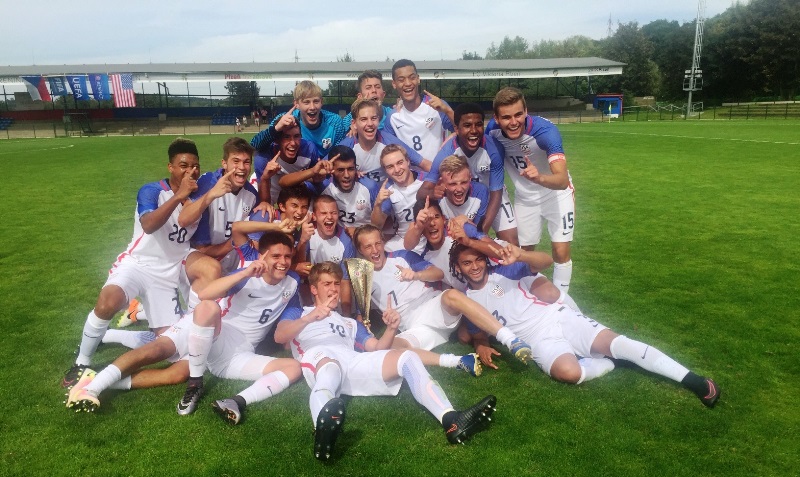 PILZEN, Czech Republic (Via U.S. Soccer) – Two goals from Nebiyou Perry paced the U.S. U-18 Men's National Team to a 4-2 win against hosts Czech Republic and the 2016 Václav Ježek Tournament title.
"It's credit to all the boys," said U.S. U-18 head coach Omid Namazi. "We were facing a tough opponent in the Czech Republic. I think out of the other group they were the strongest team and at the end they were able to get to the finals. It's a testament to the character of the group that they are learning as they go on, and also learning to win."
The U.S. reeled off four straight wins to capture the title, collecting a pair of 3-1 victories against Slovakia and Hungary before downing Russia, 5-3, to reach the final. The U-18s are undefeated against international opponents in 2016, winning 11 straight matches.
+Read: USA defeats Canada 2-0 in CONCACAF U-15 Girls Championship title match
"The biggest thing for me was that we faced four very good opponents and each game we had to change our tactics and how we would go about playing that game, whether it was pressing or the way we wanted to attack," Namazi said. "We threw some wrinkles in each game and the boys were able to execute them. That is a testament to their adaptability, being able to play in different systems and being able to adjust on the go. If these players can progress and further their development and get better and better, I think they have a bright future for our future National Teams."
With four goals in four games, striker Nick Taitague earned Most Valuable Player honors. Meantime, goalkeeper Brady Scott was recognized as the tournament's top goalkeeper. Seven different goalscorers found the back of the net for the United States.
"Nick is a talent. Wherever we play, I think people are in awe of his technical ability and his ability to pass defenders. Brady is a great presence in goal and has a calming influence on the whole team. He doesn't ever seem rattled. They both deserved to get the recognition they did, but at the same time the whole team deserved recognition because everybody stepped up and had a good performance throughout the tournament."
+Read: U.S. U-18 Men's National Team downs Russia 2-0

Nick Taitague receives the Most Valuable Player award at the 2016 Vaclav Jezek Tournament.
Brady Scott receives the Golden Glove award at the 2016 Vaclav Jezek Tournament.
U.S. Under-18 Men's National Team Match Report
Match: U.S. U-18 Men's National Team vs. Czech Republic
Date: August 20, 2016
Competition: 2016 Václav Ježek Tournament
Venue:  Viktoria Plzen Stadion
Kickoff: (2 p.m. local)
Weather: 70 degrees
Scoring Summary:           1             2             F
CZE                                    1             1             2
USA                                    1             3             4
CZE – Marco Lauricella                                 7th minute
USA – Paxton Pomykal                                 39
USA – Nick Taitague                                      62
CZE – Marco Lauricella                                 75
USA – Nebiyou Perry                                     79
USA – Nebiyou Perry                                     90
Lineups:
USA: 1-Brady Scott; 2-Aristotle Zarris, 15-Carson Vom Steeg (capt), 16-Aedan Stanley, 3-Daniel Jones; 6-Jonathan Gonzalez, 13-Paxton Pomykal, 11-Jose Carranza, 7-Griffin Dorsey (17-Nebiyou Perry, 70), 10-Justin Rennicks (20-Shaft Brewer, 70), 9-Nick Taitague
Subs not used: 4-Jack Maher, 5-Kyle Gruno, 8-Brandon Servania, 14-Ernesto Espinoza, 21-Andrew Paoli, 22-Cameron Douglas, 23-Matt Real
Head Coach: Omid Namazi
CZE: 16-Denis Groger (GK); 22-Jakub Kadar, 5-Filip Cihak, 21-Jan Kral (3-Dominik Plechaty, 46), 13-Tomas Lauko; 6-David Moucka, 9-Ladislav Krejci, 18-Lukas Pihrt, 19-Jan Fortelny; 12-Marco Lauricella, 15-Patrik Hellebrand (14-David Beno, 69)
Subs not used: 1-Frantisek Kotek, 2-Ondrej Dolba, 7-Antonin Rusek, 8-Vaclav Dudl, 10-Martin Graiciar, 11-Richard Sedlacek, 17-Patrik Zitny
Head Coach: Lobos Kozel
Stats Summary: USA/Czech Republic
Shots: 9/10
Shots on Goal: 5/6
Saves: 4/1
Corner Kicks: 4/3
Fouls: 10/17
Offsides: 2/4
Misconduct Summary:
CZE – Ladislav Krejci (caution)                    54th minute
CZE – David Moucka (caution)                    58
CZE – David Beno (caution)                         87