USA defeats Canada 2-0 in CONCACAF U-15 Girls Championship title match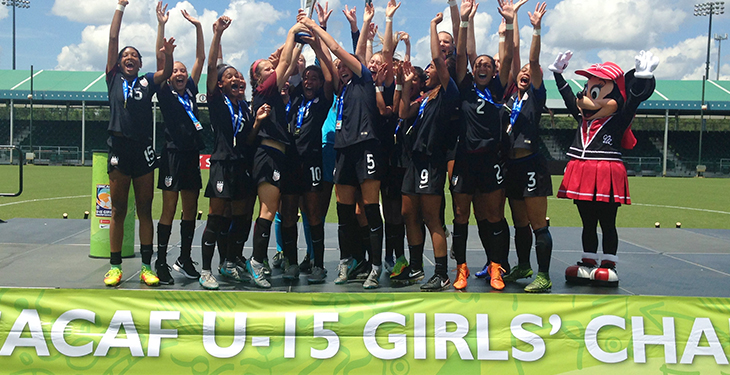 ORLANDO, Florida (Via CONCACAF) – The United States scored a goal in each half to earn the 2016 CONCACAF U-15 Girls' Championship title by defeating Canada, 2-0, in the final on Sunday at the ESPN Wide World of Sports Complex.
Kalysaa Van Zanten gave the Americans a 1-0 lead in the 39th minute and Samantha Meza added an insurance goal with two minutes left in normal time, finding the back of the net off Eleanor Glenn's left-sided corner kick.
The U.S. finished the competition with a perfect 7W-0D-0L record, scoring a remarkable 39 goals and, more impressively perhaps, conceding none. Canada, the defending champion, went 6-0-1, netting 32 goals and allowing only three.
+Read: U.S. U-15 Girls National Team advances to CONCACAF Championship final
"For us, it has been an incredible learning experience. Today was just the icing on the top, playing and performing well," United States head coach Mark Carr told CONCACAF.com after the game. "I want to go on record and congratulate Canada. I thought they were a very good team. They made it hard for us and I know we'll have a lot more battles down the line with them.
"Ultimately, I'm really happy for our players, their performances and just to have the feeling of winning the trophy."
2016 CONCACAF U-15 Girls' Championship – Final
August 21, 2016: ESPN Wide World of Sports Complex – Orlando, Florida, USA
USA-Canada 2-0 (0-0)
Kalyssa Van Zanten 39'; Samantha Meza 58'
USA: Ruth Jones; Makenna Morris, Leah Scarpelli, Natalia Staude, Samantha Meza (D'awncey Jones-Black 70'), Hollyn Torres (Eleanor Glenn 51'), Kalyssa Van Zanten (Madison Mercado 65'), Mia Fishel, Gabrielle Robinson (Payton Linnehan 42'), Croix Bethune, Talia Dellaperuta (Sunshine Fontes 32'). Head Coach: Mark Carr.
Canada: Sophie Guilmette; Maya Antoine, Isabella Hanisch (Alexia Cajilig 70'), Jordyn Huitema, Sydney Kennedy (Aaliyah Scott 36'), Maya Ladhani, Jayde Riviere (Teni Akindoju 60'), Olivia Scott, Caitlin Shaw (Mya Jones 46'), Julianne Vallerand, Sonia Walk. Head Coach: Carmelina Moscato (Canada)
R: Odette Hamilton (Jamaica); AR1: Lidia Ayala (El Salvador); AR2: Karen Diaz (Mexico); 4th: Kimberly Mora (Costa Rica)