U.S. U-17 Women's National Team set for Portland training camp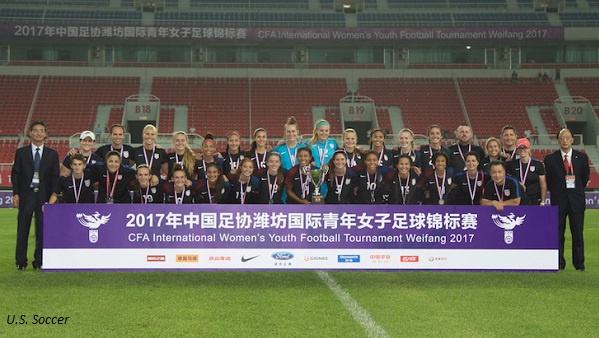 CHICAGO (Via U.S. Soccer) – The U.S. Under-17 Women's National Team will travel to Portland, Oregon, from Aug. 20-27 for a training camp that will feature two matches against the England U-17 Women's National Team.
The teams will meet on Aug. 23 on the Ronaldo Fields at the Nike World Headquarters in Beaverton with a kickoff at 4 p.m. PT. The second match will take place on Aug. 26 at Providence Park, home of the Portland Thorns and Portland Timbers, with a kickoff at 7 p.m. PT.
For the match at Providence Park, fans should enter through Gate 35, located at the Southeast corner of the stadium next to Gate 1. Gates open at 6 p.m. There will be no concessions stands open for this match.
Admission is free to both matches.
U.S. U-17 WNT head coach Mark Carr has called up 24 players for the camp and matches – 20 born 2001 and four born in 2002 — but will be without a few key players as forward Jordan Caniff, midfielder Astrid Wheeler and defender Kate Wiesner are traveling to China with the U.S. U-19 WNT in early September to gain some experience at an older age level. Defender Kennedy Wesley is recovering from an ankle injury.
Fourteen players on the roster for Portland were a part of the team that finished second at CFA International U-16 Women's Football Tournament in June in China.
"Since the China trip, we've been highly motivated and ready to get back together," said Carr. "We learned a lot about ourselves in China and our focus for this camp will be to address some areas for improvement, but also to build on some of the great things we did over there. It's still early in our cycle, and with a few players getting called to the U-19 WNT, it will be another chance for everyone to perform and help the team be successful. As always, our ultimate goals are to keep testing ourselves, keeping improving as individuals and as a team, and to get two positive results against what is sure to be a tough and talented England team."
This group of players is in the middle of the first year of a two-year cycle in which they will attempt to qualify for the 2018 FIFA U-17 Women's World Cup in Uruguay.
U.S. U-17 Women's National Team Roster by Position
GOALKEEPERS (3): Angelina Anderson (Mustang SC; Danville, Calif.), Ryan Campbell (So Cal Blues; Dana Point, Calif.), Lindsey Romig (Richmond United; Midlothian, Va.)
DEFENDERS (7): Michela Agresti (FC Stars of Mass.; Swampscott, Mass.), Talia DellaPeruta (Tophat SC; Cumming, Ga.), Tori Hansen (CASL; Raleigh, N.C.), Makenna Morris (Bethesda SC; Germantown, Md.), Nicole Payne (Concord; Birmingham, Ala.), Natalia Staude (Tophat SC; Atlanta, Ga.), Leah Scarpelli (Cedar Stars; Brick, N.J.)
MIDFIELDERS (7): Hanna Bebar (Eclipse Select; Naperville, Ill.), Croix Bethune (Concord Fire SC; Alpharetta, Ga.), Maya Doms (Davis Legacy; Davis, Calif.), Mia Fishel (San Diego Surf; San Diego, Calif.), Eleanor Glenn (Tophat SC; Avondale Estates, Ga.), Sophia Jones (San Jose Earthquakes; Menlo Park, Calif.), Margaret Pierce (CASL; Cary, N.C.)
FORWARDS (7): Ainsley Ahmadian (Eclipse Select; Naperville, Ill.), Isabella D'Aquila (So Cal Blues; Mission Viejo, Calif.), Sunshine Fontes (Hawaii Rush; Wahiawa, Hawaii), Lia Godfrey (JFC Storm; Fleming Island, Fla.), Payton Linnehan (FC Stars of Mass.; Douglas, Mass.), Diana Ordonez (FC Dallas; Prosper, Texas), Trinity Rodman (So Cal Blues; Newport Beach, Calif.)