U.S. U-17 WNT wins NTC Invitational with 3-1 win over Japan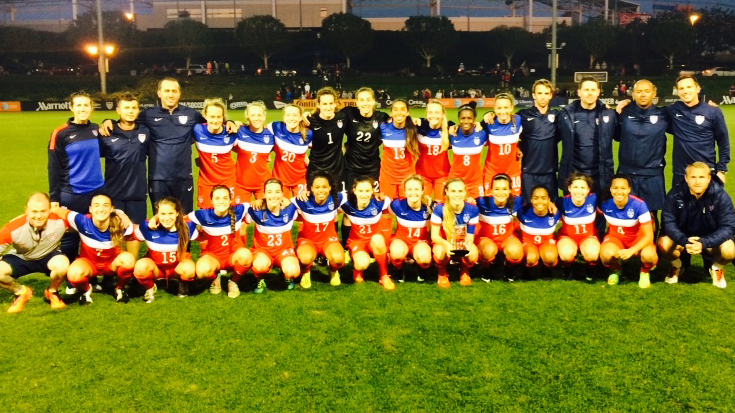 CARSON, Calif. (Via U.S. Soccer) – The U.S. Under-17 Women's National Team defeated Japan, 3-1, on goals from Ashley Sanchez,  Emina Ekic and Briana Pinto to sweep all three matches and win the 2015 U-17 Women's NTC Invitational.
The USA also defeated Mexico (3-1) and Canada (2-0) and out-scored its three opponents in the competition by an 8-2 margin. Coming into the match the USA needed a victory to win the tournament as Japan had the edge on goal difference. After a tense but scoreless first half, it was Sanchez who broke the deadlock.
The SoCal Blues midfielder, who scored in every match and totaled five goals during the tournament, got on the end of an Alex Spaanstra cross in the 53rd minute, beating her defender to the ball to knock it home.
+Read: U-20 WNT to bring 22 players to La Manga Tournament starting Feb. 28
Ekic made it 2-0 in the 61st minute, latching onto a deflection at the top of six-yard box before spinning a defender and finishing low and hard past the diving goalkeeper.
Japan pulled a goal back in the 72nd minute on a penalty kick by Remina Chiba after she was fouled in the box to keep the game tight. But, USA substitute Pinto iced the match with nine minutes left, two minutes after she had entered the game. The goal came when Sydney Zandi beat a defender down the left side and played a cross to Pinto at the top of the penalty area. Pinto's touch was a bit heavy but she was able to collect the ball, round her defender and finish high into the right side of the net.
At last year's NTC Invitational, the USA defeated Japan 2-1 to take the tournament title. Japan then went on to win the 2014 FIFA U-17 Women's World Cup.
This group of players, born in 1999 and 2000, are working to qualify for the 2016 FIFA U-17 Women's World Cup. The age cut-off for that tournament is players born on or after Jan. 1, 1999. 
– U.S. U-17 Women's National Team Match Report –
Match: U.S. U-17 Women's National Team vs Japan U-17 Women's National Team
Date: February 15, 2015
Competition: 2015 U-17 Women's NTC Invitational
Venue: Glen "Mooch" Myernick Field; Carson, Calif.
Scoring Summary:       1          2          F
USA                             0          3          3
JPN                              0          1          1
USA – Ashley Sanchez (Alex Spaanstra)        53rd minute
USA – Emina Ekic                                           61
JPN  Remina Chiba (penalty kick)                  72
USA – Briana Pinto (Sydney Zandi)                81 
Lineups:
USA: 22-Brooke Bollinger, 2-Joanna Harber, 13-Karina Rodriguez, 7-Karlie Paschall, 9-Kiara Pickett, 19-Taryn Torres, 5-Jaelin Howell (8-Brianna Pinto, 79), 14-Alexa Spaanstra (23-Sydney Zandi, 79), 15-Ashley Sanchez (16-Sophia Smith, 90), 21-Emina Ekic (17-Jordan Taylor, 63), 4-Rachel Jones (18–Frankie Tagliaferri, 46)
Subs not used: 1-Hillary Beall, 10-Taryn Ries, 11-Isabel Rodriguez, 20-Olivia Jo Wade
Head Coach: B.J. Snow 
JPN:  1-Moeka Yonezawa, 9-Suzuka Tamura (19-Nodoka Funaki, 78), 6-Miyu Takahira, 18-Hana Takahashi, 4-Karin Naito (14-Yume Takikawa, 78), 13-Mayu Karahashi (11-Karen Kichima, 46), 20-Oto Kanno, 2-Rio Kanekatsu, 17-Seira Kojima (3-Remina Chiba, 63), 15-Tomo Hirata, 21-Chisato Ichinose
Subs not used: 5-Miina Matsunaga, 7-Nozomi Kato, 8-Riko Ushijimam, 12-Miho Kobayashi, 16-Kaoru Hayashi 
Stats Summary: USA / JPN
Shots: 9 / 7
Shots on Goal: 5 / 4
Saves: 3 / 3
Corner Kicks: 2 / 2
Fouls: 10 / 5
Offside: 3 / 0 
Misconduct Summary:
USA – Kiara Pickett (caution)                  56th minute
Officials:
Referee: Danielle Chesky (USA)
Assistant Referee 1: Selma Perez (USA)
Assistant Referee 2: Melissa Gonzalez (USA)
Fourth Official: Yoshimi Yamashita (JPN)