U-17 WNT defeats Canada 2-0 at U-17 Women's NTC Invitational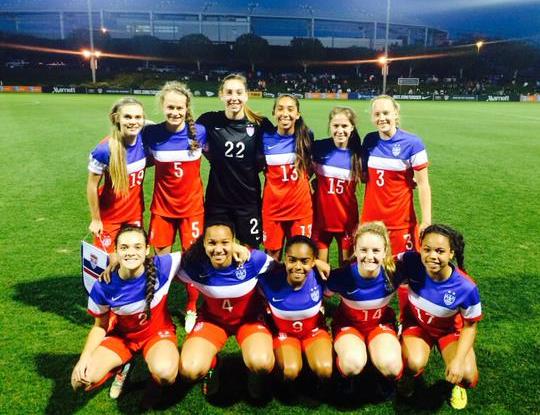 CARSON, California (Via U.S. Soccer) – The U.S. Under-17 Women's National Team got late scores from Emina Ekic and Ashley Sanchez to defeat Canada 2-0 and earn its second win in as many games at the 2015 U-17 Women's NTC Invitational. Japan defeated Mexico 2-0 in the earlier match.
As the USA and Japan have both won their first two matches, the tournament finale between the two teams on Sunday, Feb. 15, at 4 p.m. PT, will be for the championship. Japan owns a superior goal differential (plus-10), and needs just a tie to take the tournament title while the U.S. (plus-4 goal differential) needs a victory. Canada meets Mexico at 1 p.m. PT on Feb. 15 for third place. All the matches are being played on the Glen "Mooch" Myernick Field at U.S. Soccer's National Training Center and can be watched live on ussoccer.com.
Canada kept the USA off the board until the 79th minute when Kiara Pickett picked up her third assist of the tournament. Pickett played a hard pass on the ground into the penalty area to Ekic who collected, beat a defender inside the goal box and then finished smartly to give the USA the 1-0 lead. It was Ekic's first international goal.
Sanchez, who scored a hat trick against Mexico last Friday, added a stoppage-time score to clinch the victory. The goal in the first minute of second-half stoppage time came off an assist from Frankie Tagliaferri, who also set up Sanchez's third goal against Mexico. Sanchez beat two players on the dribble before finishing into the upper right corner. It was her 10th international goal at the U-17 level. Brooke Bollinger picked up the shutout in goal for the USA, going the full 90 minutes.
At this tournament last year, the USA defeated Japan 2-1 to take the tournament title. Japan then went on to win the 2014 FIFA U-17 Women's World Cup.
This group of players, born in 1999 and 2000, are working to qualify for the 2016 FIFA U-17 Women's World Cup. The age cutoff for that tournament is players born on or after Jan. 1, 1999.
-U.S. U-17 Women's National Team Match Report-
Match: U.S. U-17 Women's National Team vs. Canada U-17 Women's National Team
Date: Feb. 13, 2015
Competition: 2015 U-17 Women's NTC Invitational
Venue: Glenn "Mooch" Myernick Field; U.S. Soccer's NTC, Carson, California
Scoring Summary: 1 2 F
USA 0 2 2
CAN 0 0 0
USA – Emina Ekic (Kiara Pickett) 79th minute
USA – Ashley Sanchez (Frankie Tagliaferri) 90+1
Lineups:
USA: 22-Brooke Bollinger; 2-Joanna Harber (23-Sydney Zandi, 84), 13-Karina Rodriguez, 3-Sierra Enge, 9-Kiara Pickett, 19-Taryn Torres (8-Brianna Pinto, 84), 5-Jaelin Howell, 14-Alexa Spaanstra, 15-Ashley Sanchez, 17-Jordan Taylor (21-Emina Ekic, 46), 4-Rachel Jones (18-Frankie Tagliaferri, 59)
Subs not used: 1-Hillary Beall, 7-Karlie Paschall, 1 0-Taryn Ries, 11-Isabel Rodriguez, 16-Sophia Smith, 20-Olivia Jo Wade
Head Coach: B.J. Snow
CAN: 1-Lysianne Proulx; 3-Julia Grosso , 6-Kennedy Faulknor, 5-Samantha Chang, 2-Emma Regan, 11-Camila Gomez,8-Sarah Stratigakis (14-Nahida Baalbaki, 38),15-Caitlin Shaw (4-Fallon Rodrigues, 66), 17-Shana Flynn (16-Vital Kats, 81), 9-Jordyn Huitema (12-Lauren Raimondo, 60),10-Anyssa Ibrahim
Subs not used:7-Maya Jones, 13-Kavina Gane, 18-Marissa Zucchetto, 19-Teni Akindoju, 20-Kayla Mostowich
Stats Summary: USA / CAN
Shots: 17 / 5
Shots on Goal: 12 / 2
Saves: 2 / 9
Corner Kicks: 8 / 2
Fouls: 4 / 5
Offside: 1 / 1
Misconduct Summary:
CAN – Fallon Rodrigues (caution) 81st minute
Officials:
Referee: Yoshimi Yamashita (JPN)
Assistant Referee 1: Amanda Ross (USA)
Assistant Referee 2: Michelle Provan (USA)
Fourth Official: Danielle Chesky (USA)