Players That Impressed: Boys 2015 CCL Winter Showcase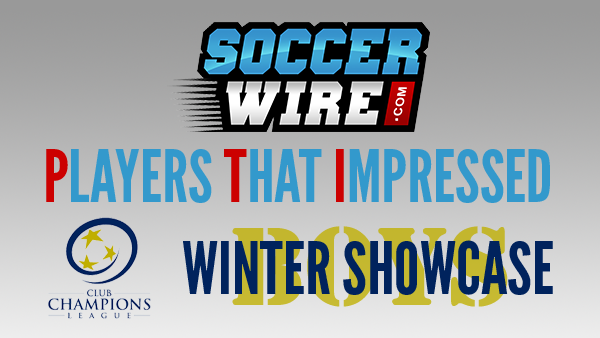 The 2015 Club Champions League Winter Showcase was held in Richmond, Virginia the first weekend of February, where all 16 member clubs kicked off their spring portion of the 2014-15 season. Despite the early date in the calendar, teams enjoyed seasonably high temperatures, including 65 degree weather on Sunday the 8th.
With National Letter of Intent signing day now in the rearview mirror, dozens of college coaches from top regional programs turned out, and were treated to plenty of competitive action from the droves of current and potential recruits.
Click For: Girls List  |  All CCL News  | CCL on Report-a-Score
---
[player_box id=50814 leftright=left]Scored in draw with Arlington, had potential game-winner go off the post in closing minutes.
---
[player_box id=50565 leftright=left]Scored a hat trick vs Maryland United.
---
[player_box id=50567 leftright=left]Nick had two goals and an assist this weekend and was consistently the most dangerous individual player on the field.
---
[player_box id=50676 leftright=left]The Old Dominion commit turned in a Man of the Match performance in the 1-0 win over BRYC, expertly controlling the midfield all game.
---
[player_box id=50549 leftright=left]Sam led an Arlington defense that notched two wins and a draw over the weekend. He consistently impressed with his decision-making, tackling, and distribution from the back.
---
[player_box id=50537 leftright=left]David had a great performance at the CCL Showcase, leading the line and scored three goals and constantly providing an early outlet to relieve pressure and wasted no time starting the attacks from there.
---
[player_box id=50545 leftright=left]Was in form all weekend, showing great reactions and distribution throughout, earning a clean sheet against McLean.
---
[player_box id=50816 leftright=left]Consistently the reigning State Cup Champion team's top playmaker and visionary down the right flank. Scored a goal and had an assist in 2-0 win over BRYC.
---
[player_box id=46945 leftright=left]The physical yet technical forward continued to create match-up problems for opposing defenses, also scoring in 2-2 draw vs. Beach FC.
---
[player_box id=50540 leftright=left]Capped off another impressive weekend for the top ranked U16 team in the U.S. with 4 goals on the weekend, including a brace against Roanoke.
---
[player_box id=50821 leftright=left]Primary spark that keyed Beach FC to impressive win over BRYC.
---
[player_box id=50823 leftright=left]Arlington Newcomer out of Episcopal HS had both goals in U17 win over Beach FC
---
[player_box id=50833 leftright=left]Two-way player was instrumental in FC Frederick handing FC Richmond its first loss of the season, scoring the second of three second half goals for Frederick with a header.
---
[player_box id=50575 leftright=left]Scored four goals on the weekend, including a weekend-opening hat trick against DC Stoddert.
---
[player_box id=48462 leftright=left]Nabbed points in all three U16 games on the weekend, including a brace vs. SOCA.
---
NOTE: In the very near future we will be moving management and tracking of our player profiling, featuring, and Best 11 nomination process to our sister website Report-a-Score.com, where every team and player can manage their own profile data in real time and top player performances, goals, and starting lineups can be reported with each match played. 
Team managers and coaches can get a head start by pre-loading your rosters anytime. Just find your team at report-a-score.com, create a free user account and click to request team management rights.