Players That Impressed: Girls 2015 CCL Winter Showcase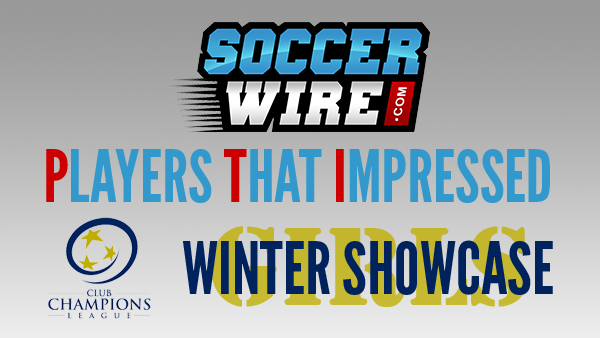 The 2015 Club Champions League Winter Showcase was held in Richmond, Virginia the first weekend of February, where all 16 member clubs kicked off their spring portion of the 2014-15 season. Despite the early date in the calendar, teams enjoyed seasonably high temperatures, including 65 degree weather on Sunday the 8th.
With National Letter of Intent signing day now in the rearview mirror, dozens of college coaches from top regional programs turned out, and were treated to plenty of competitive action from the droves of current and potential recruits.
Click For: Boys List  |  All CCL News  | CCL on Report-a-Score
---
[player_box id=50877 leftright=left]Controlled possession and created multiple scoring chances for McLean in 3-0 win vs Maryland United U17s.
---
[player_box id=50555 leftright=left]Center back and did a great job organizing players around her all weekend while breaking up many attacks and then springing the counters. Was a factor in FC Richmond not conceding a single goal in three games of CCL weekend play.
---
[player_box id=50542 leftright=left]The central defender and team captain and led McLean 99 Green to 3 wins out of 3 in CCL Showcase action, anchoring a defense that only gave up 2 goals.
---
[player_box id=50880 leftright=left]Paced the Virginia Legacy U16 offense in 3-0 win over Roanoke.
---
[player_box id=50883 leftright=left]Scored the go-ahead goal for Fredericksburg FC U16s in win against FC Richmond.
---
[player_box id=50886 leftright=left]Consistently denied escape for opponents, winning balls in Beach FC U18's attacking end then quickly creating scoring chances with quality distribution.
---
[player_box id=48114 leftright=left]Scored game-winner in 2-1 comeback win for SOCA U17s over Loudoun. Impressive in the midfield throughout the match and weekend.
---
[player_box id=50889 leftright=left]Controlled possession and created most of the scoring chances in McLean's 3-0 win over Maryland United in U17 action.
---
[player_box id=50892 leftright=left]Sealed the game against FC Richmond for her U16 Fredericksburg FC side with a quality goal and energetic, yet controlled performance.
---
[player_box id=50893 leftright=left]Refused to lose and started the 2-1 comeback with 2nd half equalizer for SOCA in their nail-biting win over Loudoun U17s.
---
[player_box id=50894 leftright=left]Most consistent playmaker for FC Richmond U16s, creating numerous scoring chances out of midfield all weekend.
---
[player_box id=50895 leftright=left]Scored the stoppage time equalizer for Beach FC U17s to draw SOCA 2-2.
---
NOTE: In the very near future we will be moving management and tracking of our player profiling, featuring, and Best 11 nomination process to our sister website Report-a-Score.com, where every team and player can manage their own profile data in real time and top player performances, goals, and starting lineups can be reported with each match played. 
Team managers and coaches can get a head start by pre-loading your rosters anytime. Just find your team at report-a-score.com, create a free user account and click to request team management rights.