U.S. U-16 GNT heads to U.S. Soccer NTC for final 2015 Training Camp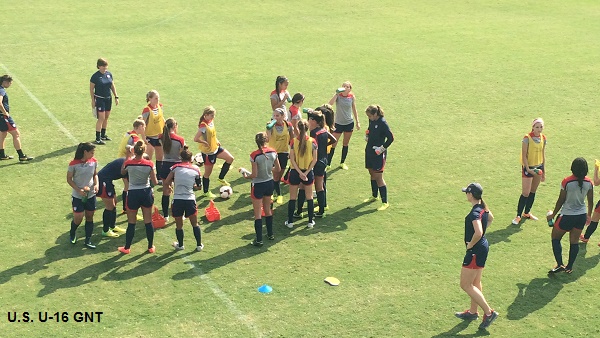 CHICAGO (Via U.S. Soccer) – The U.S. Under-16 Girls' National Team will hold a training camp from Oct. 11-18 at the U.S. Soccer National Training Center in Carson California that will feature 24 players and run concurrently with a U-17 Women's National Team camp.
This will be the fifth and final camp of the year for the U-16 GNT, which features 23 players born in 2000 and one in 2001. The U-16s will scrimmage once against the U-17s during the week.
+Read: U.S. U-20 MNT roster named for Four Nations Tournament
The U-16 camp will be run by Women's Development Coach Tricia Taliaferro who is U.S. Soccer's main scout for the '00 birth year. All of the players in this camp are age-eligible for the next FIFA U-17 Women's World Cup in 2016, but the main birth year for that tournament is 1999.
This age group is in a two-year cycle that will transition to the U-18 and then the U-20 WNT with the goal of playing in the 2020 FIFA Under-20 Women's World Cup.
U.S. U-16 GNT Roster by Position:
GOALKEEPERS (3): Katherine Asman (TopHat SC; Roswell, Ga.), Hensley Hancuff (OFC; Edmond, Okla.), Danielle Hansen (Real Colorado; Broomfield, Colo.)
DEFENDERS (7): Maycee Bell (Sporting Blue Valley; Wichita, Kans.), Chai Cortez (Hawaii Surf; Kahului, Hawaii), Madelyn Desiano (SoCal Blues; San Clemente, Calif.), Sarah Piper (Texas Rush; The Woodlands, Texas), Julietta Thron (Albertson Fury; Caldwell, N.J.), Madeline Vergura (FC Stars of Mass.; Concord, Mass.), Kennedy Wesley (SoCal Blues; Rossmoor, Calif.)
MIDFIELDERS (8): Ravin Alexander (Ohio Elite; Fairfield, Ohio), Sierra Enge (Carlsbad Elite; Cardiff, Calif.), Kylie Minamishin (Honolulu Bulls; Mililani, Hawaii), Angela Morales (Legends FC; Montclair, Calif.), Jenna Nighswonger (Slammers FC; Huntington Beach, Calif.), Ashlynn Serepca (Carolina Rapids; Cornelius, N.C.), Kali Trevithick (San Diego Surf; Temecula, Calif.), Summer Yates (Pac NW; Pasco, Wash.)
FORWARDS (6): Sophie Hirst (Crossfire Premier; Seattle, Wash.), Rebecca Jarrett (World Class; Washington Township, N.J.), Gabi Juarez (Slammers FC; Tustin, Calif.), Nohemi Mendoza (Heat FC; Las Vegas, Nev.), Allison Schlegel (Real Colorado; Parker, Colo.), Trinity Watson (San Diego Surf; San Diego, Calif.)