U.S. U-20 MNT roster named for Four Nations Tournament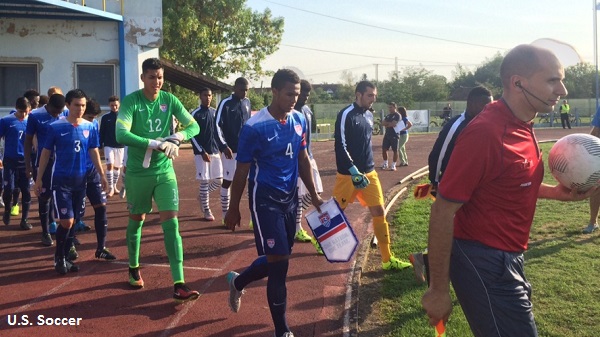 CHICAGO (Via U.S. Soccer) – Twenty-one players have been called to represent the U.S. Under-20 Men's National Team at the Four Nations Tournament in Germany.
The team will compete against three other nations: It played Germany on Oct. 6, and will face Scotland on Oct. 9 and Mexico on Oct. 12.
The U-20s were last on the pitch in August, when they travelled to Serbia to compete in the Stevan Vilotic-Cele Tournament; the team finished in fifth place. That served as the first action for the group in this new U-20 cycle. The group started slowly, dropping its first two matches to the host Serbia and France, but concluded with a win against Israel.
+Read: USA Tops Olympic Qualifying Group with 4-0 win against Panama
Twenty of the players on the roster have ties to the Development Academy. Ten players on the squad play soccer at the collegiate level, while nine players compete for MLS clubs, one player for a Spanish La Liga club, one for an English Premier League Teams, and two for Academy teams. Every player on this roster was born in 1997.
Roster by Position: Detailed Roster
GOALKEEPERS (2): Jonathan Klinsmann (University of California; Newport Beach, Calif.), Mason Stajduhar (Orlando City; Lithia, Fla.)
DEFENDERS (6): Marcello Borges (Michigan; Kearny, N.J), Aaron Herrera (New Mexico; Casa Grande, N.M.), Nick Hinds (Seattle Sounders; Seattle, Wash.), Malcolm Jones (UCLA; Chino Hills, Calif.), Henry Martin (Princeton; New York, N.Y.), James Murphy (Players Development Academy; Scotch Plains, N.J.)
MIDFIELDERS (8): Mukwelle Akale (Villarreal F.C.; Minneapolis, Minn.), Cameron Lindley (Chicago Fire; Carmel, Ind.), Amirgy Pineda (LA Galaxy; Santa Ana, Calif.), Kyle Scott (Chelsea FC; Bristol, England), Evan Waldrep (Creighton; Peoria, Ariz.), Eryk Williamson (Maryland; Alexandria, Va.), Sean Wilson (North Carolina; West Chester, Penn.), Jackson Yueill (UCLA; Bloomington, Minn.)
FORWARDS (5): Coy Craft (FC Dallas; Frisco, Texas), Sebastian Elney (Maryland; Boca Raton, Fla.), Collin Fernandez (Chicago Fire; Downers Grove, Ill.), Victor Mansaray (Seattle Sounders; Des Moines, Wash.), Emmanuel Sabbi (Chicago Magic; Libertyville, Ill.)