U.S. U-16 Boys National Team roster named for Montaigu, France trip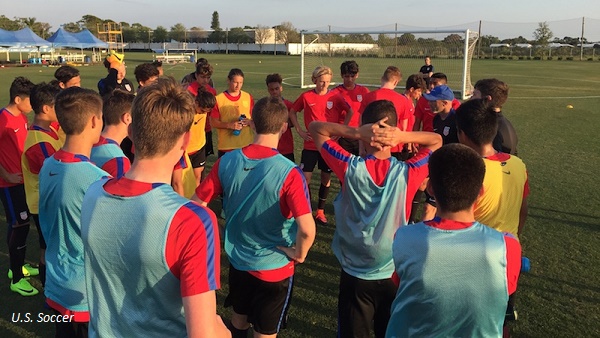 CHICAGO (Via U.S. Soccer) – U.S. Under-18 Men's National Team head coach Omid Namazi has named 20 U-16 Boys' National Team players to the roster for the 45th Tournoi de Montaigu, taking place from April 7-18 in Montaigu, France.
With U-16 BNT head coach Shaun Tsakiris serving as an assistant coach with the U-17 Men's National Team, which is continuing preparations for the upcoming 2017 CONCACAF U-17 Championship, Nazami has stepped in to coach the U-16 BNT during its tournament in France.
"Essentially this is part of the next cycle for the U-18 Men's National Team," Namazi said. "With Shaun being involved with the U-17's and their qualification, that has given me this opportunity to take charge of the group and see them in person on a daily basis in training and in games against very high level competition. It gives me a chance to evaluate them early and see how they would do against international competition at this age."
The USA has been drawn into Group D with Belgium and Japan. The sides will face each other in Mouilleron le Captif across three days. The U.S. is set to play Belgium on April 11 and Japan on April 13. If the USA wins its group, the team would advance to a semifinal matchup on April 15, with a trip to the final, played on April 17, on the line.
"With teams like Japan and Belgium, who are some of the top teams in the world, this tournament is a great a measuring stick," Namazi said. "It gives us an idea of where we are at with this age group at the international level and compared to some of the top talent in the world."
The Montaigu Tournament, which gathers top U-16 international sides once a year, welcomes 12 nations to it's 45th rendition. In 2016, the U.S. took home the championship for the second time, and first since 1992, thanks to a 3-2 victory over host France.
This competition marks the first tournament of the year and the third gathering of 2017 for the U-16 BNT player pool – its first since a training camp in Bradenton, Fla. in early March. The age cut-off for this U-16 player pool, which is entering the second and final year of its cycle, is players born on or after Jan. 1, 2001.
USA's Group D Schedule:
Tuesday, April 11 vs. Belgium – 12:30 p.m. ET
Thursday, April 13 vs. Japan – 12:30 p.m. ET
Tournoi de Montaigu Groups:
Group A: France, Cameroon, China
Group B: England, Mexico, Portugal
Group C: Brazil, Denmark, Morocco
Group D: USA, Belgium, Japan
Roster notes:
Of the 20 players called into this camp, 18 have spent time in the U.S. Soccer Development Academy and 16 are currently registered with a Development Academy club.
Five players are making their U-16 player pool debuts: Mitch Cruz, Abraham Gonzalez, Armando Haro, Aidan Morris and Aidan O'Toole.
Midfielder Mario Anaya carries the most Development Academy experience, playing two seasons with Ballistic United Soccer Club and two with his current club, San Jose Earthquakes.
All 20 players on the roster were born in 2001.
Roster by Position
GOALKEEPERS (2): Nicolas Defreitas-Hansen (Everton FC; Southwest Ranches, Fla.), David Ochoa (Real Salt Lake; Oxnard, Calif.)
DEFENDERS (5): Julian Araujo (Santa Barbara SC; Lompoc, Calif.), Abraham Gonzalez (FC Golden State; Riverside, Calif.), Ian Hoffmann (Karlsruher SC; Wilton, Conn.), Kevin Peraza (IMG Academy; Montebello, Calif.), Victor Rangel (FC Golden State; Panorama City, Calif.)
MIDFIELDERS (6): Mario Anaya (San Jose Earthquakes; Livermore, Calif.), Armando Haro (San Diego Surf; Chula Vista, Calif.), Nelson Martinez (DC United; Woodbridge, Va.), Matko Miljevic (A.A. Argentinos Juniors; Buenos Aires, Argentina); Aidan Morris (Weston FC; Fort Lauderdale, Fla.), Aidan O'Toole (Lonestar SC; Austin, Texas)
FORWARDS (7): Jalen Anderson (Oakwood SC; Hamden, Conn.), Jordan Bender (Orlando City SC; Lake Mary, Fla.), Mitch Cruz (LAUFA; Maywood, Calif.), Konrad De La Fuente (FC Barcelona; Barcelona, Spain), Jose Rivas (Weston FC; Weston, Fla.), Gabe Segal (Bethesda SC; Bethesda, Md.), Stefan Stojanovic (Sockers FC; Des Plaines, Ill.)