U.S. U-15 Women's Youth National Team defeats Netherlands 3-0 as Kennedy Fuller earns a brace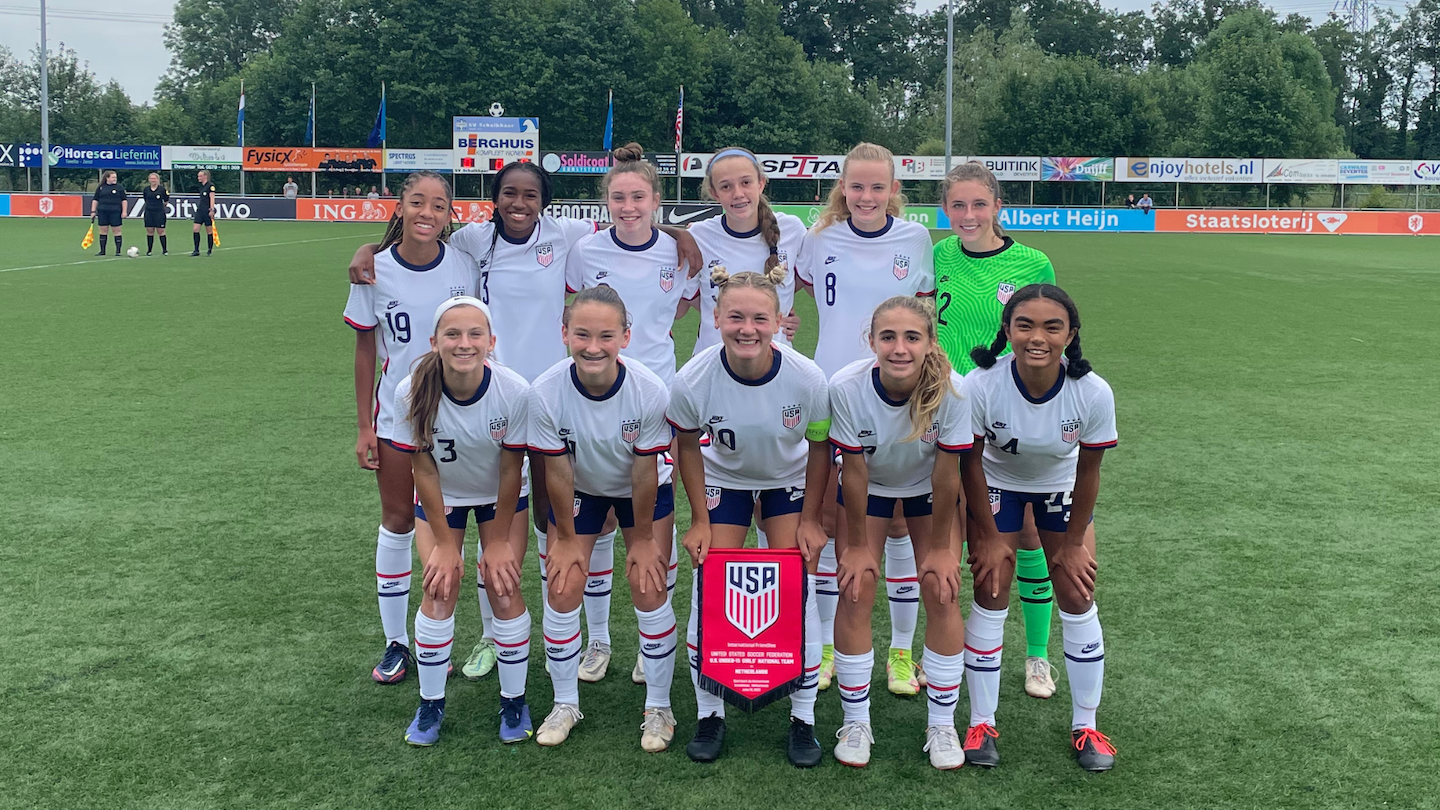 HORSTERHOEKWEG, Netherlands – The U.S. Under-15 Women's Youth National Team downed Netherlands 3-0 in the first game of a two-game trip to Europe, outshooting the hosts 18-2.
The USA will face its counterparts from Germany on June 15 in Nordhorn, Germany, which is just three miles over the Holland/Germany border, to complete the trip.
This is the third event of 2022 for the U.S. U-15s under head coach Kate Schoepfer, but these matches are the first international games for this age group since the summer of 2019 after a long pause in programming due to the COVID-19 pandemic.
The young Americans wasted no time getting on the board in the return to international play for this age group as midfielder Kennedy Fuller scored twice inside of six minutes.
The first goal came in just the third minute as forward Ava Harrison took the ball to the end line and served into the middle. Fuller's run to the front post beat her defender and she finished.
Fuller doubled the lead and completed her brace in the fifth minute off a set piece service from Jordyn Hardeman, who flighted the ball into the box from near the midfield line for Fuller to knock home.
The USA took a 2-0 lead into halftime, and midfielder Kimmi Ascanio effectively sealed the match in the 80-minute game when she took the ball down the left side and finished inside the near post less than a minute into the second half.
U.S. goalkeepers Kennedy Zorn and Molly Vapensky shared the shutout, each playing a half, but neither was forced to make a save as the U.S. defense did not allow a shot on goal.
Players for this year's U.S. U-15 WYNT player pool were born on or after Jan. 1, 2007, and Schoepfer named a roster featuring 19 players born in 2007 and one born in 2008.
— U.S. UNDER-15 WOMEN'S YOUTH NATIONAL TEAM MATCH REPORT – 
Match: United States U-15 Women's Youth National Team vs. Netherlands U-15 Women's Youth National Team
Date: June 10, 2022
Competition: International Friendly
Venue: Sportpark de Horsterhoek; Horsterhoekweg, Netherlands
Weather: 62 degrees, windy
Scoring Summary:    1          2          F         
USA                              3          0          3
NED                              0          0          0
USA – Kennedy Fuller (Jordyn Hardeman)               3rd minute
USA – Kennedy Fuller (Ava Harrison)                       5
USA – Kimmi Ascanio                                                41
Lineups:
USA: 12-Kennedy Zorn (1-Molly Vapensky, 40); 3-Daya King; 5-Jordyn Hardeman, 7-Kimmi Ascanio (14-Hannah Jordan, 60), 8-Ainsley McCammon (17-Abby Ballek, 60), 9-Carrie Helfrich (25-Sofia Atehortua, 60), 10-Kennedy Fuller (Capt.), 11-Sealey Strawn (21-Katie Scott, 46), 19-Kai Price (6-Alexis Coughlin, 40), 23-Maddie Costello (2-Mya Brandon, 51), 24-Ava Harrison (15-Alexandra Pfeiffer, 46)
Subs not used: Jocelyn Travers
Head Coach: Katie Schoepfer
NED: 1-Noa Tissingh; 2-Hester Algra (12-Fileine Korsten, 40), 3-Indy Epskamp (Capt.), 4-Jet van Mierlo (13-Reza Konink), 5-Juul Oudenampsen (15-Marilyn Brummel, 55); 6-Maureen van Drogen (17-Fleur Verkooijen, 55), 7-Victoria Boerboom (19-Imara Schutte, 55), 8-Melek Hader, 9-Dechamaily Lont, 10-Sophie Proost, 11-Dina Haizoun (20-Rose Ivens, 55).
Subs not used:  14-Maud van den Berg, 16-Danae van der Vliet, 18-Marijke Terhost
Head Coach: Maria van Kortenhof
Stats Summary: USA / NED                        
Shots: 18 / 2
Shots on Goal: 11 / 0
Saves: 0 / 8
Corner Kicks: 4 / 1
Fouls: 4 / 10
Offside: 5 / 1
Misconduct Summary:
None
Officials:
Referee: Marijke Steur (NED)
Assistant Referee 1: Fleur Knevelman (NED)
Assistant Referee 2: Leene van der Singel (NED)
Fourth Official: Denise Kappert (NED)