U.S. U-15 Girls National Team set for training camp in Portland, OR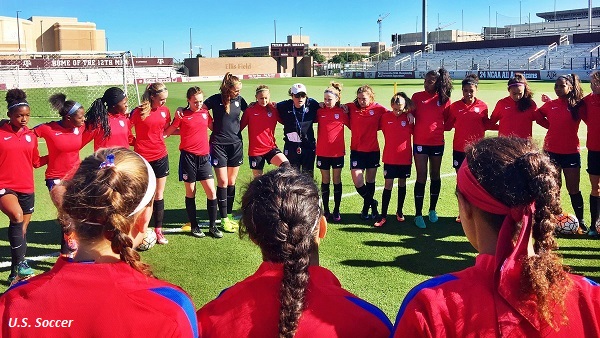 CHICAGO (Via U.S. Soccer) – The U.S. Under-15 Girls' National Team will hold a training camp in Portland, Oregon, from June 11-18. The camp will be guided by U.S. Soccer Development Coach and U-14 Girls' National Team head coach April Kater, who has called up 36 players.
Almost all of the players called into this camp were born in 2003 with one born in 2004.
This group of players is at the start of two-year cycle for this age group as U-15s before transitioning to U-17s in 2019 when they will form the core of the team that will attempt to qualify for the 2020 FIFA U-17 Women's World Cup.
U.S. U-15 GNT Roster by Position

GOALKEEPERS (4): Azul Alvarez (Lonestar SC; Round Rock, Texas), Haley Craig (Hawks-Wolves Soccer Club; Dexter, Mich.), Maria Kemp (Concorde Fire; Johns Creek, Ga.), Neeka Purcell (Seattle Reign; Seattle, Wash.)
DEFENDERS (11): Baleigh Bruster (Tophat SC; Smyrna, Ga.), Kennedy Chambers (SC Del Sol; Chandler, Ariz.), Kayla Colbert (Arsenal FC; Rancho Cucamonga, Calif.), Abigail Dunbar (San Diego Surf; Coronado, Calif.), Sarah Funk (Albion SC; El Cajon, Calif.), Emerson Layne (Colorado Rush; Fort Collins, Colo.), Phoenix Miranda (Surf & Leahi; Aiea, Hawaii), Ayo Oke (GSA, Lawrenceville, Ga.), Kellie Pagador (Placer United; Roseville, Calif.), Lilly Reale (South Shore Select; Rockland, Mass.), Alyssa Stadeker (Southern Soccer Academy Chelsea; Smyrna, Ga.)
MIDFIELDERS (10): Korbin Albert (Eclipse Select SC; Gurnee, Ill.), Colby Barnett (Strikers FC; Seal Beach, Calif.), Summer Denigan (Kings Hammer Academy; Union, Ky.), Emma Egizii (Beach FC; Downey, Calif.), Tatiana Fung (Arsenal FC; Fullerton, Calif.), Carina Lageyre (Weston SC; Cooper City, Fla.), Olivia Pena (Solar Chelsea; Irving, Texas), Isabella Piete (San Diego Surf; Alpine, Calif.), Susanna Soderman (Penn Fusion; Schwenksville, Pa.), Jayce Woodward (Seattle Reign; Seattle, Wash.)
FORWARDS (11): Trinity Byars (Solar Chelsea; Richardson, Texas), Kylie Hummel (Pride; Colorado Springs, Colo.), Simone Jackson (So Cal Blues; Redondo Beach, Calif.), Caetlyn Johannes (Valley Isle Soccer Academy; Kihei, Hawaii), Andrea Kitahata (De Anza Force; Hillsborough, Calif.), Arianna Manrique (Tophat SC; Buford, Ga.), Alexis Missimo (Solar Chelsea; Southlake, Texas), Dorrian Savage (San Diego Surf; Chula Vista, Calif.), Allyson Sentnor (South Shore Select; Hanson, Mass.), Jillian Shimkin (Albertson SC; Rockville Centre, N.Y.), Amelia White (Fort Wayne United; Fort Wayne, Ind.)