U.S. U-15 Girls National Team routs Trinidad & Tobago 22-0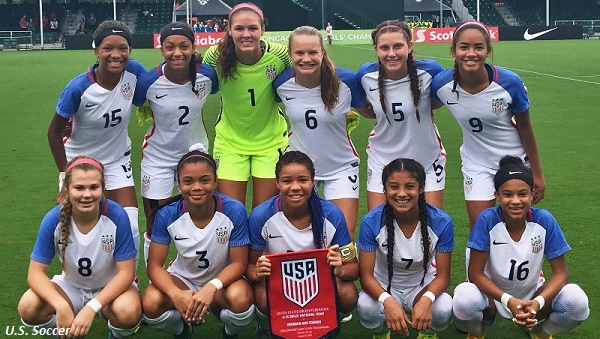 ORLANDO, Fla. (Via U.S. Soccer) – The Under-15 Girls' National Team opened play in the 2016 CONCACAF U-15 Girls' Championship with a 22-0 win against Trinidad & Tobago.
The USA scored 11 goals in each half of the 70-minute game in its debut in this competition which is being held for the second time.
Midfielder Gabrielle Robinson paced the USA with five goals as nine different players scored. Peyton Linnehan registered a second-half hat trick while Samantha Meza, Kelyssa Van Zanten, Mia Fishel, Sunshine Fontes and Croix Bethune had two goals each. Hollyn Torres and Talia DellaPeruta had one each and the USA benefited from two own goals.
+Read: U.S. U-17 WNT plays Brazil to 2-2 draw in friendly
The USA continues the tournament on Aug. 10 vs. Mexico, before facing Haiti on Aug. 12 and the Dominican Republic on Aug. 13.
The 23 countries in this tournament are divided into five groups: three groups of five nations (Groups A-C) and two groups with four nations (Groups D-F). The first three groups will qualify the top two countries after group play to the quarterfinals while the last two groups will qualify only the group winner to the last eight. The group phase runs from Aug. 9-15 followed by the quarterfinals on August 17, the semifinals on August 19 and both the match for 3rd place and Final on August 21.
+Read: Solo slips as USWNT draws Colombia 2-2, but wins Olympic Group G
U-15 Girls' National Team Match Report
Match: U.S. U-15 Girls' National Team vs. Trinidad & Tobago U-15 Girls' National Team
Date: August 9, 2016
Competition: CONCACAF Under-15 Girls' Championship
Venue: Field #17 – ESPN Wide World of Sports, Orlando, Fla.
Weather: 79 degrees, light rain 
Scoring Summary:   1          2          F
USA                            11        11        22
TRI                              0          0          0 
USA – Samantha Meza (Mia Fishel)                          1st minute
USA – Hollyn Torres (Croix Bethune)                        8
USA – Gabrielle Robinson (Kalyssa Van Zanten)      14
USA – Kalyssa Van Zanten (Gabrielle Robinson)      16
USA – Own Goal                                                        17
USA – Gabrielle Robinson (Kalyssa Van Zanten)      22
USA – Samantha Meza (Mia Fishel)                          25
USA – Mia Fishel                                                        26
USA – Gabrielle Robinson (Makenna Morris)          32
USA – Gabrielle Robinson (Kalyssa Van Zanten)      33
USA – Kalyssa Van Zanten (Croix Bethune)             35 + 1
USA – Talia DellaPeruta (Croix Bethune)                  38
USA – Own Goal                                                        44
USA – Mia Fishel (Gabrielle Robinson)                      47
USA – Payton Linnehan (Talia DellaPeruta)              48
USA – Sunshine Fontes (Talia DellaPeruta)              56
USA – Sunshine Fontes (Payton Linnehan)               57
USA – Payton Linnehan (Sunshine Fontes)               59
USA – Croix Bethune (Sunshine Fontes)                   63
USA – Payton Linnehan (Madison Mercado)                        63
USA – Gabrielle Robinson (Talia DellaPeruta)          67
USA – Croix Bethune                                                 69
Lineups:
USA: 1-Ruth Jones; 2-Makenna Morris (17-Talia DellaPeruta, 36), 6-Natalia Staude, 5-Leah Scarpelli, 3-D'awncey Jones-Black; 7-Samantha Meza (13-Payton Linnehan, 36), 16-Croix Bethune, 10-Mia Fishel (18-Sunshine Fontes, 48), 8-Hollyn Torres (11-Eleanor Glenn, 36); 15-Gabrielle Robinson, 9-Kalyssa Van Zanten (15-Madison Mercado, 36)
Subs not used: 4-Tori Hansen, 12-Lindsey Romig
Head Coach: Mark Carr
TRI: 18-Aaliyah Alexander; 2-Tianna Daniel, 3-Roshun Williams (5-Gamelia Waldron, 47), 4-Kady Adams, 6-Chrissy Mitchell; 7-Natifah Hacksaw (11-Kayla Baboolal, 47), 9-Afiyah Cornwall, 10-Aaliyah Prince, 12-Tyanna Williams (15-Timia McMillan, 54); 13-Maria-Frances Serrant (14-Shamika York, 47); 17-Annika Daniel (8-Jessica Harragin, 54)
Subs not used: 1-Chelsea Ramnauth, 16-Aaliya Lynch
Head Coach: Marlon Charles 
Stats Summary: USA / TRI
Shots: 36 / 0
Shots on Goal: 29 / 0
Saves: 0 / 9
Corner Kicks: 15 / 0
Fouls: 2 / 4
Offside: 8 / 1
Misconduct Summary:
None
Officials:
Referee: Carol Berally (GUA)
Assistant Referee 1: Lidia De Cuellar (SLV)
Assistant Referee 2: Delia Recinos (GUA)
Fourth Official: Kimberly Mora (CRC)