U.S. U-15 Girls National Team defeats Mexico 1-0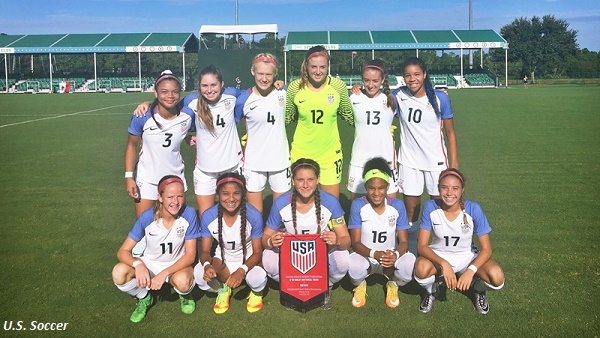 ORLANDO, Fla. (Via U.S. Soccer) – The Under-15 Girls' National Team defeated Mexico on a 60th minute goal from Mia Fishel to win its second game in as many days at the 2016 CONCACAF U-15 Girls' Championship.
The USA opened its tournament with a 22-0 win against Trinidad & Tobago yesterday and now sits atop the group with two matches left to play.
The winning goal came 10 minutes from time in the 70-minute match as Fishel followed up a shot from Kalyssa Van Zanten that was initially saved by the Mexico goalkeeper and finished into the lower left corner.
+Read: U.S. U-15 Girls National Team routs Trinidad & Tobago 22-0
"We are very happy with the result as Mexico caused us some problems that we had to solve in the first half," said U.S. head coach Mark Carr. "We made some adjustments, responded well after half time, and we were very deserving of the goal in my opinion. We showed fight, grit and spirit. I am very proud of all of the players and now it's now nice to get a rest day and turn our focus toward Haiti."
The USA continues the tournament on Aug. 12 against Haiti finishes group play against the Dominican Republic on Aug. 13.
The 23 countries in this tournament are divided into five groups: three groups of five nations (Groups A-C) and two groups with four nations (Groups D-F). The first three groups will qualify the top two countries after group play to the quarterfinals while the last two groups will qualify only the group winner to the last eight. The group phase runs from Aug. 9-15 followed by the quarterfinals on August 17, the semifinals on August 19 and both the match for 3rd place and Final on August 21.
+Read: U.S. U-17 WNT plays Brazil to 2-2 draw in friendly
2016 CONCACAF U-15 GIRLS' CHAMPIONSHIP GROUPS
Group A: United States, Mexico, Trinidad & Tobago, Haiti, Dominican Republic
Group B: Canada, Costa Rica, Venezuela, Jamaica, El Salvador
Group C: Puerto Rico, Nicaragua, Santa Lucia, Grenada, St. Vincent & the Grenadines
Group D: Barbados, U.S. Virgin Islands, Curaҫao, Anguilla
Group E: Bermuda, Cayman Islands, Antigua & Barbuda, Bahamas
U-15 Girls' National Team Match Report
Match: United States U-15 Girls' National Team vs. Mexico U-15 Girls' National Team
Date: August 10, 2016
Competition: CONCACAF Under-15 Girls' Championship
Venue: Field #18 – ESPN Wide World of Sports, Orlando, Fla
Weather: 81 degrees, sunny 
Scoring Summary:    1          2          F
USA                             0          1          1
MEX                            0          0          0 
USA – Mia Fishel                                                        60th minute
Lineups:
USA: 12-Lindsey Romig; 17-Talia DellaPeruta; 4-Tori Hansen; 5-Leah Scarpelli; 3-D'awncey Jones-Black (2-Makenna Morris, 36); 7-Samantha Meza (15-Gabrielle Robinson, 52); 11-Eleanor Glenn (8-Hollyn Torres, 52); 16-Croix Bethune; 14-Madison Mercado (9-Kalyssa Van Zanten, 36); 13-Payton Linnehan (18-Sunshine Fontes, 58); 10-Mia Fishel
Subs not used: 1-Ruth Jones; 4-Tori Hansen
Head Coach: Mark Carr
MEX: 1-Ana Ruvalcabra; 3-Karen Gomez; 4-Julieta Peralta; 5-Ximena Rios; 7-Fatima Arellano; 8-Dania Perez; 9-Allison Gonzalez; 14-Esmeralda Zamarron; 16-Alejandra Diaz (10-Maria Mauleon, 42); 17-Anette Vazquez; 18-Noemi Granados (6-Aislinn Garcia, 62)
Subs not used:  2-Giovanna Urbalejo; 11-Alice Hernandez; 12-Shyh Saenz; 15-Ashly Martinez
Head Coach: Monica Vergara 
Stats Summary: USA / MEX
Shots: 10 / 4
Shots on Goal: 5 / 3
Saves: 3 / 4
Corner Kicks: 4 / 2
Fouls: 6 / 4
Offside: 5 / 0 
Misconduct Summary:
None

Officials:
Referee: Alexis Vaughn (CAN)
Assistant Referee 1: Antione Augustus (BER)
Assistant Referee 2: Tashum Simons (BER)
Fourth Official: Trevester Richards (SKN)