U.S. U-15 Boys National Team camp underway at Olympic Training Center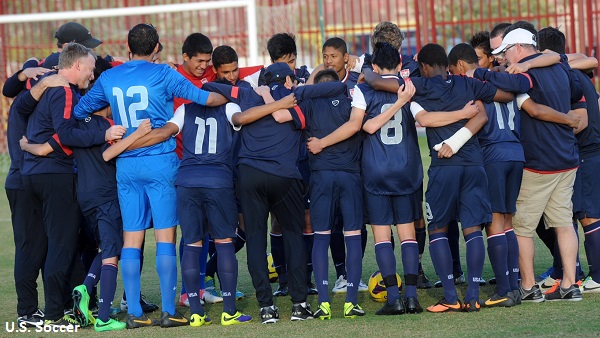 CHULA VISTA, Calif. (Via U.S. Soccer) — U.S. Under-15 Boys' National Team head coach Dave van den Bergh has named a 24-player roster for the first domestic training camp of the year, currently taking place at the Olympic Training Center in Chula Vista, California.
During the camp, the U-15 player pool (birth year 2002) will train from January 6-13 and will play one match against Club Tijuana Xolos de Caliente's U-17 team.
All 24 of the players brought into camp by Van den Bergh currently play in the U.S. Soccer Development Academy. Out of the group of players, forward Alfonso Ocampo Chavez has spent the most time in the Development Academy, training with Merced Atlas Soccer Academy for three seasons before moving to his current club, Seattle Sounders FC Academy.
+Read: Roster named for first U.S. U-16 Girls National Team camp of 2017
Roster by Position
GOALKEEPERS (2): Damian Las (Chicago Fire; Norridge, Ill.), Kash Oladapo (Portland Timbers; Happy Valley, Ore.)
DEFENDERS (8): Axel Alejandre (FC United; Chicago, Ill.), Sebastian Anderson (Real Colorado; Highlands Ranch, Colo.), George Bello (Atlanta United; Douglasville, Ga.), Owen Guske (Armada FC; Saint Johns, Fla.), Mason Judge (Chargers SC; Tampa, Fla.), Joshua Negrete (Cedar Stars Bergen; Clifton, N.J.), Kenny Nielsen (Pateadores; Irvine, Calif.), Joseph Scally (NYCFC; Lake Grove, N.Y.)
MIDFIELDERS (7): Nick Andersen (D.C. United; Washington D.C.), Julian Anderson (Philadelphia Union; Ocean, N.J.), Josh Atencio (Seattle Sounders FC; Seattle, Wash.), Gilbert Fuentes Perez (San Jose Earthquakes; Tracy, Calif.), Daniel Robles (Seattle Sounders FC; Burien, Wash.), Adam Saldana (Real So Cal; Panorama City, Calif.), Peter Stroud (New York Red Bulls; Chester, N.J.)
FORWARDS (7): Gianluca Busio (Sporting KC; Greensboro N.C.), Victor Cano (LA Galaxy; Santa Monica, Calif.), Julian Gaines (Lonestar SC; Austin, Texas), Andres Jasson (NYCFC; Greenwich, Conn.), Daniel Mangarov (Atlanta United; Duluth, Ga.), Alfonso Ocampo Chavez (Seattle Sounders FC; Graham, Wash.), Giovanni Reyna (NYCFC; Bedord, N.Y.)