Roster named for first U.S. U-16 Girls National Team camp of 2017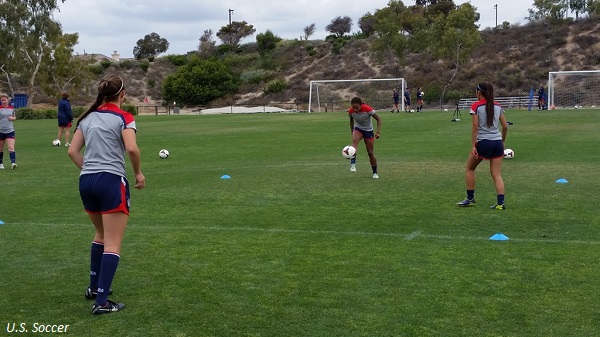 CHICAGO (Via U.S. Soccer) – The Under-16 Girls' National Team will kick off its 2017 programming with a training camp running from Jan. 16-22 at the Chula Vista Elite Athlete Training Center in San Diego.
Head coach Jaime Frias has called up 24 players, all but one born in 2002. This group of players move up from the U-14 level last year and will spend two years as the U-16 GNT before moving on to the U-18s. These players are all age-eligible for the 2018 U-17 Women's World Cup, which has an age cut-off of players born on or after January 1, 2001, but will eventually be the core age group for the team that will attempt to qualify for the U-20 Women's World Cup in 2022.
Two of the players on the roster – defender Makenna Morris and midfielder Talia DellaPeruta – played on the U.S. team that won the 2016 CONCACAF U-15 Girls' Championship last year in Florida that was coached by Mark Carr.
U.S. U-16 GNT Roster by Position
GOALKEEPERS (3): Ryan Campbell (So Cal Blues; Dana Point, Calif.), Taylor Fox (Orlando City; Titusville, Fla.), Mia Justus (PDA; North Brunswick, N.J.)
DEFENDERS (8): Devi Dudley (Utah Celtic FC; American Fork, Utah), Samar Guidry (FC Dallas; McKinney, Texas), Sydney Jones (Cincinnati United; Hamilton, Ohio), Lucy Mitchell (Concorde Fire; Alpharetta, Ga.), Makenna Morris (Bethesda SC; Germantown, Md.), Kayla Primm (Ohio Premier; Lewis Center, Ohio), Emily Royson (PDA; Toms River, N.J.), Dasia Torbert (Tophat; Buford, Ga.)
MIDFIELDERS (7): Josie Alicino (Michigan Hawks; Northville, Mich.), Aislynn Crowder (Hawaii Rush; Mililani, Hawaii), Talia DellaPeruta (Tophat; Cumming, Ga.), Alexa Gonzalez (Arsenal FC; Riverside, Calif.), Kayleen Gowers (De Anza Force; Los Altos, Calif.), Isabel Loza (Arsenal FC; La Mirada, Calif.), Michaela Rosenbaum (Santa Rosa United; Santa Rosa, Calif.)
FORWARDS (6): Trinity Byars (Soccer FC; Richardson, Texas), Kailyn Dudukovich (Cincinnati United; West Chester, Ohio), Sam Kroeger (World Class FC; West Milford, N.J.), Kacey Lawrence (Connecticut FC; Monroe, Conn.), Aryssa Mahrt (FC Wisconsin Eclipse; Wauwatosa, Wisc.), Trinity Rodman (So Cal Blues; Newport Beach, Calif.)