Initial seven clubs in Boys ECNL Texas Conference announced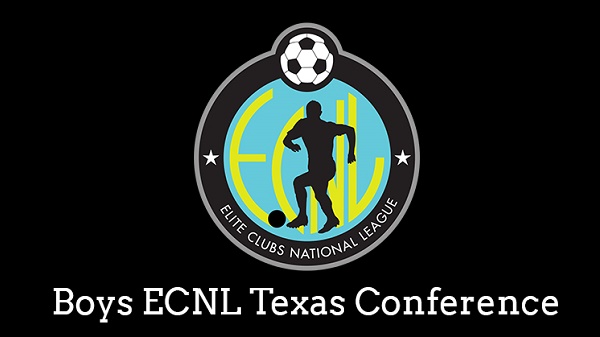 Richmond, VA (Via ECNL) – The initial group of clubs that will make up the Boys ECNL Texas Conference have been announced.
The Boys ECNL Texas Conference adds a fourth conference to the Boys ECNL, continuing the momentum generated by the earlier announcements of the Southeast Conference, Northeast Conference, and Midwest Conference.
A holistic and collaborative club-based development program, the Boys ECNL will feature regular season conference competition and regular season cross-conference events for its member clubs. Qualifying teams from the Boys ECNL, based on regular season performance, will advance to the post-season championship of the ENPL, along with qualifiers from various National Premier Leagues across the country. The ENPL, formed in collaboration between the ECNL and selected US Club Soccer National Premier Leagues will be the top boys' competition sanctioned by US Club Soccer.
+Read: United Soccer Clubs, Boys ECNL Texas Conf. named as ENPL Playoff qualifiers
The initial members of the Texas Conference of the Boys ECNL includes many of the top boys programs across the region:
Albion Hurricanes FC (TX)
Classics Elite (TX)
Colorado Storm (CO)
Houston Texans (TX)
Lonestar SC (TX)
Real Colorado (CO)
Tulsa Soccer Club (OK)
The Texas Conference will feature competition in 5 age groups: U14, U15, U16, U17, and U18/19. Teams will play both conference and cross-conference regular season games based on their age group, and qualifying teams will advance to the post-season ENPL Play-Offs. Additional clubs will be added to the conference.
"Albion Hurricanes FC is delighted to be part of the inaugural season of the Boys ECNL and the ENPL. This great opportunity will provide our male athletes the platform to compete on a regional and national stage. AHFC's experience with the Girls ECNL has been extremely positive both from a developmental & player exposure standpoint and we are pleased to offer the same opportunities for the boys moving forward."
— Mark Horton, General Manager Albion Hurricanes FC
"Classics Elite is privileged to be invited into the Boys ECNL and the ENPL competition in 2017. The format of these competitions will provide the teams and players the opportunity to perform on a national stage and will provide a pathway to some of the best competition and player exposure in the country."
— Brian Monaghan, Director of Coaching Classics Elite Soccer Academy
"Real Colorado is excited to further our relationship with the ECNL with the addition of the Boys ECNL for the fall of 2017. We believe the Boys ECNL will increase the reach of our club in bringing the best programs in the country to our players and in turn help build their exposure to development and identification through competition only a national league can provide."
— Lorne Donaldson, President Real Colorado
"TSC Hurricane is excited to be accepted in the inaugural season of the Boys ECNL and the ENPL. The landscape of soccer continues to evolve and we are glad to be at the forefront of these new exciting opportunities. The Boys ECNL will allow us to be in the highest national competitive platform available to us that provides players with the added exposure and opportunities to help them reach their goals of playing at the next level."
— Michael Nsien, Boys Director of Coaching TSC Hurricane
"The Colorado Storm are extremely excited to be part of the inaugural season of the Boys ECNL and the ENPL. The overwhelming success our girls' side has experienced with the ECNL gives us great confidence that our boys' program will benefit from the same professionalism, accountability, and commitment to quality that has made the ECNL a driving force in player development. This is a major step forward for youth soccer development in our country."
— Jeff Rogers, High School Boys Director Colorado Storm
"Lonestar Soccer Club is excited to join the Boys ECNL. Being a part of this league will provide a great developmental and competitive opportunity for the boys of Central Texas. The quality of clubs in the league, the detail to organization, and the commitment to showcasing talent at national events are only a few reasons this league is perfectly in line with our club's mission and vision."
— Allen Fincher, Executive Director of Business Lonestar Soccer Club