U.S. U-14 Boys' National Team head coach Tony Lepore names 32-player training camp roster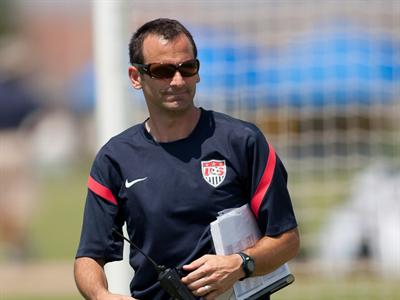 CHICAGO – Head coach Tony Lepore has named a 32-player roster for the Under-14 Boys' National Team training camp that will be held March 22-30 at U.S. Soccer's National Training Center in Carson, Calif. The camp will be the third for the U-14s in the current cycle and the second held in Carson.
Forwards Ayo Akinola (Toronto FC) and Jack Valderrabano (New York Red Bulls), midfielder Jean-Julien Foe Nuphaus (San Jose Earthquakes) and goalkeeper Johan Penaranda (BW Gottschee Academy) received their first call-up to the Youth National Team program for the camp. Additionally, midfielder Christopher Goslin returns to the U-14s after being called up for the U-15 Boys' National Team's international training camp in Abu Dhabi, United Arab Emirates, in February.
Of the 21 players on the roster currently registered with Development Academy clubs, Florida's Weston FC has the most representatives with three players called up: George Acosta, who participated in both previous U-14 camps this cycle, Nicholas Morillo, who attended the first camp back in September and Jesus Sahagun, who took part in the cycle's second camp this past February.
Sixteen players on the roster were included in the first two camps of the current cycle that began last autumn.
The U-14s most recently took part in a 37-player camp from Feb. 1-9 in Lakewood Ranch, Fla., where the team scored two wins against local U.S. Soccer Development Academy clubs.
Roster by Position:
GOALKEEPERS (4) : Alexander Budnik (Sockers FC; Arlington Heights, Ill.), Quantrell Jones (Baltimore Celtics; Baltimore, Md.), Johan Penaranda (BW Gottschee; Long Beach, N.Y.), Hunter Pinho (PDA; Cranford, N.J.)
DEFENDERS (9): Charlie Asensio (Georgia United; Rosewell, Ga.), Zico Bailey (Las Vegas Heat; Las Vegas, Nev.), John Hilton (Chivas USA; Long Beach, Calif.), Jaylin Lindsey (Charlotte SA; Charlotte, N.C.), Dorian Morrison (FC Golden State; Chino Hills, Calif.), Ian Murphy (FC Golden State; Redlands, Calif.), Tyler Shaver (NYSC; Riverside, Conn.), Chandler Vaughn (D.C. United; Woodbridge, Va.); Rayshaun McGann (Boca United; Royal Palm Beach, Fla.)
MIDFIELDERS (10): George Acosta (Weston FC; Miami, Fla.), Carlos Anguiano Dias (Chivas USA; Los Angeles, Calif.), Jake Arteaga (LAFA; Glendora, Calif.), Jean-Julien Foe Nuphaus (San Jose Earthquakes; San Jose, Calif.), Christopher Goslin (United Futbol Academy; Locust Grove, Ga.), Jacob Muchnick (LA Galaxy; Newport Beach, Calif.), Matteo Ritaccio (BW Gottschee; Westbury, N.Y.), Jesus Sahagun (Weston FC; Miami, Fla.), Amos Shapiro-Thompson (New England Revolution; Worthington, Mass.), Sean Zawadzki (Crew Soccer Academy; Olmsted Falls, Ohio)
FORWARDS (9): Ayo Akinola (Toronto FC; Brampton, Ontario), Andrew Carleton (United Futbol Academy; Powder Springs, Ga.), Jalen James (Dallas Texans; Dallas, Texas), Niccolo Lemoine (Ballistic USC; Pleasanton, Calif.), Nicolas Morillo (Weston FC; Miami, Fla.), Joshua Sargent (St. Louis Scott Gallagher Missouri; O'Fallon, Mo.), Jack Valderrabano (New York Red Bulls; New York, N.Y.), Timothy Weah (New York Red Bulls; Rosedale, N.Y.), Tristan Weber (LA Galaxy; San Clemente, Calif.)