U.S. teenager Yuval Ranon making a name for himself in Bundesliga U-17 division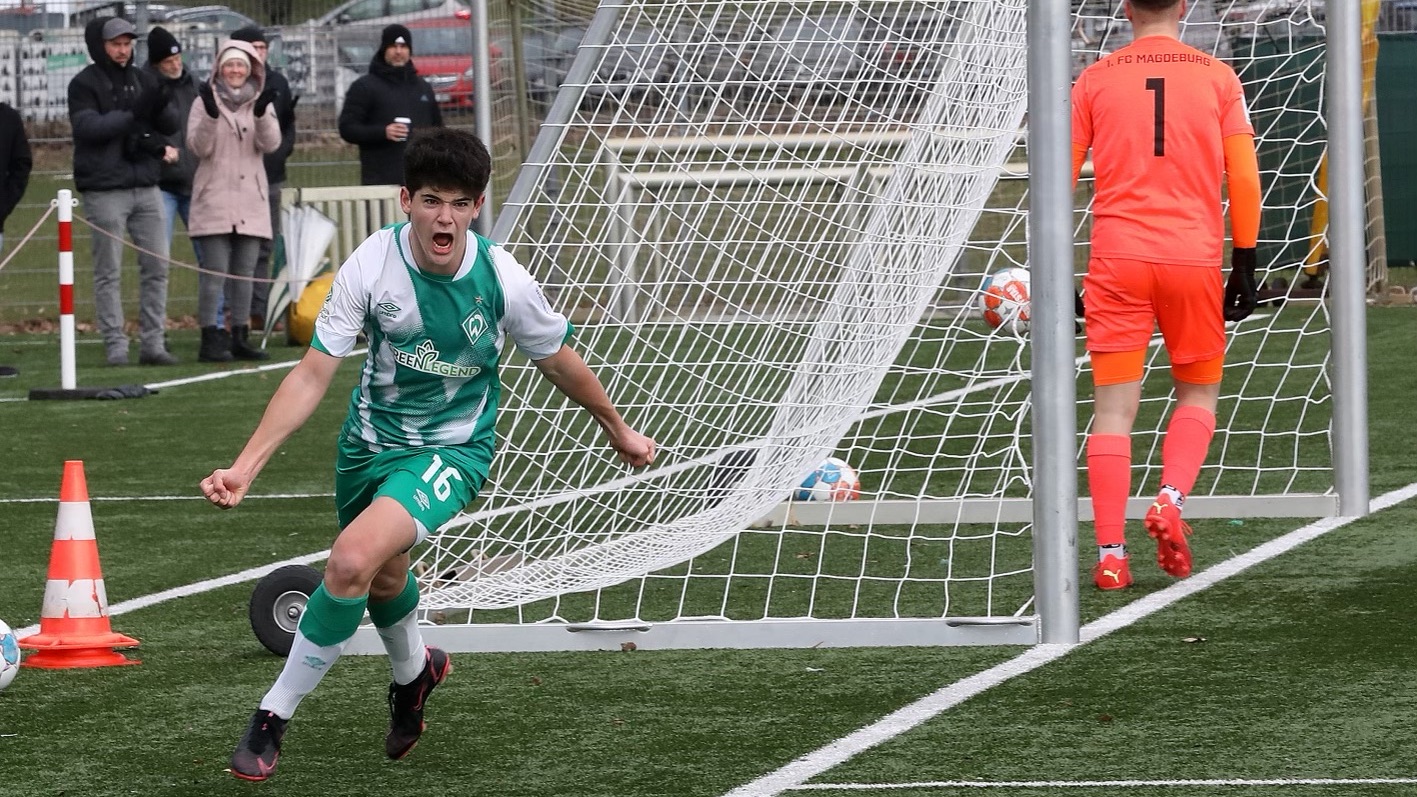 By Sean Maslin
SoccerWire Staff Writer
It's not every day that a player from the United States is featured among the top goal scorers in the Bundesliga U-17 division. Then again, Yuval Ranon is not your typical teenager. The 17-year-old striker whose family is based in North Carolina is now tearing up the B. Junioren Bundesliga for Werder Bremen.
Ranon, who was born in Israel but moved to the United States with his family when he was young, currently has 11 goals for Bremen and is one of the top goal-scorers in the prestigious German league's U-17 age group. Bremen are one of the top sides in the German U-17 B. Junioren Nord division, sitting in fourth with a record of 8-5-3 (29 points).
To limit travel, the German football association breaks their youth club structure into four different regions. The top sides play each other in a playoff format at the end of the season. According to Transfermarkit, Ranon currently ranks in the top one percentile of players in the Junioren, a league that is composed of roughly 1,200 players.
He made the move to Bremen in 2022, after a stellar career playing for North Carolina FC Academy. Playing in both the US Soccer Development Academy and the Elite Clubs National League, Ranon developed into one of the top scorers in the country. He was named to the 2020-2021 ECNL All Mid-Atlantic Conference first team and was selected to the ECNL National Selection Game.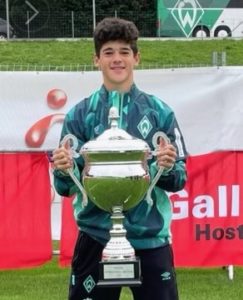 "He has exploded since joining Bremen," said his father Barak. "Since going there in June, he has exceeded all of Bremen's expectations. What Bremen will tell you is that players that usually move there and directly into the first team struggle at first and that it might take a year or two adjust. But Yuval has exploded. In just eight months, he is the top goalscorer for Bremen and he plays strictly against Bundesliga 1 teams."
Playing for one of the top clubs in the world and excelling are challenges in and of themselves. But when one considers that players like Ranon are also teenagers, individuals who are still learning about themselves off of the field and who they are can be even more of a challenge.
Working in Ranon's favor was a very supportive family that focused on him as a person first help.
"We did not raise a soccer player. We raised a human," his father said. "His ability to cope with all of those challenges, which are immense for anybody, are a part of who he is as a person. That is why before we made the move the scouts and advisors that we spoke with in Europe told us, These kids break usually. That is why one of the most important things for these teams to know is, How is he as a human? They need to know about the things that they cannot see in a highlight video."
"Yuval is a special person," Barak elaborated. "He is very strong mentally, he is very social, and he is very focused, and humble. He also has a high tolerance for pain-not just the physical kind but the mental as well. All of those things combined allowed him to overcome those challenges and turn them into advantages."
Having a strong support system with his family also helped. A family of five based out of North Carolina, their family had to rely on strong communication and working together to help their son pursue a career abroad, while also maintaining their home and life in North Carolina (Yuval has two sisters in addition to his parents). Bremen also lent strong support to the family as part of their youth international player service program.
"We chose a club that provides 360-degree support for youth internationals," Barak added. "Some of the other clubs that we were looking at had less support for their youth internationals than Bremen."
Having that structure in place helped In addition to excelling on the field, Ranon is excelling off of the field as well. In addition to taking coursework required by the German football association – all youth academy players in Germany are required to continue their education studies – he is still currently taking coursework to receive his American high school diploma. He is a straight-A student whose interests include science and math. He is also receiving German language classes from Bremen to help in his adjustment to living in the country.
Internationally, Ranon features prominently for the Israeli U17 National Team, where he has helped the side qualify for the Elite Round, the final round of qualification for the 2023 U17 European Championships. His goal in the 83rd minute against Georgia in October helped secure a vital 3-1 win. Although Ranon also holds German citizenship and is currently working on becoming an American citizen, he is currently committed to playing for Israel.
"I served in the Israeli Special Forces and to see your son singing as the anthem is playing is an incredible moment for our family," his father said. "It was a special moment and I feel incredibly proud of him and I know Yuval is excited about it [representing Israel]."
Though there may still be challenges ahead, Yuval's success is a testament to not just the progress of American youth soccer but that it is possible to make it. But it requires a lot of effort, a strong support structure, and as Barak puts it: "Being true to yourself."
"Yuval was in an academy environment, like many other Americans. When you are in an Academy environment that is no joke. The commitment is not a joke," said Barak. "The time and the effort from the parents and the player is huge. So the son or daughter has to shine here."
Barak also mentioned the importance of finding soccer advisors that truly believe in the player.
"Look for people that believe in your player because that is how they will market it them. Otherwise, they are not going to really market them."