U.S. Soccer to host second edition of SheBelieves Cup in March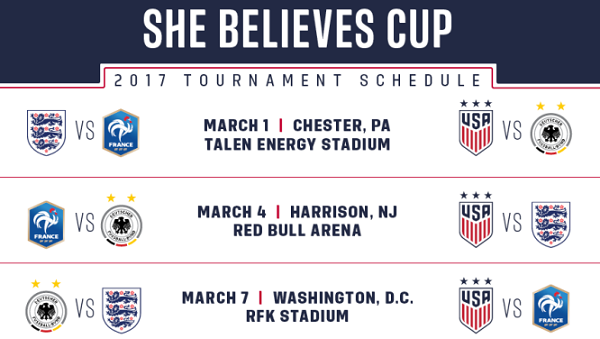 CHICAGO (Via U.S. Soccer) – U.S. Soccer will host the SheBelieves Cup for the second year in a row as four of the world's top five ranked women's national teams meet in three doubleheaders from March 1-7 at three venues in the Northeast.
Germany, France and England will once again join the USA in the most elite four-team women's international tournament of the year. The USA is currently ranked first in the world, defending Olympic champion Germany is second, France is third and England is fifth.
"It's fantastic to play these three teams in the first three games of the year," U.S. head coach Jill Ellis said. "As I've said many times, one of our main goals is to play the best teams in the world as often as possible and we have tremendous respect for France, Germany and England, which all feature world class players at multiple positions. To hold this tournament at home is great for our fans and TV partners, but especially for our players and our coaching staff as these are the kinds of games where we get tested and can really learn a lot about ourselves."
+Read: Carli Lloyd wins second straight Best FIFA Women's Player award
In last year's SheBelieves Cup, the USA defeated England and France by 1-0 scores and downed Germany, 2-1, in the de facto championship game to take the inaugural tournament title. Germany finished second, England was third and France was fourth. None of the games were decided by more than one goal with three 1-0 victories, two 2-1 victories and one 0-0 draw.
Conceived and developed by the U.S. WNT players, #SheBelieves is a movement to inspire young girls and encourage them to accomplish their goals and dreams, athletic or otherwise. The campaign launched in the run-up to the 2015 Women's World Cup but has since grown into a special bond between the team and its fans, taking its powerful message of empowerment and just believing in yourself into communities across the nation. The SheBelieves Cup adds a showcase event to the campaign, which will continue to spread its positive message and brings together the world's most elite female soccer players to compete in the U.S., providing a stage to shine the spotlight on positive female role models (athletes and non-athletes alike) and showcase their accomplishments both on the field and in culture at large.
During the U.S. WNT's Victory Tour in 2015, players met with several women in various professions across the country to chat about being leaders, advocates, game-changers and role-models. Ranging from entrepreneurs to firefighters, and chefs to park rangers, these women showed that despite all being so different, the common denominator of hard work and discipline led them all to be successful in their own fields.
+Read: NWSL champ WNY Flash to re-locate to North Carolina starting in 2017
The tournament format will be the same as last year as the four teams will each participate in three doubleheader events at three different venues over a seven-day period. The match days will see England open against France on Wednesday, March 1 at Talen Energy Stadium in Chester, Pa. (4 p.m. ET), followed by the USA against Germany (7 p.m. ET on FS1). All the teams will then travel to New Jersey where France will face Germany on Saturday, March 4 (2:15 p.m. ET) followed by the USA taking on England (5 p.m. ET on FOX) at Red Bull Arena in Harrison. The tournament will finish on Tuesday, March 7, at the historic RFK Stadium in Washington, D.C. as Germany takes on England (4 p.m. ET) and the USA faces France (7 p.m. ET on FS1).
2017 SheBelieves Cup Schedule
Date Matches Stadium City Kickoff TV
Mar. 1 England vs. France Talen Energy Stadium Chester, Pa. 4 p.m. ET
Mar. 1 USA vs. Germany Talen Energy Stadium Chester, Pa. 7 p.m. ET FS1
Mar. 4 France vs. Germany Red Bull Arena Harrison, N.J. 2:15 p.m. ET
Mar. 4 USA vs. England Red Bull Arena Harrison, N.J. 5 p.m. ET FOX
Mar. 7 Germany vs. England RFK Stadium Washington, D.C. 4 p.m. ET
Mar. 7 USA vs. France RFK Stadium Washington, D.C. 7 p.m. ET FS1
The winner of the tournament will be based on total points (three for a win, one for a tie), with the first tie-breaker being overall goal difference, followed by most total tournament goals scored, then head-to-head result and lastly, FIFA Ranking if necessary.
Additional notes:
The meeting with France marks the first time the teams have met since a 1-0 U.S. victory during group play at the 2016 Olympics. The meeting with England is the first since the match at last year's SheBelieves Cup, and the match-up with Germany will pit the reigning Women's World Cup champions against the reigning Olympic champions.
The USA is 20-4-7 all-time against Germany and 2-0-0 against West Germany in matches played in 1988 and 1990. The most recent meeting between the teams came in last year's SheBelieves Cup on

March 9

in Boca Raton, Fla., which saw a come-from-behind victory for the USA. Anja Mittag opened the scoring in the 29th minute, but Alex Morgan pulled the USA even in the 35th minute with the U.S. Soccer Goal of the Year. Samantha Mewis scored the game-winner in the 41st minute for the 2-1 victory.
The USA is 17-1-2 all-time against France, with the lone loss coming on Feb. 8, 2015, a 2-0 setback in Lorient, France that kicked off the 2015 schedule. The USA avenged the loss with a 2-0 victory in the championship game of the 2015 Algarve Cup in Portugal as Julie Johnston and Christen Press scored. The losing team in each of those games had a penalty kick saved as Sarah Bouhaddi denied Abby Wambach in Lorient and Hope Solo denied Amandine Henry in Faro.
The USA played France twice in 2016, winning 1-0 each time, at the SheBelieves Cup on

March 6

in Nashville, Tenn., on a goal in second half stoppage time from Alex Morgan and then won 1-0 in group play of the 2016 Olympics in Belo Horizonte, Brazil, on a goal from Carli Lloyd.
The USA is 8-3-1 all-time against England. Like its last two games against France, the USA has also beaten England by 1-0 scores in the two most recent meetings, on Feb. 13, 2015, in Milton Keynes, England with the lone goal coming from an Alex Morgan header and at the SheBelieves Cup last year in Tampa, Fla, on a brilliant goal from Crystal Dunn.
The USA is 4-0-1 all-time at Talen Energy Stadium (formerly PPL Park). The USA played China PR in Chester, Pa., in October of 2010 (1-1 T) and in May of 2012 (4-1 W). The USA also played two World Cup qualifying matches at the venue in October of 2014, defeating Mexico (3-0) and Costa Rica (6-0). Most recently, the USA defeated Colombia 3-0 on April 10, 2016.
The USA is 2-0-1 all-time at Red Bull Arena with the two most recent games against Korea Republic. The USA tied Korea there 0-0 in May of 2015 in the send-off match to the Women's World Cup and famously defeated them 5-0 on June 20, 2013, as Abby Wambach scored four goals in the first half and broke Mia Hamm's all-time international scoring record. The USA's first game at Red Bull Arena was a 1-0 win against Mexico in June of 2011.
The USA is 9-0-0 at RFK Stadium dating back to the first game there in 1995. The USA has played both a Women's World Cup match (3-1 vs. Sweden in 2003) and a Women's World Cup qualifier (6-0 vs. Haiti in 2014) at the historic venue.