U.S. Soccer hires Twila Kilgore from the Houston Dash as USWNT assistant coach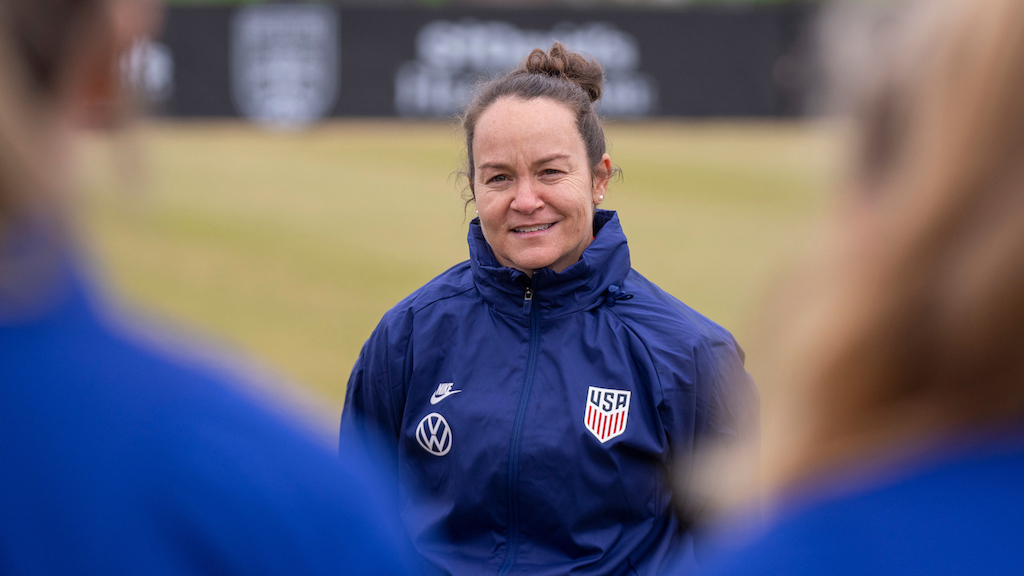 CHICAGO – Twila Kilgore has been appointed as an assistant coach for the U.S. Women's National Team.
Kilgore comes to U.S. Soccer after two and a half years as an assistant coach with the Houston Dash in the National Women's Soccer League, numerous training camps coaching with the U.S. Youth Women's National Teams and 15 years spent in the college game as a head coach and an assistant coach.
Kilgore (formerly Kaufman) joins USWNT head coach Vlatko Andonovski's full-time staff that also includes assistant coach Milan Ivanovich and goalkeeper coach Philip Poole. She is one of just four women, and the first American-born woman, to earn U.S. Soccer's Pro Coaching License, which she completed in 2021.
She will join the U.S. team for the 2022 SheBelieves Cup, which kicks off on Feb. 17 with the USA facing the Czech Republic at Dignity Health Sports Park in Carson, Calif. (8 p.m. PT on ESPN/TUDN).
"We're excited to have Twila join us in this important year for the National Team as we build up our technical staff for World Cup and Olympic qualifying this summer," said Andonovski. "She has an intense passion for the game and for coaching, and her desire to always keep learning and growing fits in perfectly with our staff. She has a tremendous work ethic and an ease in the way she interacts with players and she certainly treasures representing her country. We are really looking forward to welcoming her to the team."
With the Dash under head coach James Clarkson, Kilgore helped Houston win the 2020 Challenge Cup to bring the first trophy to the club. Prior to joining the pro ranks, she was the head women's soccer coach at the University of California, Davis from 2014-2019. From 2004-2014, she was the assistant coach (five years) and then associate head coach (five years) at Pepperdine University in Malibu, California. While at Pepperdine she coached players who would go on to play for the senior National Teams of the United States, Italy, Iceland, Mexico, Chinese Taipei and South Africa.
"Coaching with the U.S. National Team is a wonderful honor and a huge responsibility, and I want to thank (USWNT General Manager) Kate Markgraf, (Sporting Director) Earnie Stewart, (Director of Technical Development) Barry Pauwels and Vlatko for seeing these positive qualities in me as a person and a coach," said Kilgore. "These are the kinds of opportunities and challenges that are energizing to embrace. I know that every player and coach who I've worked with on my journey is a part of who I am today and I can't wait to get started with this amazing staff and this elite group of world class players."
She has worked extensively with U.S. Soccer's Women's Youth National Teams, most recently serving as the head coach for the U.S. Under-23 WYNT during its camp in Austin, Texas that ran concurrently with the final six days of the USWNT January training camp. She has also worked for U.S. Soccer at the Southern California and Northern California Training Centers since 2011 and has worked with the U.S. WYNTs at the U-14, U-15, U-17, U-19 and U-20 levels. In 2019, she was the head coach for the U.S. U-20 WYNT for the La Manga Tournament in Spain.
Kilgore has pursued her coaching education with zeal. She is currently finishing up work for her UEFA "A" License, and she earned her U.S. Soccer "A" License in 2010. She will be a FIFA Women's Development Program mentee this year and was a mentee in U.S. Soccer's SheChampions Mentorship Programn. She also has an NSCAA "Premier" License and an NSCAA State and Regional Goalkeeper Diploma and is an NCAA Women Coaches Academy graduate.
She earned a B.A. in Education at the University of Arizona, where she was a four-year starter, and ended her college career having played more matches than any Wildcat in team history. She also etched her name into the record books on several top-10 lists, was a two-time honoree on the Pacific-10 Conference All-Academic team and was the team's Rookie of the Year in 1998. After college, she played for the Arizona Heatwave in the W-1 League, and in 2009 she earned a master's degree in coaching and athletic administration from Concordia University.
Kilgore also coached extensively in the Region IV (West) Girls' Olympic Development Program, working with various regional and state teams as a head coach, assistant coach and staff coach from 2003-2015. She also spent one season as a head coach in the USL W-League with the Los Angeles Legends in the summer of 2009.