U.S. Soccer Foundation installs milestone 300th mini-pitch since 2015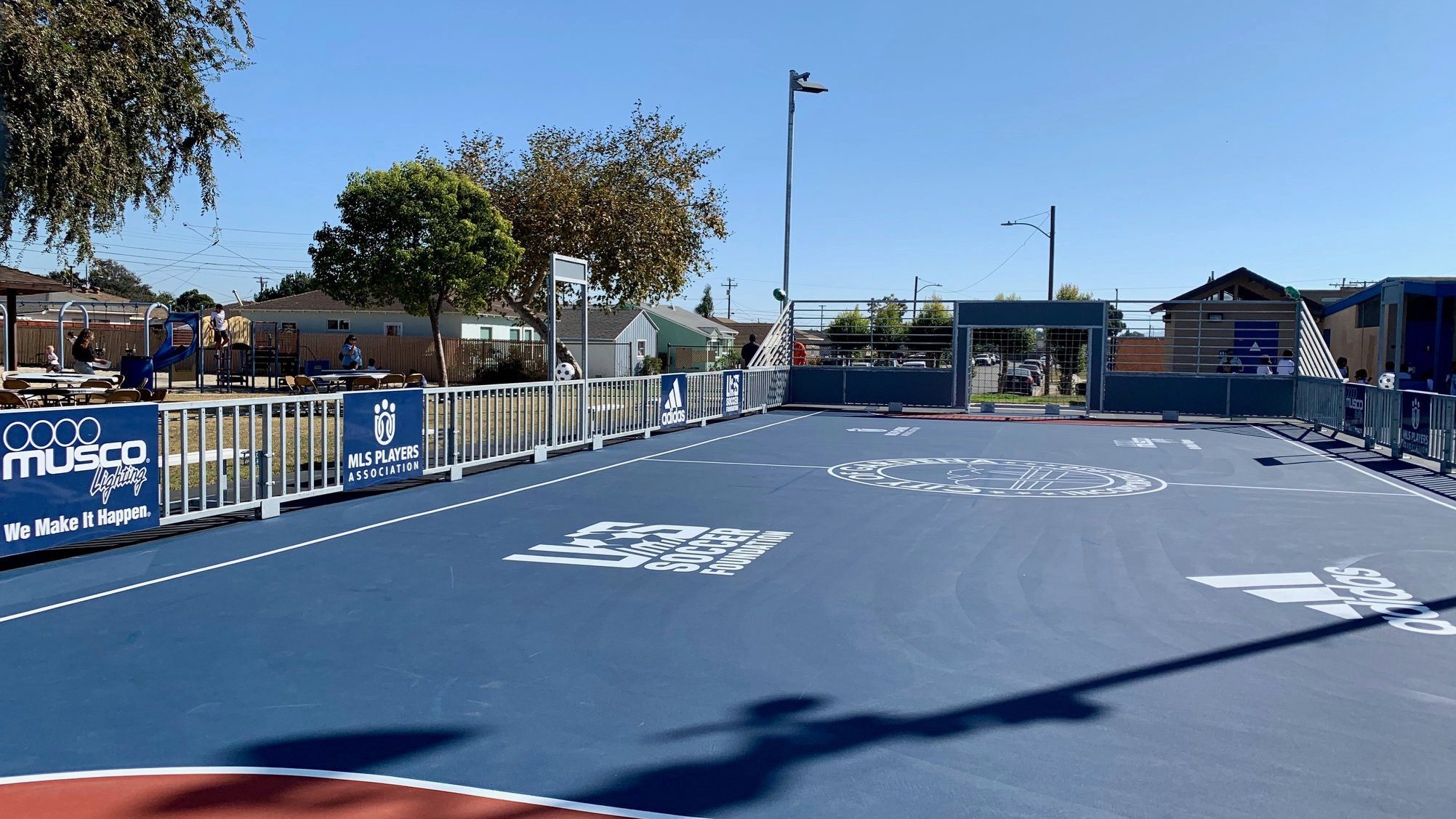 The U.S. Soccer Foundation, with the support of its partners, this week reached an important milestone with the installation of the 300th mini-pitch in underserved communities nationwide since 2015.
Through a collaborative effort with local governments, youth organizations, school districts, and companies of all sizes, the U.S. Soccer Foundation has continued installing mini-pitches during the pandemic, fulfilling a long-term commitment to children living in underserved communities. These communities are the hardest hit by the COVID-19 pandemic and will be the slowest to recover, which underscores the importance of these investments.
"The trauma that young people in underserved communities face from this pandemic, from the loss of lives to family member's loss of jobs to the closure of schools and community centers, has been profound," U.S. Soccer Foundation President & CEO Ed Foster-Simeon said. "This is an unprecedented escalation in the already challenging circumstances that young people live with, day after day."
"The U.S. Soccer Foundation and our partners are sending a very real message to young people and their families through these projects: We are here for you. We continue to ensure that when communities are ready, more mini-pitches will be there for play."
The U.S. Soccer Foundation's mini-pitch initiative is responding to a significant challenge faced by youth in underserved communities—a critical shortage of safe places to play. Since 2015, the Foundation has worked with partners to install mini-pitches in more than 200 communities across the United States and more mini-pitches are on the way. The Foundation plans to install more than 100 in the next year, with a goal of creating a total of 1,000 mini-pitches coast to coast by 2026.
With safe surfaces and high-quality lighting, these mini-pitches serve as an ideal place for both pick-up games and free play, as well as high-quality programming, including the Foundation's Soccer for Success program. Mini-pitches fit into urban environments or other areas where space is at a premium, providing a safe place for kids to play and for community members to gather right in their neighborhoods.
Corporations including Target, adidas, and Major League Soccer and its clubs are national partners in this initiative and have partnered with the Foundation on hundreds of mini-pitches to date. Last September, Musco Lighting partnered with the U.S. Soccer Foundation to update the mini-pitch with a new modular system including lights, fencing, and goals. On average, these lighted mini-pitches add 2.75 hours of playing time per day on each pitch.
Although participation in youth sports is associated with better health and academic achievement, more than 80 percent of children living in households making less than $25,000 miss out on the benefits of team sports. Furthermore, one in three Americans don't have a park within a 10-minute walk from home, leaving too many kids without access to a soccer program or safe place for free play.
To address these barriers, the Foundation and its partners have committed to increasing access to quality youth development programming and creating 1,000 new mini-pitches nationwide. In addition to providing access, the creation of mini-pitches has lasting community benefits: 98% of communities report that the people in their community are more active and feel safer with the addition of a mini-pitch. Further, soccer mini-pitches serve as neighborhood gathering places for families, and nearly one-third of the kids who come to play on them are new to soccer.
To learn more about the U.S. Soccer Foundation's work to make soccer everyone's game, visit itseveryonesgame.org.