Dr. Cristina Fink appointed as ECNL Mental Performance Advisor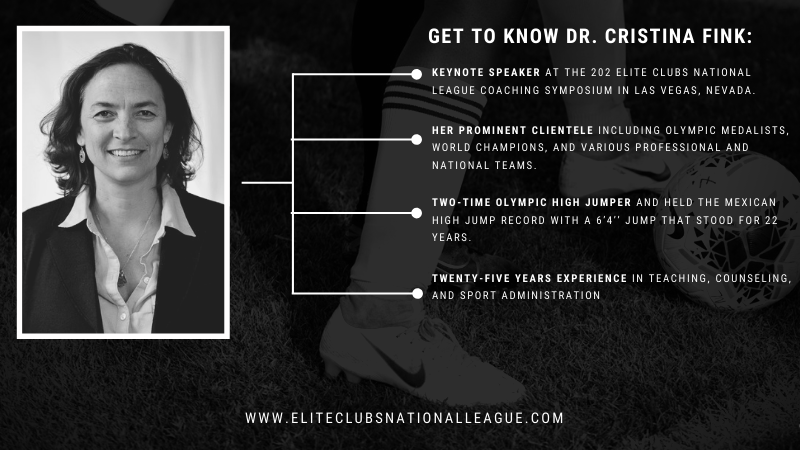 RICHMOND, VA – World-renowned Performance Psychologist and former Olympian Dr. Cristina Fink will be the ECNL Mental Performance Advisor for the 2020-2021 season.
Over the year, Dr. Fink will feature in a series of ECNL webinars and blogs intended to provide expert insight for coaches, players, and parents regarding a host of topics related to sport psychology and performance.
In January, Dr. Fink was a guest speaker at the annual ECNL Coaching Symposium held at the Aria Resort & Casino in Las Vegas, Nevada, where she delivered powerful presentations based upon her 25 years of experience in teaching, counseling, and sport administration.
Beyond her prominent clientele as a Performance Psychologist, which includes Olympic Medalists, World Champions, and various professional and national teams, Dr. Fink successfully navigated through her own prolific, athletic career as a two-time Olympic High Jumper (Seoul 1988 and Barcelona 1992) and held the Mexican High Jump Record with a 6'4'' jump that stood for 22 years.
"I feel honored to have this opportunity with the ECNL," said Dr. Fink: "I believe in helping athletes unlock their potential. I will be sharing information with coaches and parents to contribute in the development of the well being and development of players."
Dr. Fink joins ECNL Chief Medical Advisor Dr. Drew Watson in the league's expansion of programming and services focusing on safety, health, and well-being of players, coaches, and families in the athletic environment. With the changing environment created by COVID-19, and combined with the pre-existing challenges and pressures facing all involved youth sports, Dr. Fink and Dr. Watson will provide resources for players, coaches, and families within the ECNL and beyond.
"Sport psychology and performance is an area that absolutely has to be addressed in order to maximize potential and enjoyment of athletes," said ECNL President Christian Lavers. "The pressures of elite competition are unique, and we are thrilled to have Dr. Fink provide resources and education to help the athlete, and all of those around the athlete, better understand how to cope with stress, overcome pressure, and enjoy their experience."