U-20 WNT to bring 22 players to La Manga Tournament starting Feb. 28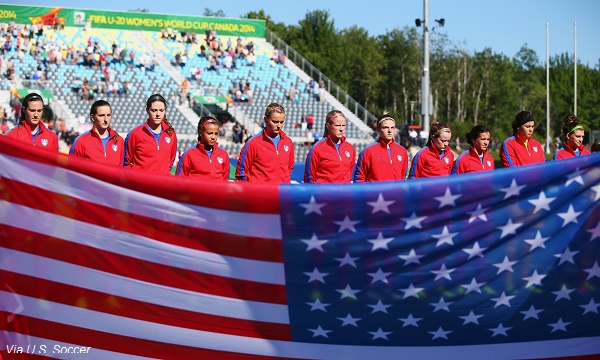 CHICAGO (Via U.S. Soccer) – The U.S. Under-20 Women's National Team will bring 22 players to a U-19 invitational tournament in La Manga, Spain, running from Feb. 28-March 10. At the 10-team competition that features three matches for each country, the USA will face Norway (March 5), the Netherlands (March 7) and Sweden (March 9).
The tournament also features Switzerland, Germany, England, Italy, Denmark and Scotland. As the U.S. players are in the first year of a two-year cycle, and all were born in 1996, 1997 or 1998, they are technically still U-19s.
+Read: U.S. U-17 WNT wins NTC Invitational with 3-1 win over Japan
U.S. head coach Michelle French has called up 11 players currently in college and 11 still playing club for the matches against three countries who have all sent their senior sides to this summer's FIFA Women's World Cup.
This age group is focusing on qualifying for the 2016 FIFA U-20 Women's World Cup, which has an age cut-off of players born on or after Jan. 1, 1996.
[player_box id=49279 leftright=right]The roster features three players who were a part of the USA's 2014 FIFA U-20 Women's World Cup Team in midfielder Mallory Pugh, defender Kaleigh Riehl and midfielder Taylor Racioppi.
The U.S. U-20s will be preceded in La Manga by the U.S. Under-23 Women's National Team that will play three matches in a six-team tournament between Feb. 26 and March 2.
U.S. U-20 WNT Roster by Position
GOALKEEPERS (2): Samantha Leshnak (Ohio Elite; Liberty Township, Ohio), Casey Murphy (Rutgers; Bridgewater, N.J.)
DEFENDERS (7): Maddie Elliston (Penn State; Omaha, Neb.), Sabrina Flores (Notre Dame; Livingston, N.J.), Natalie Jacobs (Slammers FC; Coto de Caza, Calif.), Annia Mejia (California; Bloomington, Calif.), Courtney Petersen (Michigan Hawks; Canton, Mich.), Kaleigh Riehl (BRYC; Fairfax Station, Va.), Parker Roberts (KC Metro Dynamos; Leawood, Kan.)
MIDFIELDERS (8): Rachel Corboz (Georgetown; Green Brook, N.J.), Marley Canales (San Diego Surf; San Diego, Calif.), Savannah DeMelo (Beach FC, Bellflower, Calif.), Jordan Harr (Dallas Sting; Sachse, Texas), Mikaela Harvey (Texas A&M; Liberty Hill, Texas), Emily Ogle (Penn State; Strongsville, Ohio), Mallory Pugh (Real Colorado; Highlands Ranch, Colo.), Taylor Racioppi (Players Development Academy; Ocean Township; N.J.)
FORWARDS (5): Michaela Abam (West Virginia; Sugar Land, Texas), Megan Buckingham (North Carolina; Novi, Mich.), Zoe Redei (Eclipse Select; Highland Park, Ill.), Jessie Scarpa (North Carolina; Lakeland, Fla.), Ally Watt (Pride Soccer Club; Colorado Springs, Colo.)