Virginia teen Josimar Coreas vaults from D.C. youth soccer to Mexico's Club Leon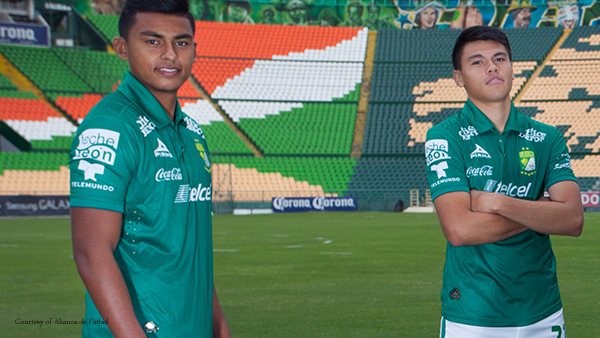 Josimar Coreas expects 2015 to be the best year of his young life, and he won't be experiencing much of it in his native Alexandria, Virginia.
After a winding path through the U.S. youth soccer landscape, the 18-year-old (pictured above, at right) has signed a professional contract with Mexican powerhouse Club León.
After signing a one-year deal late last year and waiting anxiously for his work permit and international transfer paperwork to clear, the forward/midfielder has relocated from the Washington, D.C. region to the central Mexican state of Guanajuato to join León's Under-20 team.
+READ: Two Maryland prospects reach 2013 Sueno Alianza National Finals in SoCal
It's a dream come true for Coreas, a child of Salvadoran immigrants who has been called up to the El Salvador U-20 national team and has a long list of youth clubs on his resume, including the Richmond Kickers, Potomac Soccer, McLean Youth Soccer, the D.C. United Pre-Academy and more.
"Honestly, it feels kind of unreal that it happened to me," he told SoccerWire.com.
León spotted Coreas via Alianza de Futbol, a program designed to find and promote young, mostly Latino talent in major cities across the United States. A national finalist in the "Sueño Alianza" competition, he was identified by León at the same time as Miguel Palafox (pictured above, at left) another U.S.-raised talent of Salvadoran descent.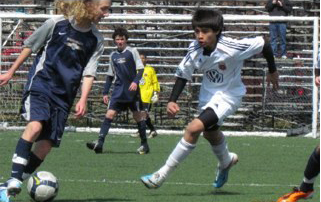 Coreas worked out with Los Leones and went on tour to California, but the work permit required to begin formal training took a little longer than expected. Coreas said he has been playing in plenty of intra-squad scrimmages in the meantime, and has been happy with his form.
"This is something very big. Until now, I couldn't believe it. It happened all of a sudden, but it happened for a reason and now I've got to keep working," he told AlianzaDeFutbol.com.
Immigration paperwork from Mexico was sent to the U.S., which took longer than expected and forced him to wait and train back home in Virginia. But what he hopes doesn't take a long time is making an impact with La Fiera, or "The Beast," as Club León are known.
+READ: "Alianza de Futbol" draws 12,000-plus players, spectators to Md. SoccerPlex
It won't be easy: The team have won seven Mexican league championships, including back-to-back Liga MX titles in 2013-14, and he'll encounter fierce competition from his colleagues.
But the ambitious Coreas wants badly to work his way up to León's first team and star in the Mexican top flight. And, somewhat surprisingly, thus far he hasn't found life all that difficult south of the border.
"I thought it would be more difficult to play in Mexico not being Mexican. But it isn't as difficult as I envisioned it before," Coreas said to AlianzaDeFutbol.com.
While his main focus is on his new club, he also has his eyes on international soccer. He was thrilled to accept El Salvador's U-20 invite and represent his ancestral homeland, but is also eligible to play for the United States. He told SoccerWire he will pick whichever senior team comes first.
With a big frame, close ball control, quickness and playmaking ability, Coreas has the potential for a bright career and is happy that León took a chance on him. And he is not the first pro in his family: His grandfather was a professional player in El Salvador.
With his work permit in his hand, he hopes to follow in his abuelo's footsteps.
Coreas will spend at least the next six months in Mexico, working to impress León manager Juan Antonio Pizzi and his coaching staff and keep his own dream alive.